15 NFL Draft Prop Bets That Can Win You Money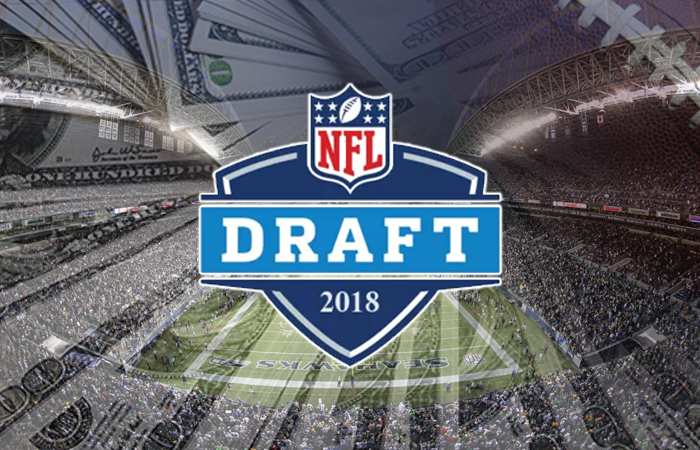 The 2018 NFL Draft is just weeks away. Some of the best NFL teams will be looking to add key pieces to bolster hopeful title runs, while the worst teams in the league will hope to land impact players to spark their rebuilding processes.
Fortunes can change rather quickly in the NFL.
Two years ago, the Philadelphia Eagles made a play for franchise quarterback Carson Wentz. That turned into the team's first Super Bowl title.
Last year, the Jacksonville Jaguars added a stud rookie running back in Leonard Fournette. The move solidified a balanced offense and played a big hand in the Jags reaching the AFC title game.
Picking high in the draft doesn't always guarantee success, but it can lead to rapid improvement and at least start the process of piecing together a winning foundation.
While NFL decision-makers are clearly concerned with making moves to win games, bettors just want to maximize their earning potential.
That can certainly be done during the draft, as a litany of 2018 NFL Draft prop bets are already available at Sportsbetting.ag and other NFL betting sites.
The wagers you'll find differ per site, and the odds won't always be the same. So far, however, Sportsbetting.ag has been one of the best stops for bettors looking to win big via NFL Draft betting.
Here's a look at the 15 props they currently have and how you may want to bet on them.
All odds that are referenced in this article were taken from Sportsbetting.ag at 11:58 am CT on 4/10/2018. These odds may have changed since the time of this writing.
#1 Overall Pick
The number-one NFL Draft prop bet right now is who the first overall pick will be. Depending on who you ask and when, the answer can be different by the hour.
Sam Darnold has always looked like the most polished passer in this draft class, while a quarterback seems like the logical call for a Cleveland Brown franchise that has been struggling under center for most of its existence.
Does that make Darnold a lock to go #1 overall? Sportsbetting.ag and other NFL Draft wagering sites tentatively seem to think so. Here are the latest #1 overall pick odds.
Sam Darnold, QB – USC
-250
Josh Allen, QB – Wyoming
+190
Saquon Barkley, RB – Penn State
+600
Josh Rosen, QB – UCLA
+1000
Baker Mayfield, QB – Oklahoma
+2000
Bradley Chubb, DE – NC State
+2500
Minkah Fitzpatrick, CB – Alabama
+6600
Field – Any Other Player
+3300
Darnold is still the most logical play here, but Josh Allen arguably has more upside than any quarterback this year. His size, athleticism, and arm strength make for a very compelling case at the top spot.
Josh Rosen doesn't really seem to be a viable threat at this point, while Mayfield and Barkley are both interesting outliers.
Mayfield is a true gamer with loads of upside, while Barkley would give the Browns a stud running back to build around.
Chubb and Fitzpatrick are two elite defensive players that are expected to be selected inside the top 10 but don't seem to be serious contenders for the number-one pick.
The Field bet is interesting, if not ultimately a waste of your time.
There are secondary options nobody can quite rule out, such as Notre Dame guard Quenton Nelson, defensive back Derwin James, and linebacker Tremaine Edwards.
There is even a case to be made for Louisville dual threat passer Lamar Jackson, who could be a new version of Michael Vick.
It's important to open your mind this early in the process, while also considering the possibility that Cleveland just trades out of the first overall slot. If so, all bets are off.
For now, the Browns seem content to sit here and take the guy they covet. Darnold is in play as a safe quarterback, and I don't think you can completely rule out Barkley, but all signs still point to Josh Allen.
There is risk involved here. Allen faced weaker competition at Wyoming and has serious accuracy issues on paper. However, no other passer offers the total package like he does.
With Tyrod Taylor in place as a short-term solution under center, Cleveland can take their time to develop Allen into the passer he's destined to be. It doesn't hurt that he offers a little value for bettors, either.
PICK
Josh Allen – Wyoming
+190
1st Wide Receiver Drafted
This year's crop of wide receivers isn't quite as nasty as some in the past have been, but it isn't without some star power.
The big focus is on quarterbacks this year, but there are actually several wide receivers that pro scouts are drooling over. Ridley is the top prospect at this position right now, and it doesn't seem to be all that close.
Here are how the other wide receivers stack up from an odds perspective.
Calvin Ridley – Alabama
-220
Courtland Sutton – Southern Methodist
+400
James Washington – Oklahoma State
+1000
Christian Kirk – Texas A&M
+1200
Field – Any Other WR
+1100
I don't see a viable threat here to dethrone Ridley. He has the best combination of size, speed, and overall athleticism.
Ridley isn't necessarily the biggest or fastest, but he's the total package.
Kirk is a very interesting value here, and I like the Field bet just because guys like D.J. Chark and DaeSean Hamilton have impressed in the draft process.
It's tough to imagine those guys vaulting to the top, though.
Sutton might be the best value pick at +400 just because he's a huge target with nice athleticism, but I wouldn't get cute here.
PICK
Calvin Ridley – Alabama
-220
2nd Quarterback Drafted
If the Browns are going quarterback at the top spot, you have two decisions to make: who that will be and who the next passer will be off the board.
That could make for two winning bets. Right now, Sportsbetting.ag likes Josh Allen as the #2 quarterback, but since he's my pick to go #1 overall, I wouldn't take him here.
Baker Mayfield – Oklahoma
+1200
Field – Any Other QB
+2000
I don't love Rosen here, either. I think he's a strong pro-style option, but there are character and consistency concerns. If Allen goes first overall like I think he will, that puts Darnold in play as an elite value at +325.
Baker Mayfield is certainly a wild card, but I don't think he's as stable of an option as Darnold.
The Field bet isn't crazy here, but Lamar Jackson is the only other viable option, and I don't think anyone thinks enough of him to reach for him here.
I feel like Rosen is a guy that could slide in the draft, and Mayfield is slightly below Darnold.
PICK
Sam Darnold – USC
+325
2nd Running Back Drafted
Saquon Barkley is the runaway choice to be the first running back selected in the 2018 NFL Draft, so while a price of +2500 is appealing, it'll ultimately be a waste of your cash.
To be frank, it's arguable that he'll be the lone rusher taken in the first round this year. Still, Derrius Guice is the consensus #2 overall running back, and that's reflected by his odds in this wager.
Sony Michel – Georgia
+200
Saquon Barkley – Penn State
+2500
Field – Any Other RB
+3300
Guice is an easy call here, but this is actually a tight race after him. All of these backs have a shot at being taken in round one, while not too long ago it was Ronald Jones that was argued as the second-best running back.
I think a case can be made for Michel, Chubb, and Jones, but they aren't the logical choice. Instead, Barkley feels like a lock to be the first running back drafted this year, and Guice will follow him.
PICK
Derrius Guice – LSU
-500
Last Player (Position) Drafted in 1st Round
This NFL Draft prop bet is partially dealing with the talent available to wrap up the first round and the teams drafting there.
It's tough to put too much stock in what the teams there might do, seeing as draft day trades could easily end up changing the draft order to close round one.
Regardless, here are the odds for which position will finish the first round of this year's draft.
There isn't anything concrete one way or the other here, but you can consider several factors.
The first is that the Philadelphia Eagles are tentatively preparing to draft 32nd overall to wrap up round one.
One big thing you can do is scout the mock draft process and gauge what some of the top experts think Philly will do with this pick.
As you can see by hitting up that link, nobody seems to agree on the player the Eagles covet here, let alone which side of the ball they'll target.
I do agree with a recurring sentiment, though, and that's that the Eagles are the defending Super Bowl champions, and they appear to have the luxury to just take the best player available.
Depending on who is there, I think the Eagles would be wise to snatch up a talented offensive lineman.
They are stacked up front, but Jason Peters is 36 and has had some health issues, and Lane Johnson is a beast but has had performance-enhancing drug problems.
Adding a stud o-line prospect like Connor Williams, Brian O'Neill, or Billy Price could improve their depth and versatility in the trenches.
Philly could even add a wide receiver or tight end (they lost Trey Burton in free agency), which aids the "offensive" side of this bet. Considering that is also where the betting value lies, that's where I'm headed with this pick.
What Position Will Mr. Irrelevant Be?
From the last pick of the first round, we go to the final pick of the entire 2018 NFL Draft. That's none other than Mr. Irrelevant, who often gains more popularity for being the last player chosen than actually producing in the NFL.
The wager is simple. Bettors get to decide whether the last player selected will be an offensive or defensive talent.
Looking back on the past 18 years, the team picking last chose an offensive player nine times, a defensive player eight times, and a special teams player once.
I don't think you can trust that data, but what you can try to do is look at the team picking last right now (Atlanta Falcons) and gauge the type of players they'll need.
Again, I'd just side with the superior value here. Atlanta seems pretty loaded offensively already, too, so the odds aren't bad that they cap this year's draft with a high upside defensive prospect.
Total Defensive Players Drafted in 1st Round
This is a wager where you can use mock drafts and player rankings to formulate two types of opinions: your own and the draft community.
By the time the draft rolls around, you'll typically have a pretty good idea as to which players are first-round locks and which have a mild chance of sneaking into round one.
Usually, that allows for you to accurately figure out which positions will run high player counts.
For the defensive side of the ball, Sportsbetting.ag starts the over/under at 14.5.
By my personal count, there are only a handful of defensive players that are top-15 locks and maybe 12 total that appear to be first-round locks.
From there, you'll need to decide if the fringe defensive players floating around mocks in the bottom five picks in round one and the early portion of round two will crack the top 32.
I like the value with the under in this bet. A really stacked quarterback class complicates matters, while there are a few wide receivers and running backs that will help to push some defensive talent out of round one.
There are 32 picks in round one, and this bet demands 15 defensive players to be selected to convert. I think rolling with the under makes more sense.
Total Quarterbacks Drafted in 1st Round
This prop bet seems pretty self-explanatory. Barring some crazy free fall, Sam Darnold, Josh Allen, Josh Rosen, and Baker Mayfield all feel like early draft choices, and all four could easily find themselves inside the top 10 of the 2018 NFL Draft.
Not too far behind them is Lamar Jackson, which gives you a solid five passers to work with. The question is if there is a sixth guy to get the over for this wager.
Lucky number six would be none other than Oklahoma State's Mason Rudolph.
There has been some buzz that the Patriots like him, while the Jaguars, Steelers, Saints, Cardinals, and Chargers all draft beyond pick #15 and could be interested in a long-term franchise quarterback.
Rudolph is a solid pocket passer with a good arm and nice intangibles. He is very much on the radar, and I think the talent combines with the need to get to six passers in round one this year.
Total Running Backs Drafted in 1st Round
You can take the same logic and roll with a running back prop bet, as betting sites wonder if Saquon Barkley will be the only rusher taken in the first round.
This is an interesting prop for two reasons. First, Barkley is probably going very early. Any teams that want a stud rusher that miss out on Barkley will have most of the first round to ponder whether spending a first-round pick on a back will be worth it.
Secondly, this is not a bad position at all. Georgia has two starting NFL-quality running backs coming into the draft, while LSU's Derrius Guice could be just as much of a monster as Barkley in the right setting.
There is also USC's Ronald Jones, who was at one point seen as the second-best rusher in this draft class.
Overall, I like the upside of the under, but I don't think that's the winning bet. There is too much running back talent to bypass the over here.
Total Wide Receivers Drafted in 1st Round
Moving on to wide receivers, there is again a slew of prospects that could easily work their way into round one.
Calvin Ridley is a lock to go relatively early, while you could argue both D.J. Moore and Christian Kirk are first-round talents.
The fact that you can also talk up guys like James Washington and Courtland Sutton makes this an easy call for me. It only helps that you get more value with the over.
Will Top 3 Picks Be Quarterbacks?
A lot of mock drafts are predicting a quarterback run up top, but it's going to take trades to make that a reality.
The top three spots right now belong to the Cleveland Browns, New York Giants, and Indianapolis Colts. As things stand, I don't see those three teams picking a quarterback consecutively to start off the 2018 NFL Draft.
The only hiccup here is that you may want to try to predict the future a bit. After all, if the Colts have zero plans on landing a passer and aren't completely enamored with someone else from the #3 pick, they might entertain a trade.
Personally, I think the value of landing someone like Chubb, Fitzpatrick, or Barkley is too great. I do think a lot of quarterbacks go in round one (and early), but I'm betting they don't go one after another through the first three picks.
Baker Mayfield Draft Position
Another fun wager type in NFL Draft betting is player-specific draft range.
There are some players that will make this betting process extremely easy, but most sports betting sites will look for NFL Draft player props that benefit them.
Baker Mayfield is one name that is tough to pinpoint. Some think he's a threat to go #1 overall, while others don't even think he's a top-10 pick. Your over/under starts at 6.5 at Sportsbetting.ag.
I do think there are enough question marks surrounding Mayfield and enough competing talent to potentially make him slide. However, the need for quarterbacks is great, and some teams are going to be willing to trade up to nab a signal caller.
I think Mayfield could slide slightly, but pretty much every team inside the first six picks could take him. I doubt he lasts past pick six, making the under the logical play here.
Bradley Chubb Draft Position
While I think Mayfield makes good on his under bet, and I envision a lot of quarterbacks going early, I don't think they're going to dominate the top of the draft quite like some think.
One of these quarterbacks is destined to slide, and of the lot, I think that could be Josh Rosen.
Insert guys like Chubb, Barkley, and Fitzpatrick, and that only complicates matters. Here's the draft range bet for Chubb.
I just think Chubb is too talented, and there is a big need for impact pass rushers. I'd take the under here, as he's probably sticking inside the top 5, and this wager offers pretty solid value.
Calvin Ridley Draft Position
The NFL Draft player prop bets up top are admittedly pretty tricky. If I can, I'd fade those and ride these other wagers that offer longer leashes.
Ridley starts it off with a bet that offers the same value either way. Here, you're asked to gauge if he'll be picked inside the first 20 draft picks.
The depth at quarterback and a slew of elite defensive players may very well push Ridley down a bit, but outside of the top 20 seems a bit rash.
This is still the top wide receiver prospect, and there remains a great need for an impact receiver for a number of teams.
Derrius Guice Draft Position
This is a fun bet that you can double-down with an attach to the "how many running backs will be drafted" prop. Barkley is a lock, and I really like Guice to hear his name called in round one as well.
Vegas agrees, as his odds to be taken within the first 32 picks don't offer a ton of value at -200.
I think Guice is the second-best rusher on the board, and there is a decent need for some impact running backs this year. At least two running backs will be taken in round one this year, and Guice most certainly will be one of them.
The value isn't great, but I like the safety with this bet.
Lamar Jackson Draft Position
One of the most heated draft debates this year centers around polarizing quarterback prospect Lamar Jackson. Some have foolishly suggested he's more of a wide receiver at the next level, while others just don't rank him among the top passers.
Jackson is still an extremely dynamic dual-threat quarterback, though. He won't have every single team knocking down his door, but in the right system, he could be a superstar.
Vegas currently asks you if he'll hear his name called by pick 18.
The Arizona Cardinals pick at #15 right now and currently are the benchmark for Jackson. I think he could feasibly go even higher, but they need a new franchise passer, and he's probably their best bet unless they trade up.
Not everyone can trade up, so I expect somebody to roll with Jackson among the first 17 picks.
Saquon Barkley Draft Position
The last prop bet up for question at Sportsbetting.ag right now is Saquon Barkley's draft range.
This is a very dynamic feature back prospect that could realistically snag the #1 overall spot.
I don't think that happens, but after seeing the Cowboys, Rams, and Jaguars all benefit from adding elite rushing talent in the past few years, teams once again are prioritizing landing a stud running back.
Needless to say, betting against his draft range being inside the top 5 feels a bit bold.
There is value to be had in throwing caution to the wind with the over, but it's not that realistic.
Barkley is a generational talent and is probably locked inside the top three. The only thing that stops that is that crazy quarterback run that some people think will happen.
I don't see that happening, however, so Barkley feels like a lock inside the first five picks. There is no value in that, but that's the logical play.
The Wrap-Up
That does it for our look at the latest 2018 NFL Draft prop bets. These are 15 of the best NFL Draft wagers you'll find online, but the beauty is that this really is just the tip of the iceberg.
There are several more wager types that should pop up, including player count for specific schools, as well as NFL team-specific wagers.
In addition, while there are several player-specific props available right now, there are numerous star players worth wagering on.
There is still a lot to learn over the next few weeks, so take what you see here with a grain of salt.
Things can change greatly, and once there is concrete evidence for who the top pick in the draft will be, bettors should get a pretty good idea of how to bet the rest of the way.