13 Burning Questions Ahead of the 2021 NFL Draft

The 2021 NFL Draft is built on hype, potential, and unbridled speculation. It is a big reason why betting on the NFL Draft is so interesting – because there is serious room for value.
Why? Because nobody knows a thing.
Even the best NFL draftniks are wrong about prospects, teams reach for bad players, and trades get botched.
Nothing is always what it seems in the NFL Draft, which is why there are so many questions – and precious few answers – before the first team is "on the clock".
In fact, the only thing for certain (we think) is that Trevor Lawrence will go #1 overall. Is that even a guarantee?
I sat down with in-house NFL expert Michael Wynn to comb over the 13 biggest questions going into the 2021 NFL Draft to find out.
Will the Jaguars Pick Someone Other Than Trevor Lawrence?
Absolutely not. I won't even pretend there are any versions of Jacksonville not utilizing the top pick on the former Clemson quarterback. Aside from all the mock drafts, Trevor and his wife have already donated upwards of $20,000 to the city of Jacksonville.
If that's not enough, owner Shahid Khan offered the following on April 26th.
"I spoke to Trevor on Zoom in a very pleasant way, his sense of humility, his absolute drive. He wants to make a difference, in the community and, obviously, most importantly, on the gridiron."
Enough said.
I concur. Trevor Lawrence is the most complete passer in this draft class, and the Jaguars are absent a true franchise passer. You kind of need one of those in the NFL.
Gardner Minshew II and his jorts make for a fun story, but Jacksonville needs a legit star under center to rival the likes of Patrick Mahomes and Josh Allen in the loaded AFC.
They get that in Lawrence, who some regard as the best quarterback prospect since Andrew Luck.
Who Will Be Picked 2nd Overall in the 2021 NFL Draft?
I tend to think Justin Fields is the more tantalizing prospect, but Wilson is admittedly safer, and it appears that Gang Green are smitten by him.
Sam Darnold is out the door and a member of the Carolina Panthers, so it's time to officially move on and draft that next great signal caller.
Wilson has the mental makeup, big arm, and strong athletic traits to morph into a special passer. New York just needs him to be better than Sam Darnold.
Michael Wynn: Zach Wilson
Are these questions going to get harder?
Again, no iterations exist in my mind of the Jets doing anything other than selecting Zach Wilson at #2. Trading Sam Darnold to Carolina was the final piece of evidence linking New York to a quarterback in the first round.
As for why it'll be Wilson – his skill set is simply too alluring.
Considering Darnold was a turnover machine, the more controlled Wilson will be a breath of fresh air.
Which Quarterback Will the 49ers Select?
Forget about who any of us think deserves to go #3, this is about who Kyle Shanahan envisions guiding his offense for the next 10+ seasons.
Every indication from trusted reporters is that SF is leaning toward Mac – nothing I've learned has me interested in swaying in a different direction.
I'm just happy that when I wrote about betting on who the 49ers will pick at #3 that I was able to latch onto Jones at +105. That "juice-free" price tag is long, long gone.
Noah Davis: Justin Fields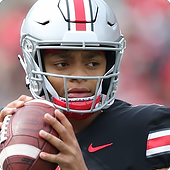 I get the Mac Jones answer, Michael, and I'd accept Trey Lance, too. Maybe I'm just being stubborn here, but in my mind, Justin Fields is the second-best quarterback prospect in this draft class.
The 49ers supposedly love Mac Jones for his intangibles and big arm, but he is a dying breed of quarterback in an increasingly faster and more versatile NFL.
Jones does not project as well at the next level as San Francisco seems to think, while Trey Lance is an unproven commodity that may be among this draft's biggest busts.
Fields does not come without his warts, but he's a dual-threat stud in the making. In the name of Lamar Jackson, San Francisco needs to get bold and take the most dynamic passer left on the board.
How Many Running Backs Will Go in the 1st Round?
There are NFL Draft props out there asking this very question, and I detailed why Najee Harris will be drafted in the first round not too long ago.
I still believe he will be, with the Pittsburgh Steelers looking like the best landing spot. But despite running back being largely devalued, several teams have a pressing need at the position.
That, and this is a loaded running back class.
Perhaps that plays into some viable backs sliding, but the Bills and Dolphins stand out as two teams that could deem it worth it to splurge on a back in round one.
With Harris, Javonte Williams, and Travis Etienne all being deserving of first-round picks, I like the odds of at least two of them hearing their name called in round one.
I think it's unlikely we see two running backs go on day one, and in fact, I'll double down and say that "0" is more likely than "2."
I also originally thought Najee Harris was a shoo-in to land in Pittsburgh, but then I did some digging. The Steelers' lack of a run game in 2020 had nothing to do with having insufficient running backs; it had everything to do with being armed with an inadequate offensive line. Paltry play from Big Ben certainly didn't help.
In other words, drafting an RB at #24 won't solve any of Mike Tomlin's problems.
There is an outside chance that Jacksonville (#25) or Buffalo (#30) could aim for a running back on day one, but for the most part, day two is when organizations will be targeting a tailback.
For what it's worth, I'm pegging Travis Etienne to be the first RB plucked.
Who Will Be the Second Wide Receiver Drafted?
Michael Wynn: Jaylen Waddle
Ja'Marr Chase is all but locked to be the first wide receiver taken in the 2021 NFL Draft, and I think we can go ahead and pencil Waddle in to be the next wide receiver off the board.
DeVonta Smith tipped the scales under 170 pounds – that's not going to sit well with GMs pondering what to do with a top-12 pick. He also didn't declare early.
Wide receivers that get drafted in round one that didn't declare early don't have a good track record in this league.
I'm not here to say DeVonta will be a bust, but here's what I can gather. Waddle's a little heavier, a little faster, and a little more explosive.
Noah Davis: DeVonta Smith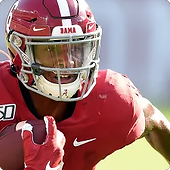 I don't think there's a wrong answer here in terms of hypotheticals and legit talent.
Both Waddle and Smith are explosive receivers who project as dangerous deep threats at the next level.
Both have value, but Waddle didn't really get to show what he can do last year due to injuries.
That could play into him getting somewhat overlooked here, but Smith was so good that he won the Heisman, and he simply offers more upside.
Which Team is Most Likely to Trade Up or Down?
The Falcons are in a nice spot right now, as they absolutely could do something with the 4th overall pick (quarterback/best player available), but they also could dangle it.
The return for the 4th overall pick would be rather handsome, so a team that seemingly already has enough offensive pieces to contend could just try to kill two birds with one stone here.
If they trade down, they could acquire multiple picks (and perhaps a player), while the sudden Julio Jones trade rumors may incentivize just loading up on assets.
Atlanta hasn't had any concrete rumors beyond the potential to trade down, and that's when you start doubting what they'll do.
Michael Wynn: Denver Broncos
I find it hard to believe that John Elway is content heading into 2021 with a quarterback room that consists of Drew Lock, Brett Rypien, and Jeff Driskel.
If Mac Jones goes #3 to SF like I and so many are anticipating, the phones will be ringing off the hook for teams to move up to secure Fields/Lance.
Waiting around hoping that one falls into their lap at #9 – that's wishful thinking that the Denver front office doesn't want to have to depend on.
Perhaps Noah and I will both be right here if the Broncos strike a deal with the Falcons for the 4th overall selection.
How Many First Round Trades Will Happen?
Last year was a bit disappointing when it came to draft day trades, but you can feel free to chalk that up to doing everything virtually for the first time.
Teams should be much more comfortable now, and this draft seems to be a bit wider open, too. There is not a major consensus after the first two picks, and several teams project to be buyers or sellers.
I think this draft is a bit more active, with at least five trades going down in the first round. If you agree, you can hop aboard the weirdest 2021 NFL Draft prop bets, too.
Atlanta is a threat to trade down, Denver could trade up (per Michael's note above), and there should be at least three more teams looking to move around.
There's no doubt we'll see some movement once the picks start filing in, but the party has already gotten started in a big way.
San Francisco moved up (from #12 to #3), which coincided with the Dolphins moving back – only to then move up after another trade with Philadelphia.
More recently, Kansas City swapped the 31st pick to Baltimore for Orlando Brown.
Depending on what happens with the quarterbacks early, we could certainly see some shuffling inside the top 15. After that, things should start quieting down.
Which Player is Destined to Slide in Round One?
Michael Wynn: Kadarius Toney
Between Noah listing him among the potential 2021 NFL Draft busts and me predicting he'll be among the first-round prospects who slide to day two, it's pretty clear that neither of us is too fond of the Florida WR.
This is a guy who hauled in 50 balls and scored two touchdowns during his first three years in Gainesville – it wasn't until Kyle Trask's pass-happy attack in 2020 that Toney started contributing.
I see lots of wide receivers in this class who run crisp routes, not to mention, they declared early.
Kadarius Toney floats around and played all four years.
As for the wide receivers I see going ahead of Toney in the 2021 Draft.
Ja'Marr Chase
Jaylen Waddle
DeVonta Smith
Rashod Bateman
Terrace Marshall Jr.
Elijah Moore
Rondale Moore
Should that pan out, that'll qualify as "sliding in round one," won't it?
This is a very weird prospect, as the guy did not endure a lot of volume or stiff competition in his only year as a full-time starter, and last year he didn't even play.
Lance has all the talent in the world, but scouts have to wonder if he's the next Josh Allen or the next Deshone Kizer.
There are a lot of question marks here and being out of football does not help matters. With Mac Jones moving up and my affinity for Justin Fields now being made public, there is a reality where the uber-talented Lance slides.
How far? That's anyone's guess, but there is a path where he slides out of the top-10.
Who Will Be This Draft's Biggest Bust?
If this is the guy the 49ers are about to draft, they're going to regret it.
Jones was a monster at Alabama, but there are questions about his arm strength, and his athleticism is virtually non-existent.
The Niners seem intent on trying to survive the NFL landscape with a statue under center, and I can't wait to see how that works out for them.
Prediction: Not great, Cotton.
Should the 270-pound Michigan EDGE land with an organization that makes it a point to appropriately maximize his strengths, Kwity Paye could evolve in a perennial Pro-Bowler.
Having said that, it could take the "perfect fit" for that to transpire.
Projected to be the first pass rusher drafted, I prefer Jaelan Phillips, Azeez Ojulari, Jayson Oweh, Gregory Rousseau, and Joe Tryon.
With that in mind, I feel almost obligated to pinpoint Paye as the draft's biggest bust.
Who Will Be This Draft's Biggest Steal?
Michael Wynn: Zaven Collins
Trey Sermon and Rondale Moore immediately come to mind, and I think Davis Mills has a bright future ahead as a future NFL starter. Those are the sexier picks, here's one a little more under the radar.
Zaven Collins.
I elaborate on what I like about the 2020 Bronko Nagurski Trophy winner in this post, but I'll pull together the main points and leave you with the cliff notes.
This is a 6'5" 270 do-it-all linebacker who can play every snap at the next level. From penetrating the line of scrimmage to bullying tight ends and running backs in coverage, this dude has no holes in his game.
Whether you caught Zaven picking off four passes (two returned for touchdowns) or racking up 7.5 sacks, his eight-game sample size as a junior in 2020 was stellar.
If you simply read Collins' draft profile on NFL.com, you'll glance at quotes like this.
"Freaky combination of size and athleticism for a linebacker."
Likely a late first-round pick, someone is going to be thanking their lucky stars they wound up with Zaven Collins.
Noah Davis: Rondale Moore
He's insanely talented with the ball in his hands, and he's being downgraded due to a stacked wide receiver class.
Moore isn't better than the top three wide receivers, and he's basically being penalized for it.
The guy is a nightmare after the catch, and if you're wondering what an offensive weapon looks like, this is it.
The Purdue phenom should still be a first round pick, but there's a path that could send him just a hair out of the first round. Anything beyond the 25th pick, though, and he's a solid steal.
Which Team Needs to Have a Good Draft the Most?
Noah Davis: Green Bay Packers
Green Bay has advanced to two straight NFC title games, and they've come up empty both times. Hats off to them for getting that far, but this team should be ready to make that big leap.
The problem? They probably needed to add some reinforcements to get past the Buccaneers.
So far, they haven't, so unless there's a big trade or random free agency acquisition coming, they need to crush this draft.
Beyond needing to get better to close the gap between them and Tampa Bay, the Packers also need to make everyone forget about their debacle in last year's draft. A stellar showing in the 2021 NFL Draft could cure all.
Michael Wynn: Las Vegas Raiders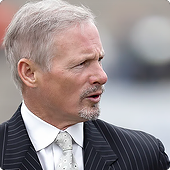 I agree the Packers need a good draft so that they can get the most out of Aaron Rodgers in what could be his final year in Green Bay.
On the other hand, it's hard to feel bad for a team that went 13-3 in each of the last two years – regardless of if they get A-Rod help in the draft or not.
Plus, I live in Vegas and am tired of seeing Mike Mayock run the Raiders franchise into the ground.
Mayock drafted a running back in the first round and then decided to pay a backup RB $11 million this offseason. And he did this while dismantling his offensive line and putting his trust that Tom Cable can develop young talent.
I'm shaking my head in disgust as I type out these words.
Vegas owns four picks in the top 81 and needs to fill holes on both sides of the ball. Another failed draft and the Raiders will almost certainly be searching for a new GM at the end of the season.
Which NFL Team Will Have the Best Draft?
Michael Wynn: Jacksonville Jaguars
Jacksonville has the luxury of having five picks inside the top 65. They're going to hit the ground running with Trevor Lawrence at the top and have ample opportunities to add talent around him.
The Jags can take the best player available at #25, while picks #33 and #45 can be specifically catered to plugging holes in the depth chart.
Maybe that's a shifty running back and/or a ferocious edge rusher. At #65, they could go after one of the gadget-type receivers or a play-making tight end.
In any case, the changing of the guard in northeast Florida is about to become real.
Noah Davis: Miami Dolphins
Consider it a volume play, but Miami has also made some good decisions in recent memory. They rebuilt their team from the ground up, took their lumps, and very nearly made the playoffs last year.
The Dolphins are poised to push further in 2021, and a strong showing in this year's draft will help.
They're aided by two first round picks (6th and 18th), and given their solid rebuild this far, I tend to think they'll do a fine job.
Which Team Will Have the Worst Draft?
Noah Davis: New York Giants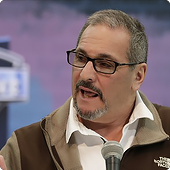 I don't mean to come down on Dave Gettleman too hard here, but things haven't transpired as he may have hoped in New York.
Saquon Barkley is a generational talent and Daniel Jones still offers upside, but both were arguable reaches with the G-Men selected them.
New York's drafts have left a little to be desired. If history is any indication, Gettleman will either totally botch this draft, or do something that raises an eyebrow or two.
If they don't have the worst draft, they'll at least be in contention.
Michael Wynn: Las Vegas Raiders
If New York takes a receiver at #11 after spending $72 million on Kenny Golladay, I might just be in agreement with Noah. For now, I'll give the G-Men the benefit of the doubt and bank on them taking a "hog molly."
On that note, I'll reluctantly go with the Raiders.
Leave it up to the Gruden/Mayock regime to screw up another golden opportunity to re-tool their roster.
The king of "reaching for picks," Mike Mayock has done nothing thus far in his tenure in Vegas to make me think he'll make sound decisions during the draft.
I just hope that Mark Davis has the heart to eventually pull the plug and hire a GM with a more substantial track record.
2021 NFL Draft Betting Tips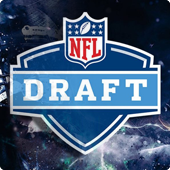 You can soak up the burning questions for the 2021 NFL Draft, or you can apply them to placing some bets.
The top NFL betting sites are offering a plethora of props dealing with player draft range, picks, team decisions, and so much more.
We've also been busy breaking down what teams will do via mock drafts, taking a look at player rankings, and also diving directly into some specific NFL Draft props.
Ready to bet on the draft? Consider the following.
Research, Research, Research
Find a Good Site to Bet On
Seek Out the Best Value
If you don't actually follow the draft, you'll have a hard time profiting from it. Do all the research you can stomach, whether it's scouring the latest mocks, checking out rankings, or just paying attention to the news.
Then you can get ready by finding out where to bet on the 2021 NFL Draft. Marrying your research with the best value should lead you to the best, most successful bets.
Ideally, this look at the biggest 2021 NFL Draft questions also gives you some answers and assists you in your NFL Draft betting endeavors.