Hide Bonus Offers
| | | | | |
| --- | --- | --- | --- | --- |
| #1 | Bovada Sports | 50% Up To $250 | Visit Site | Bovada Sports |
| #2 | BetUS | 125% Up To $2,500 | Visit Site | BetUS |
| #3 | MyBookie | 100% Up To $1,000 | Visit Site | MyBookie |
| #4 | Everygame | 100% Up To $500 | Visit Site | Everygame |
| #5 | BetOnline Sports | 60% Up To $1,000 | Visit Site | BetOnline Sports |
Bigger is Often Better with Brick and Mortar Casinos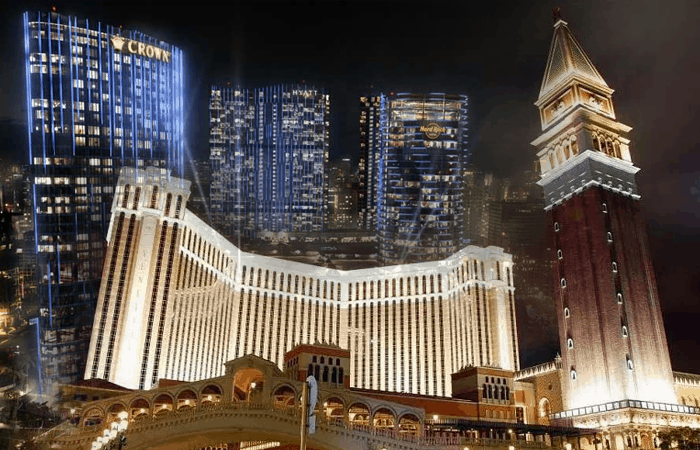 They say that bigger isn't always better.
Well, I don't know who they are, but in this case – when it comes to brick and mortar casinos – they are wrong.
Bigger casinos are better than smaller ones. That's a fact (says us).
Larger casinos are better because they have more to offer; they have more slots and table games; they have more hotel rooms; they have more attractions; they have more shops.
They just have more to do.
You can see a good example of this by scoping out any casino on the Las Vegas Strip. Visit Caesars Palace, New York, New York, or The Palazzo, and you'll have tons of games, shows, shops, restaurants and attractions to choose from.
You won't find all this at your 'little' local Indian casino.
The crazy thing is, while all the casinos on the Las Vegas strip are 'large' and are great examples of what larger casinos offer, most of them pale in comparison to the casinos on our list below – the largest casinos in the world by gaming square footage.
Check it out, and see why bigger is better when it comes to gambling.
Please Note:
There are LOTS of casinos out there. Some publish information about their size and offerings, while others don't. So, between that, the new casinos being built, and the casinos always in some phase of construction, we can't guarantee this list is accurate.
If you've ever been to Las Vegas twice, you know what we mean.
That said, it should be close, and you'll still get an idea of what a large casino can offer that most small casinos can't.
The 12 Largest Casinos in the World (by Gaming Floor Square Footage)
Below you'll find a list of the largest casinos in the world. We used gaming floor space as the common denominator to rank each one. They're in order from smallest to largest.

12. The Borgata, Atlantic City (161,000 sq. ft.)
They opened their doors in 2003. Their gaming selection includes more than 4,000 slot machines and 200 gaming tables. They also have the only racebook in Atlantic City.
The Borgata has the largest hotel in Atlantic City. While you're there you can check out one of their 4 nightclubs, which includes:
Premier: For parties and receptions with a 600-person capacity.
Gypsy Bar: A private music venue with a causal bar setting that seats up to 150.
Long Bar: A regular bar.
B Bar: An ultra lounge on the casino floor.
For additional entertainment, they have their staple, the Borgata Comedy Club. And for food, you can check out the Bobby Flay Steak, Izakaya, Mixx or the Old Homestead Steakhouse.

11. Casino Lisboa, Macau (165,000 sq. ft.)
The Casino Lisboa opened on April 19th, 2006. They're located in Kisbon, the Portuguese capital. They have more than 1,000 slot and video poker machines and 26 poker and table games.
Outside of gaming, you can stay in one of their 1,000 hotel rooms, eat at one of their 7 bars and restaurants, or catch a show in their 600-person theater.

10. MGM Grand, Las Vegas (171,500 sq. ft.)
The MGM Grand in Las Vegas opened in 1975. Their gaming floor includes more than 2,500 slot machines and nearly 140 poker and table games. They have a large sportsbook, too.
For entertainment, you can go see Brad Garret (comedy), David Copperfield (magic), Ka (Cirque du Soleil) or hang out in Hakkasan, a popular restaurant and nightclub.
You have several choices for food including Emeril's, Michael Mina's Pub, Craftsteak and Wolfgang Puck. And when you need to rest, you can stay in one of their 5,000+ hotel rooms – which makes them the 3rd largest hotel in the world and the 2nd in the United States.

9. Trilenium Casino, Buenos Aires, Argentina (180,000 sq. ft.)
They're formerly known as the Casino de Tigre. They're one of the largest – if not the largest casino in South America. They have nearly 2,000 slots and table games, as well as 5 restaurants and bars.

8. Crown Casino, Melbourne, Australia (220,000 sq. ft.)
The Crown Casino launched in 1994 – and with a bang when actress Rachel Griffiths streaked the casino on their opening night.
The Crown is the 2nd largest casino in the Southern Hemisphere. They have 3,000+ table games and slot machines. They're also home of the WSOP Asia-Pacific and Aussie Millions tournament series'.
They also have 3 hotels – two 5-star hotels and one 4.5-star hotel, with a grand total of 1604 rooms.

7. MGM, Macau (222,000 sq. ft.)
The MGM Macau opened in 2007. Their casino spans two levels, and wraps around the Grande Praca, an old-world central plaza that sits at the heart of the hotel.
Right now you can play one of their 835+ game machines or 400+ table and poker games. Or, you can grab some food and drinks in one of their twelve restaurants and bars (Wolfgang Puck, TAP and Palette, for example) before you catch a show in their 1,200-person theater.
And, when you're ready to sleep? They have a 600-room hotel.
Fun Fact:
Right now they're #7 on our list. But soon they'll be #3 or #4. They're currently expanding their casino an additional 47,000 square feet on the 2nd floor. This will allow them to add another 70 table games and 240 slot machines.

6. Sands, Macao (229,000 sq. ft.)
The Sands Macao opened in 2004, but expanded by almost 50% in 2006. This casino is owned by Sheldon Adelson, one of the richest people in the world.
Their casino offers more than 750 machines and 1,000 table and poker games.
The Sands also has 7 restaurants and bars, 51 hotel rooms, a theater and lounge.

5. Rio Casino Resort, Klerksdorp, South Africa (266,330 sq. ft.)
The Rio Casino opened in 2002 (where they were formerly known as the Tusk Rio Casino Resort). This is the largest casino in Africa and the Southern Hemisphere. You'll find more than 255 gaming machines and 12 table and poker games.
You can eat in one of their (two) restaurants/bars or check out a show in their 450-person Escapades Theatre. Or you can catch some z's in their 70-room Metcourt Hotel.

4. Ponte 16 Resort, Macau (270,000 sq. ft.)
The Ponte 16 Resort opened in 2008. It's located in Macau's Inner Harbor area. They offer a 5-star hotel with 420+ rooms, casino and Asia's first and only Michael Jackson gallery. They have 3 restaurants, a banquet room, pool and 24-hour fitness area, too.

3. Foxwoods Resort Casino, Mashantucket, Connecticut (344,000 sq. ft.)
The Foxwoods Resort Casino opened in 1986, but it's been renovated 4 times since then (spanning several years). It's the largest casino in the United States, and is the only casino located on an Indian reservation (Mashantucket Pequot).
Before their split from MGM in 2013, their resort offered 6 casinos, 4 hotels and several restaurants – including a Hard Rock Café. Between all the casinos there were more than 380 gaming tables and 6,300 slot machines.
But their new name is Fox Tower. Here's what they have to offer following their split:
53 table games
1,400 slot machines
825 hotel rooms/suites
4,000 seat performing arts theater
4 restaurants
4 shops
They also have a two-story arcade. They say it's for kids, but I know I'd check it out, too.

2. City of Dreams, Macau (420,000 sq. ft.)
The City of Dreams (CoD) is the largest casino in Macau. They have more than 500+ gaming tables and 1,500+ gaming machines.
Their resort consists of 4 towers (Hard Rock Hotel, Crown Towers Hotel, and the Grand Hyatt Macau) which has 14 different restaurants and bars and 1,400+ hotel rooms. They have an additional 47-story apartment block planned, which will include a (mega) casino, hotel facilities and 200+ shops.
Permanent shows and attractions include the Bubble Fountain, Dancing Water Theatre and The House of Dancing Water.

1. The Venetian, Macao (550,000 sq. ft.)
The Venetian, Macao is the largest casino in the world and largest single structure hotel building in Asia. They're also the 7th largest building in the world (in terms of floor area).
Their casino offers more than 3,400 slot machines and nearly 900 table and poker games. They also have 24 different restaurants and bars, 3,000+ hotel rooms and a 15,000-seat venue where they hold sporting events, award shows and Cirque du Soleil shows.
Conclusion
There you have it – a list of the largest casinos in the world.
Most of the casinos on this list will have the same games, though the house edge may be a bit different. But that's not why we'd recommend checking any of them out.
We'd suggest checking these casinos out for their sheer size, as well as the unique attractions, shows and restaurants they have. While there are some 'chains,' most of them – and all unique restaurants – will offer a unique menu.
Between all that and all the sightseeing you can do off the resort, there's no reason not to check out every casino on this list.
What are you waiting for?