12 Football Players That Should Play in the 2022 USFL

The USFL is back in 2022. That isn't something I ever thought I'd say, and even after saying it, I still barely know what that means.
After all, the XFL "returned" last year, and now it's gone again already. These non-NFL football leagues don't have a long shelf life, as exciting as they always seem to be.
Perhaps the USFL will be different, though. And even if it's not, for as long as it's in existence, it could give a slew of NFL hopefuls one more stage to showcase their abilities.
Faded stars, talents that were pushed out of the league, and/or players that never got a fair shake; they all could have one more go of it when the USFL returns in 2022.
So, who should be at the top of the list for prospective USFL teams and fans? I have some names I personally would like to see. With that, here's a look at 12 players that could revive their career in the USFL.
Johnny Manziel – Quarterback
Johnny Manziel has tried just about every league known to man in his plight to make it back to the NFL. He even recently took things to a whole new level by taking part in the Fan Controlled Football league.
Manziel still looked pretty spry here, and if he's surrounded with enough talent, perhaps his dual threat ability could shine in the USFL.
The former Cleveland Browns star quarterback and draft bust flashed dynamic ability in Ohio, and most will recall his dazzling play as one of the best college football stars in history.
Manziel is impossibly still just 28, and while he's suggested that he has no interest in a return to the NFL, perhaps his tune would change for something completely different like the USFL.
Colin Kaepernick – Quarterback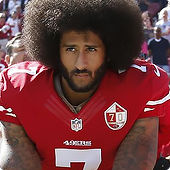 Here is another guy that seems done with professional football, but if the NFL is done with Colin Kaepernick, maybe the USFL can throw some cash his way.
Kaepernick seems more interested in civil rights these days, and he has plenty of endorsements and ongoing projects, including a story about his life.
That could mean the former San Francisco 49ers star passer is just done with football, but he actually looked pretty good when he last tried out for NFL teams.
Kaepernick still has the size, arm, and athleticism to be a star in the right setting. That doesn't appear to be the NFL, but if the USFL could land him, that could be quite the coup.
Alex Smith – Quarterback
I could dig into the failed journeys of quarterbacks in the AAF or XFL, or target aged retreads like Michael Vick or Vince Young, but I am trying to keep things somewhat realistic.
Smith is another big name that is available and may be open to the idea of playing professionally somewhere. The problem? He's presently retired.
"Even though I have plenty of snaps left in me, after 16 years of giving this game everything I got, I can't wait to see what else is possible."

Alex Smith announced his retirement from the NFL on Monday: https://t.co/YYRSvcPxGb

— Sports Illustrated (@SInow) April 19, 2021
It's the whole "plenty of snaps left in me" thing that gets me, personally.
The impressive Smith just wrapped up a Comeback Player of the Year award, so there is no doubt he could be emotionally and physically spent at this point.
That said, he didn't find any takers as a free agent this offseason, so maybe the USFL showing strong interest in the former #1 overall pick would flatter him. If they toss the right amount of money at him, maybe he wouldn't mind being the new face of the league, either.
Terrell Owens – Wide Receiver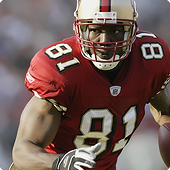 Terrell Owens isn't going to revive his NFL career at age 47. The guy was literally old enough to finally be inducted into the Pro Football Hall of Fame, after all.
Owens isn't going to play in the NFL ever again, but he's remained adamant about his desire to put the cleats back on.
Would he settle for a shot to prove he still has it in the USFL? I'm not sure, and the USFL might just see this as a gimmick, but it certainly would attract some eyes, and perhaps even help sell some tickets.
T.O. has always been one for theatrics, and last summer he raced some current NFL players to showcase his undying speed.
Get your popcorn ready? Probably not, but if Owens is ever going to make any kind of a comeback, this may be his last shot.
Terrelle Pryor – Wide Receiver
Pryor isn't the big name that T.O. would be, but he's significantly younger, and he offers more upside. He may do that in more ways than anyone thinks, too, as he's about as dynamic a performer as you'll find.
A former quarterback, Pryor can effectively be a dual threat passer, he can play running back, and he can excel at wide receiver. If you doubted his explosiveness, just remember this run he pulled off as a member of the Raiders.
In Pryor's defense, he was never given a proper chance to develop as a quarterback. And in today's modern game, his ability to burn defenses as a runner and extend plays would arguably be more valuable than ever.
Of course, Pryor has the size, catch radius, speed, and explosiveness to terrorize defensive backfields, too. The USFL can use him in a plethora of ways. They just need to get him first.
Dede Westbrook – Wide Receiver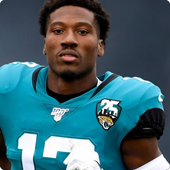 Westbrook isn't as big of a name as Owens or perhaps even Pryor. Pryor was a massive college football star, and T.O. is a Hall of Famer.
While Westbrook was quite dominant at Oklahoma during his college days, his talent failed to translate to the pros as a member of the Jacksonville Jaguars.
To make matters worse, Westbrook suffered a horrific injury the last time he was on a field, and he is currently without a job.
As difficult as that is, Westbrook is mounting a comeback, and the 27-year-old has the speed to be a game-changer in the right situation.
There are other names you can pull from the XFL and other leagues that probably are in a better position to make a big impact, but if Westbrook is fully healthy, he'd be a guy to root for.
Kenny Stills – Wide Receiver
One more wide receiver that could fit right into the USFL relaunch is Kenny Stills. He's a bit of a one-trick pony at this stage of his career, but the one thing he does, he does extremely well.
Still couldn't find any takers after leaving Houston last season, but the 29-year-old burner can still take the top off of defenses and could be a useful weapon.
With the NFL not showing clear interest, Stills could rehab his career with a big season in the USFL, reminding everyone of his explosive play down the field.
Le'Veon Bell – Running Back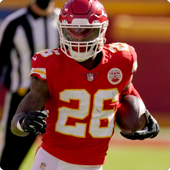 If you ask me, Le'Veon Bell is completely washed. He latched onto the Kansas City Chiefs last year to chase a title, but he was eventually phased out of the offense.
While he took a big step back last year, there is no denying Bell's versatility, and he can still find the endzone and grind out tough yards. His speed has been sapped, however, and motivation may be a question mark at this point.
However, nobody in the NFL is handing him a featured role anymore. Unless he can convince someone to bring him in as a backup, he may be looking at early retirement, or jump-starting his career in another league.
The USFL could offer Bell a huge role, some extra cash, and the opportunity to prove to NFL teams that he can still ball.
LeSean McCoy – Running Back
The case is similar for McCoy. Unlike Bell, however, the older "Shady" is inexplicably still quite spry. He was always more explosive than Bell, but McCoy can still make an impact as a change-of-pace back, and can be useful as a receiver.
Weirdly enough, I'd value McCoy more if I were a USFL team looking for a star name to help market my franchise.
The 32-year-old is just about done in the NFL, as he was simply soaking up a roster spot the last couple of years in Kansas City and Tampa Bay. McCoy can still run a bit, however, and if he were open to changing leagues, he could still have star potential in the USFL.
Vic Beasley – Defensive End
It's easier to focus on offensive players that could play in the USFL, but there are also some star defensive players that make good sense, as well.
One that stands out is Vic Beasley, who appears to be on his last legs in the NFL.
Beasley was a monster sack artist as recently as 2016, when he racked up 15.5 sacks, and powered the Atlanta Falcons to a Super Bowl appearance.
He was amazing that year, but he barely topped that sack total over his next four seasons combined. Last year, especially, he was a total non-factor after signing with the Titans and Raiders, where he accrued zero sacks in 10 games.
Is Beasley seriously washed already at just 28? Maybe, but the speed and athleticism he displayed on the edge at one point was saliva-inducing. If he can work hard to get back to where he was – and stays healthy – he could ignite his career again in the USFL.
Kenny Vaccaro – Safety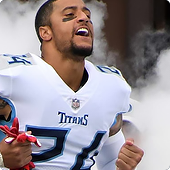 The USFL's easiest path to notoriety is going to be landing household name stars at a discount, but it's possible they could get attention by signing nasty defenders, as well.
One guy that seems appealing is hard-hitting safety Kenny Vaccaro, who is presently out of a job at the age of 30.
Vaccaro still has value in the NFL still, as he hits hard, he's a physical presence, and he sniffs out the run as well as any safety. He's routinely been a liability in coverage, however, and he's now on the wrong side of 30.
Should Vaccaro not see the role or compensation he prefers in the NFL, he could opt to make the switch to the USFL, where he could quickly become a superstar.
Vontaze Burfict – Linebacker
If you end up betting on which players will play in the USFL in 2022, here's a tip; consider targeting players who don't have other options.
One such player may be the 30-year-old Vontaze Burfict. He is a tenacious defender that absolutely has delivered some chilling cheap shots in his career, but he's also a total menace in the middle of the field.
His play has landed him suspensions in the past, and it's quite possible it's led to the end of his NFL career already. If so, the USFL could extend an olive branch and give him another avenue to make money playing professional football.
Burfict's on-field violence would need to be kept somewhat in check, but his physicality and toughness would still be accepted for any prospective defense.
Betting on the USFL in 2022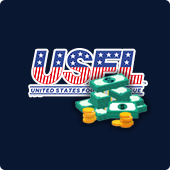 Ideally, the top football betting sites will allow you to bet on which players will play in the USFL in 2022.
Not everyone mentioned above is a great bet to be in the league, of course. I wouldn't bet on T.O. playing anywhere again, and it's quite likely that guys like Manziel and Kaepernick are simply done with football, too.
More than anything, I'd focus on players forced out of the NFL due to suspension, and/or players from other defunct leagues that should still be eyeing a spot in the pros.
As for betting on the USFL in general, there will be a lot of ways to make money off this league in the not-too-distant future. I'd assume there will be a USFL draft, and once the schedule is announced, and we know who is playing, you'll be able to bet on games, as well as who will win the 2022 USFL championship.
There is a lot to be excited about already, but there is also so much we don't know. This breakdown of players that should play in the USFL is a perfect example of the interest, but lack of actual information.
To help you get ready for the return of the USFL, check out my breakdown below.
September
Casino of the Month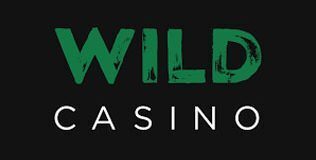 Welcome Bonus
250% up to $5,000