11 Prop Bets That Can Win You Money at the 2021 Oscars

With the Grammys in the rearview mirror, it's officially Oscar season. All eyes will be on the 2021 Academy Awards, which are set to honor the best performances across Hollywood over the past year.
The 2021 Oscars nominations were slowly trickling out, and on Monday, the final nods were revealed.
While there will come a time and a place to bet on the Oscars when it comes to the major categories (Best Actor, etc), there are other ways to cash in on the Academy Awards.
The top Oscars betting sites are also pushing out special Oscars prop bets, which you can bet on now.
Which Oscars props stand out as viable bets, and how should you wager? I'll walk you through some Oscars prop bets for 2021 and offer my picks.
Best Actor Speech Time
This is a complicated one, seeing as Chadwick Boseman is the massive favorite to win Best Actor posthumously.
Boseman was officially nominated for the award on Monday, and he's already locked a win up in the same category at the 2021 Golden Globes.
He obviously can't accept the award and give a speech himself, but his widow sure can. She accepted his Golden Globes nod on his behalf, and her speech was under 142 seconds.
It's possible Simone Ledward Boseman keeps this speech short and sweet, too, but historically, these speeches tend to run a bit longer. Could she use this platform to talk about her husband and/or something near and dear to their hearts?
That could happen, and given that the Oscars is a bigger draw, I'd hammer the Over.
Pick: Over 142 seconds (-120)
Over/Under for The Trial of the Chicago 7 Oscars
You can try betting on Boseman to win Best Actor or his speech time (should he win), but there may be better Oscars bets affiliated with movies.
This one touches on the surging The Trial of the Chicago 7, which has gained steam as a potential upset threat for Best Picture at the 2021 Oscars.
It's also nominated for five Oscars.
Best Picture
Best Supporting Actor
Best Original Screenplay
Best Cinematography
Best Film Editing
That's a solid number, and The Trial of the Chicago 7 has a reasonable shot at multiple awards. At this point, I don't think it snags Best Picture, but it's still in the running.
Based on its momentum and the volume seen here, I think the Over is a viable bet.
How Many Oscars Will Mank Win?
This bet stands out, seeing as Mank leads all films with 10 Oscars nominations this year.
Mank was seen as a heavy-hitter way back in the summer, but it's lost steam in the race for Best Picture, as well as numerous other categories.
That said, the Academy traditionally loves films about cinema, and this flick is led by former Oscar-winning actor Gary Oldman and acclaimed director David Fincher.
It probably won't get Best Picture, but it's in the running, and 10 nominations is 10 nominations. It's a numbers game, and out of 10 shots, it seems Mank is a decent bet to get three wins.
How Many Oscars Will Ma Rainey's Black Bottom Win?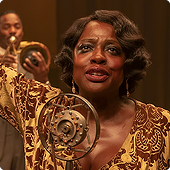 At some point, you're going to need to bet against a movie shining bright, too.
One could be Ma Rainey's Black Bottom, which was an important and well-done film, but it's being slightly overlooked in a fairly loaded season for the Oscars.
Chadwick Boseman is a borderline lock to bring home one award for this film, but where are the other locked in wins?
Viola Davis is always a threat to win Best Actress, but that race seems to be down to Carey Mulligan and Andra Day. There are three other sports for Ma Rainey's Black Bottom to bring you home, but you're left with very little wiggle room.
Ultimately, there is too much competition. Getting to three could prove difficult this year.
Number of Oscars Wins for Nomadland
Nomadland is definitely a movie worth betting on at the 2021 Oscars. Golden Globes success doesn't necessarily always translate to the bigger Academy Awards stage, but it also isn't a deterrent.
Frances McDormand is somewhat alive for Best Actress, but that's probably the one award where I'd shy away from.
With wins at the Golden Globes for Best Director and Best Actress – and both favored to win again – Nomadland is one to hitch your wagon to.
Nomadland has six Oscars nominations, and feels like a terrific bet to get two without breaking a sweat. It won't take much to get this movie to three, and the somewhat palatable -280 odds are a reminder of that.
Over/Under for Promising Young Woman Oscars Wins
I have to admit, I don't fully understand this one. You need Promising Young Woman to snag two awards at the Oscars, and I'm not sure it's an amazing bet to even get one.
Carey Mulligan is theoretically in the discussion for Best Actress, but she has some stiff competition. She also got upset at the Golden Globes by Andra Day.
Congratulations to Andra Day (@AndraDayMusic) – Best Performance by an Actress in a Motion Picture – Drama – The United States vs. Billie Holiday (@USvsBillie). – #GoldenGlobes pic.twitter.com/0GqLiftZih

— Golden Globe Awards (@goldenglobes) March 1, 2021
If the latter happens again, where are the two wins coming from? Promising Young Woman is sobering, eye-opening, and uncomfortably hilarious. But is it going to get overlooked when it comes to actually handing out the hardware?
Unfortunately, I think that's the case. One award is possible here, but given what went down at the Golden Globes, the Under looks extremely attractive over at BetOnline.
Over/Under for Total Bleeps in Acceptance Speeches
For the most part, the Academy Awards are pretty classy. There will be the occasional F-bomb from time to time, as seen by Ray Romano last year.
While that can happen, betting on it occurring every time the Oscars roll out isn't the best idea. Betting on it happening twice in the same show is only worse.
You can chase it for some value at +155, but it just isn't very likely.
Betting on Who Best Actor Thanks First
Again, this goes back to Chadwick Boseman, and the fact that he can't literally accept his award, should he win.
Boseman won at the Golden Globes, and he is heavily favored to be honored at the 2021 Oscars, as well.
It's fairly likely that his window would again accept on his behalf, and in her first speech at the Golden Globes, she said that Boseman would have thanked god first.
She could always switch it up (or another actor could pull off the upset), but at +1000, I am all for a dice roll.
Who Will the Best Actress Thank First?
You first probably want to gauge who will win Best Actress at the 2021 Oscars. Consider it easier said than done, as the favorite has changed hands for months now.
Frances McDormand and Carey Mulligan have both spent time as the betting favorite, while Viola Davis is a sneaky bet lurking behind them. Then there is Andra Day, who stole the show with a win in this category at the Golden Globes.
That bet feels like a toss-up, and in turn, so is this one, just because it's fairly wide open as to who actually wins.
It's worth noting that Day thanked god first in her acceptance speech. If you want to bet on someone else, McDormand thanked her family and co-workers first at her 2018 Oscars win, Viola Davis thanked the Academy in 2017, and Carey Mulligan thanked BAFTA at the 20210 BAFTAs.
Things can change for any of the nominees, but with the most likely winners being Day or Mulligan, the best bests are the Academy or god. I say go big again.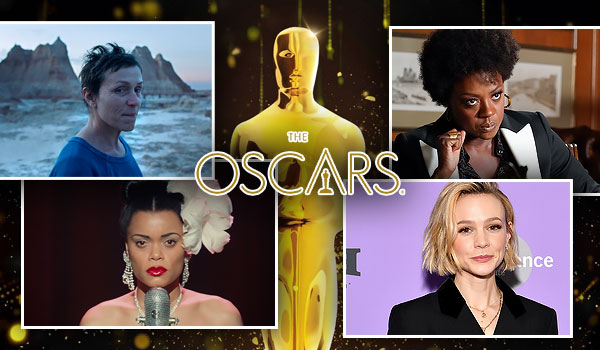 Will Any Video Feed Be Dropped?
This is still an age of virtual call-ins. Some of the show might be done virtually, and there will absolutely be nominees and even winners who don't even show up.
This means Zoom calls should take place, and there's always the off chance of a disconnected call. There is no real way to predict it, but for a +170 price, that seems like a fun bet to take.
Will a Presenter Announce Wrong Winner?
Warren Beatty may never be able to live down his Oscars snafu, where he was part of a presenting team that announced the wrong winner for Best Picture.
It was an epic, classic gaffe, but you have to think the Academy has worked hard since then to ensure the presenters don't make a mistake like that again.
This isn't the type of mistake that happens (ever), so banking on it happening for the second time in just the last four years feels like a reach. The +1400 price isn't bad if you want to cross your fingers for some unexpected drama, but I doubt it's a winning bet.
Final Thoughts on the 2021 Oscars
There is a lot of money to be made in betting on the 2021 Oscars. When betting on the Academy Awards, most of your attention should understandably be geared towards the major betting categories, but there is a tie-in with these Oscars props.
With the 2021 Oscars nominations finally out there, even more Oscars prop bets may end up being pushed out, too.
For now, you can target the 2021 Oscars props above, and also be on the lookout for my final Oscars predictions.
I've already begun the process of helping you bet on the Oscars, of course. Check out the posts below to start your research for this year's awards.