Hide Bonus Offers
| | | | | |
| --- | --- | --- | --- | --- |
| #1 | BetOnline Sports | 60% Up To $1,000 | Visit Site | BetOnline Sports |
| #2 | Bovada Sports | 50% Up To $250 | Visit Site | Bovada Sports |
| #3 | BetUS | 125% Up To $2,500 | Visit Site | BetUS |
| #4 | Everygame | 100% Up To $500 | Visit Site | Everygame |
| #5 | MyBookie | 100% Up To $1,000 | Visit Site | MyBookie |
10 Times Injury Ended a Sports Superstar's Career

There are two things that are inherently devastating to professional athletes — losing and getting hurt. Considering how much even one injury can impact a player's career, I'm not sure which is worse.
If you ask anyone who likes to bet on sports, they'd probably quickly agree that losing takes the cake.
Most competitors would also say they list losing as the most painful experience in athletics. The further you get in any prospective tournament, the worse it is.
The same has to be said for injuries, however, especially when they end brilliant careers for good. It's the ultimate form of losing, as athletes work so hard to get to the highest level, to compete, and to put food on the table for their families.
But all of that dedication can come crashing down with one horrible injury. Sometimes it's a cumulative effect of numerous injuries piling up, it can be one fateful blow in a contest, or it can even come away from the field.
No matter how athletes arrive at the end of their sports careers, it's rarely greeted with a smile.
When looking at the many unfortunate sports careers ended by an injury, it's surely broached with a grimace and at least an inkling of regret.
It's the nature of the beast, of course.
If you put your hand over the flame enough times, you're bound to get burned. But some athletes had it worse or got to such a high point that their fall felt more cataclysmic than others.
When it comes to superstar athletes seeing their career ended by injuries, the following rank as the worst. These players were at the height of their physical prowess, got hurt, and for the most part, never played again.
Brandon Roy, SG, Blazers (2011)
Roy barely makes this list, as his career didn't fully end after his first taste of injury. For all intents and purposes, however, the 2010-11 season marked the end of his career due to a degenerative knee condition.
Prior to the diagnosis that ultimately ended his NBA career, Roy was the 6th overall pick in the 2006 NBA Draft and was a rising superstar for the Portland Trail Blazers.
Roy averaged 16.8 points per game as a rookie and offered solid athleticism and an extremely versatile skill-set. His ability as a scorer only enhanced in the coming years, as he averaged over 21 points per game in both 2008 and 2009.
Beyond his individual numbers, Roy's play also helped the Blazers reach the playoffs over the final three years of his career. Portland wouldn't win a series, but his play made them a tough out in the first round each time.
Roy did make a short-lived comeback in 2012 after sitting out the entire previous season due to his knee troubles. His NBA return lasted just five games before he hung up his shoes for good.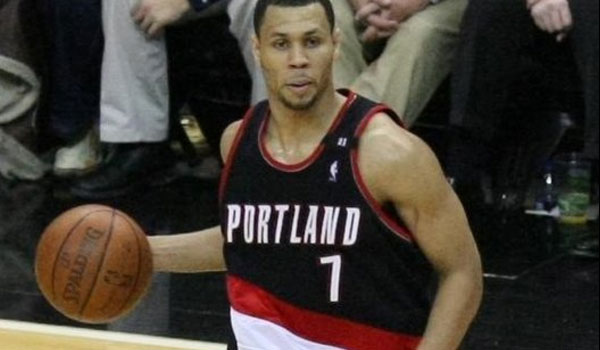 Sterling Sharpe, WR, Packers (1994)
It's quite possible Sterling Sharpe could have gone down as the greatest NFL wide receiver ever, had he been able to stay healthy.
That sounds like hyperbole, but when you look at his production and the fact that he'd have continued playing with Brett Favre, the sky truly was the limit.
Packers fans got to enjoy his amazing play for seven seasons, watching Sharpe rack up 595 receptions, 8,134 receiving yards, and 65 touchdowns.
Sharpe even saved his best for last, as he hauled in a career-high 18 touchdowns in his last season in 1994. In fact, his last game ever came in the final game of that season, where he caught nine balls for 132 yards and three scores.
The game before, Sharpe suffered a stinger on a run-blocking play. He somehow managed to finish the season with one more amazing game the following week but was forced to call it a career shortly after.
Brad Daugherty, C, Cavaliers (1994)
One of the more underrated big men the NBA has ever seen, Brad Daugherty tends to go overlooked due to playing for Cleveland and calling it a career at age 28.
The first overall pick in the 1986 NBA Draft, Daugherty was extremely productive immediately as a rookie, averaging 15.7 points with 8.1 rebounds per game. Daugherty only got better from there, as he developed into an elite scorer, handing in three separate campaigns with 20+ points.
Prior to his selection, the Cavs had missed the playoffs in seven of their previous eight seasons, while the franchise hadn't won a playoff series since 1976.
Daugherty lived up to his draft status statistically but also played a huge hand in reviving the organization. The Cavs made the playoffs six times during his career, once even reaching the Eastern Conference Finals.
Unfortunately, Daugherty dealt with serious back problems and couldn't finish the 1993-94 NBA season. A strong career ended after just eight seasons, with the five-time All Star posting 17 points and 10.2 rebounds per game in his final year.
Chris Spielman, LB, Bills (1997)
One of the most ferocious linebackers in NFL history, Chris Spielman may have been a much bigger name had his career lasted a little longer.
The Lions great was a second-round pick in the 1988 NFL Draft and proceeded to terrorize opponents from there.
The tackling machine recorded 153 tackles as a rookie in 1988 and notched at least 108 tackles every season until his career was cut short in 1997 while playing for the Buffalo Bills.
While Spielman may not have played that much longer (he was 32 at the time), he was still playing at a high level. We'll never know what kind of numbers he could have added to his legacy, however, as he wasn't able to return from a neck injury suffered in 1997.
Baron Davis, PG, Knicks (2011)
One of the most explosive point guards the NBA has ever seen, Davis was a highlight reel waiting to happen at UCLA and was taken 3rd overall in the 1999 NBA Draft.
Despite coming off a torn ACL that year, Davis still suited up for 82 games. From there, he morphed into one of the game's best point guards, even generating a 22.9-point and 7.5-assist campaign in his final full season with the Hornets in 2003-04.
Davis would go on to play for several teams but was always revered for his elite athleticism, playmaking, scoring, and electrifying persona. While his career was undoubtedly changing gears at age 32 in 2011, Davis saw his playing days crash into a wall thanks to a devastating on-court injury.
The star point guard was carted off the floor after sustaining an injury that was later to be revealed a total decimation of his knee — tears to his patellar tendon, ACL, and MCL.
Davis attempted numerous comebacks and enjoyed stints in the NBA G-League, the Drew League, and Ice Cube's Big 3, but he'd never make it back to The Association.
Bo Jackson, RB, Raiders (1991)
One of the most feared offensive weapons in NFL history, it's quite arguable Bo Jackson could have been the best running back pro football has ever seen.
There's no way of knowing, of course, as Jackson never played a full season in the NFL and also had his career cut short in 1991.
The injury at hand came in a 1991 playoff game against the Cincinnati Bengals, where Jackson had racked up 77 yards on just six carries. On his last rush, Jackson was taken down awkwardly and suffered a dislocated and fractured hip.
Jackson's hip injury was made even more problematic by avascular necrosis of the hip joint, as well as cartilage loss around his hip. The injury prevented Jackson from ever playing another down of football.
Before his devastating injury, Jackson was a menacing presence on the football field, as he had a combination of size, strength, speed, and physicality that just didn't exist.
His amazing talent didn't translate to eye-popping numbers, but he did average 5.5+ yards per carry in three of his four seasons and scored 18 career touchdowns in just 23 starts.
Jackson's talent also stretched to the baseball diamond, as he was an effective hitter for the Kansas City Royals in the MLB prior to his injury. He was a massive two-sport star, even being the face of Nike's "Bo Knows Best" marketing campaign at the height of his fame.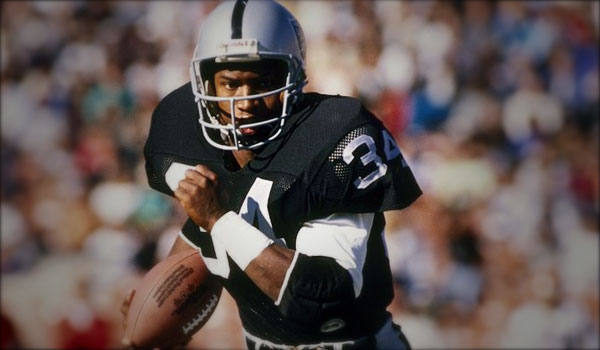 Joe Theismann, QB, Redskins (1985)
One of the worst injuries ever seen in the sports world came in 1985 when Washington Redskins quarterback Joe Theismann suffered a compound fracture while taking a sack.
Giants legend Lawrence Taylor wrapped up Theismann on the play, twisting him in such a fashion that his foot got stuck in the turf. His leg couldn't withstand the pressure, and two bones broke, with one of the bones breaking the skin.
Theismann is now known mostly for this gruesome injury, but he was also a pretty good quarterback during his time in the NFL.
Just three years before the injury, Theismann tossed 29 touchdowns, while the longtime Redskins passer generated 25,206 yards and 160 touchdowns over the course of an underrated career.
Theismann also led Washington to two Super Bowls, winning one. He was already 36 years old and likely nearing his end at the time of the injury, but it still marked the last time he'd throw a pass in a game.
Michael Irvin, WR, Cowboys (1999)
Irvin was arguably still in his prime in 1999 when he was forced to walk away from football at just 33 years old.
Most wide receivers would be showing serious signs of decline, but the superstar diva receiver for the Cowboys was still playing at a high level.
The year before his unfortunate neck injury, Irvin posted his seventh career 1,000+ yard campaign and helped Dallas reach the playoffs. In his final season, he was off to a scorching start, as he racked up 167 yards and three scores off of his first 10 grabs through four games.
Irvin was never able to see where that hot start would go, of course, as he landed head-first on a tackle in week four against the rival Eagles. The injury revealed cervical spinal stenosis for the star wide receiver, marking the end of his illustrious career.
Despite bowing out of the NFL under less than ideal circumstances, Irvin left the game as one of the best game-breaking receivers in league history. Irvin assisted the Cowboys in three Super Bowl wins and finished his career with over 11,000 receiving yards and 65 touchdowns.
Irvin's production was also ridiculously underrated, especially since Dallas was known as such a run-dominant offensive team.
Yao Ming, C, Rockets (2011)
More greatness was taken prematurely in 2011 when Houston Rockets star center Yao Ming played his last game on the hardwood.
A legend in China, the 22-year-old Ming was the first overall pick by Houston in the 2002 NBA Draft, and he very much lived up to the hype.
The only issue at all with his impressive resume? His career ended early due to bothersome foot injuries.
It wasn't one specific injury that forced Yao Ming into retirement, but the big man could not stay healthy in the final days of his NBA career. His foot injury was so bad that it completely robbed him of the entire 2009-10 campaign, while limiting him to just five games the next year before he walked away for good.
Before being forced out, Ming was one of the most dominant bigs in the NBA. From abusing Shaquille O'Neal as a rookie, to at one point averaging 25 points per game, Ming exceeded all expectations.
The saddest part about Ming's premature retirement at just 30 years old? The Rockets were just starting to heat up as a title threat.
Ming helped Houston force a seventh game in the 2009 Western Conference Semifinals against the Lakers before ultimately falling short. Without Ming over the next two years, a rising title threat faded fast.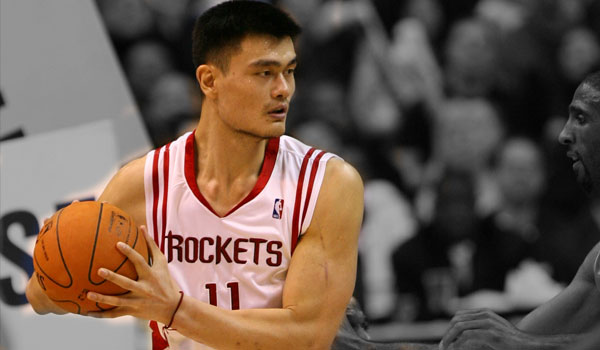 Steve Young, QB, 49ers (1999)
Young was another aging NFL quarterback who could have already been inching his way toward retirement.
However, the longtime 49ers superstar was fresh off of his best season as a pro, where he tossed a career-high 36 touchdowns and 4,170 passing yards.
Still playing at a high level at age 38, Young was shockingly ousted from professional football in 1999 when a concussion knocked him out of his third (and only) game of the year.
Already dealing with a career riddled with head injuries, Young used this as a wakeup call to walk away from the game while he still had his head on his shoulders.
Prior to the career-ending injury, Young had quite the career, as he supplanted the iconic Joe Montana and eventually won the Niners a Super Bowl.
During his time in San Francisco, Young was a dual-threat star, putting up 221 passing touchdowns and 3,581 rushing yards despite starting just 124 games.
Young's accolades included seven Pro Bowl trips, two NFL MVP awards, and a Super Bowl MVP trophy. He also held the league's highest passer rating six different times.
It's easy to see Young had one of the most brilliant careers in league history. It just didn't end the way he would have hoped.
Summary
There are endless injuries in sports that we can all think back to and pay respect to.
Some are even more devastating, as guys like Dennis Byrd, Mike Utley, and so many others had their careers (and lives) upended by horrible injuries.
There are even honorable mentions such as Tony Conigliaro, who technically saw his career ended by injury but did return to play again at the professional level.
However, this list puts an emphasis on major stars that saw their careers significantly derailed or flat-out ended by an injury. The 10 players above never played again; that's how serious things got for them.
They're not the worst injuries in sports history, but as far as injuries that ended the careers of superstar athletes go, it's tough to beat them.