10 of the Greatest Chins in Boxing History – Hagler, Marciano, and More

Throughout the history of boxing, fans have been drawn to the gladiators that just won't give in. But some have armor more impenetrable than others, which covers them in a legendary cloak only preserved for some.
In compiling 10 of the greatest chins in boxing history, I found myself at odds with who to include and who to leave out. But I hope I have done a good job in explaining why the men below deserve their place on this list.
So, in no particular order, here are some of the most durable guys ever to lace them up.
Carlos Monzon
The greatest middleweight of all time? There are many who believe that title belongs to none other than Argentina's greatest boxing export, Carlos Monzon.
The middleweight kingpin was an exceptional talent who amassed a record of 87-3-9-1 over the course of a 14-year career. 59 of his wins came by way of knockout, but he was never stopped by any man. In fact, he wasn't even knocked down until the Rodrigo Valdez rematch in 1977.
Monzon was far from impressed with being dropped and retired from the sport straight after the fight. At the time, he was the undisputed middleweight champion of the world and had not been beaten in eighty straight fights.
Although the Argentine enjoyed such a dominant run in the sport, he did have to fight some of the biggest names in boxing. Jose Napoles, Emile Griffith, and Gratien Tonna were three of the most celebrated opponents of his career.
A heavy smoker, Monzon was known to cut his intake of cigarettes to fifty per day when training. Yes, fifty cigarettes per day. When training. That's one hundred per day when not gearing up for a fight.
Widely regarded and celebrated as a playboy, Monzon's later life was marred in tragedy. He was convicted of murdering his wife in 1989 and died five years later when he was on day release.
Marion Wilson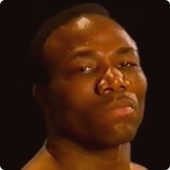 If the name Marion Wilson is familiar to you, the chances are that you know him because of his freakish ability to take punches.
Unlike most of the others on this list, Wilson was not a world champion, a high achiever, or a great boxer. He ended his career with a record of 12 wins and 41 losses, but the most incredible thing is that not one of those losses ended in a knockout, despite Wilson fighting some of the toughest heavyweights of his era.
We're talking fighters like Oliver McCall, Hasim Rahman, Ike Ibeabuchi, Ray Mercer, Shannon Briggs, Andrew Golota, and Samuel Peter. All either world champions or high-level contenders. Insane…
Although Wilson never established himself as good enough to contend at the highest levels of the sport, he found himself sharing the ring with guys that would. It seemed that many of his opponents wanted to test their power on his chin, but no one could crack it.
A journeyman par excellence, Wilson had one of the most indestructible chins in the history of boxing. The fact that he was a heavyweight makes his career worthy of a movie.
Rocky Marciano
Speaking of heavyweights, you just knew that Rocky Marciano was going to feature on this list.
Despite being remarkably small for a heavyweight, the Brockton Blockbuster was an all-action, relentless dog inside the ropes. His brute physicality and unstoppable engine took the former soldier all the way to the top, beating the likes of Joe Louis (okay, he was "75 years old when they fought"), Jersey Joe Walcott, Ezzard Charles, Archie Moore, and Roland La Starza along the way.
But if not for his insanely durable chin, Marciano would probably not be regarded as the icon he is today. While he could knock a man out with ease — evidenced by his 87.86% KO ratio — he was an immovable object inside the ropes.
The Rock is the only heavyweight champion to have retired undefeated. His record of 49-0 standing as one of the most impressive in the history of the division. But perhaps even more impressive is that Marciano was only ever dropped twice in his career, and one of them came against the legendary Moore in his final fight.
A man that trusted his chin to take the force of an atomic bomb on it, Marciano will always be regarded for his durability.
Oliver McCall
You didn't expect me to be able to segue from the word "atomic" with such ease, did you?
And speaking of ease, Oliver "Atomic Bull" McCall had far from a smooth rise to the top of the heavyweight division in the 1990s. With a string of amateur accomplishments under his belt, McCall would eventually find himself under the tutelage of the late, great Joe Frazier.
His name began to do the rounds in the boxing community when he took up work as a sparring partner for Mike Tyson. Tyson, who had blasted through previous partners, knocking every single one out, gained huge respect for McCall when he couldn't put him down.
As the years went by, McCall worked himself into bigger fights. He eventually got a shot at Lennox Lewis' WBC crown and knocked the Brit out in London in just two rounds. In the rematch, McCall suffered a nervous breakdown inside the ropes, and the fight was stopped, which led to his title being taken from him.
McCall fought some big punchers throughout his career and was never put down once. We're talking about the likes of Lewis, Larry Holmes, Henry Akinwande, Bruce Seldon, Buster Douglas, and Frank Bruno.
Marvin Hagler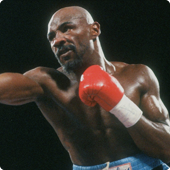 Marvelous Marvin Hagler had a legendary chin that helped him to etch his name into the history books as one of the greatest middleweights of all time.
As one member of boxing's Fabulous Four, Hagler had some stiff competition in the form of Sugar Ray Leonard, Thomas Hearns, and Roberto Duran, and beat two of the three. His fight with Hearns is widely regarded as one of the greatest fights in history, despite only lasting three rounds. That fight is also an example of just how solid his chin was.
Hagler dominated the middleweight division over the course of more than years, beating some of the toughest men of the era. But hard-hitters like John Mugabi, Vito Antuofermo, and Alan Minter had no way of stopping the Marvelous one.
Officially, Hagler was dropped once in his career. That was by Argentina's Juan Roldan in a fight the New Jersey native would go on to win by stoppage. But in reality, Hagler slipped.
With the second-longest title reign in history, as well the highest KO percentage of any middleweight champion ever, Marvin Hagler's legend is well regarded. But his chin was truly something else.
James Toney
A freak athlete, in the most respectful meaning of that phrase, James Toney is well-known to boxing fans for his defensive acumen.
More than this, Toney is known for having some of the toughest whiskers in boxing history. So naming him on this list was an easy task, all things considered.
Toney's remarkable story cannot be told without mentioning that the guy was 50 when he hung up his gloves in 2017. Despite starting out as a middleweight, Lights Out amassed a record of 77-10-3 that included 47 KOs. A multiple world champion in three weight classes, Toney was as tough as they come.
Why? Well, we could start by pointing out that he has never been stopped in his career. That's despite fighting some legendary fighters in numerous weight classes. The likes of Roy Jones Jr. and Evander Holyfield are two of the biggest names on his resume.
It's just crazy to think that of all the powerful punches thrown his way by the likes of Jones, Holyfield, Mike McCallum, Michael Nunn, Samuel Peter, Hasim Rahman, and Iran Barkley, not one could knock him out.
Toney has only ever been dropped three times in his career. The only time he has ever had to give up in a fight is when he — quite foolishly, you might say — took on former UFC light heavyweight and heavyweight champion Randy Couture and tapped out.
In boxing, however, Toney was made of steel.
Jake LaMotta
It took life 95 years to put Jake LaMotta on his back for the final time. But in the boxing ring, even the greatest of them all couldn't knock the "Bronx Bull" off his feet.
LaMotta's toughness was legendary. So much so that Martin Scorsese, fascinated with his fellow Italian-American's warrior-like spirit, was compelled to make a movie about one of boxing's most renowned hardmen. In 1981, "Raging Bull" was released to critical acclaim.
But even as iconic as that film is, it still couldn't capture the full essence of what made LaMotta such a force inside the ropes. While there are a few of his career highlights covered in the movie — such as his battles with arguably the best boxer in history, Sugar Ray Robinson — what Scorsese didn't cover was the fact that he had fought an unbelievable 106 bouts in a thirteen-year period between 1941 and 1954.
In that timeframe, LaMotta was only dropped once. That was by the right hand of Danny Nardico, in a light heavyweight title eliminator in 1952. This knockdown came just four fights before his retirement.
Obviously, I am not counting the fight he threw against Billy Fox in 1947, for obvious reasons.
LaMotta passed away in 2017 at the grand old age of 95 in the Miami area following complications with pneumonia.
Harry Greb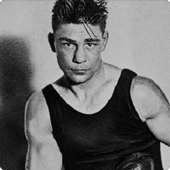 Greb's name is synonymous with greatness in the sport of boxing. And even though fans have little to no footage to appreciate his splendor inside the ropes, newspaper reports and stories passed down through the generations keep his legend alive.
A man born to box, Greb was regarded as beyond tough. The Pittsburgh Windmill amassed an incredible record of 299 fights in just 14 years. More than this, he fought some of the greatest fighters in an era widely regarded among boxing historians as a golden age of the sport.
If fighting more than 21 bouts a year wasn't a sign of toughness, Greb's record of two losses in his first 240 fights should tell you all you need to know. He fought at a time when weight classes were not as refined as they are today. Some of the guys he took on were bigger, bolder, and badder than he was. Until he got his way with them, of course.
Aside from being one of the greatest pound-for-pound fighters in the history of boxing, Greb also had one of the best chins of all time. A man that simply loved to fight, Greb's insistence on fighting the cream of African American fighters was also part of a legacy that was built, in part, due to his iron whiskers.
Billy Graham
If you're thinking of the late, chiseled-jawed Evangelist preacher of the same name, you are off the track a little.
The Billy Graham I'm talking about was the pocket-sized welterweight that had a chin of a giant. Graham's durability is legendary, and given that he had serious power behind his shots, this made him a hard man to get the better of.
Although he lost ten of his last fifteen bouts, Graham still put a seriously impressive record together. You don't get numbers like 102-15-9 without possessing the ability to take a punch or two.
Although Graham never won a world championship, he was a highly respected fighter. This went back to the amateurs where he beat Sugar Ray Robinson. A slick and stylish 147-pounder, Graham beat the legendary Kid Gavilan but lost the next three bouts.
Despite fighting a litany of greats, Graham was never knocked down in a total of 126 bouts. This is a feat even more remarkable given his modest frame.
The man had a Hall of Fame chin.
George Chuvalo
"He's the toughest guy I've ever fought," said the late, great Muhammad Ali following his first encounter with George Chuvalo in March 1966.
Chuvalo's words after that fight were probably even better — "When it was all over, Ali was the guy who went to the hospital because he was pissing blood. Me? I went dancing with my wife. No question I got the best of that deal."
That said it all about the man who had a legendary chin that some believe was the very best of all time. You see, no one ever put George Chuvalo on his back. The heavyweight fought 93 bouts and was never dropped a single time.
You might be a little desensitized after reading the stories above, but just consider the opposition that Chuvalo fought. We're talking two bouts with Ali and numerous other contests with the likes of George Foreman, Joe Frazier, Cleveland Williams, Jerry Quarry, and Jimmy Ellis.
Chuvalo's chin was so good that it cannot be put into words. So, instead, take a look at this video.
Who Did I Miss?
So, there you have it. Ten of the very best chins in the history of boxing, in my humble opinion.
Naturally, I had to whittle this list down to ten, and there were a few big names that just missed out. Guys like Kid Gavilan, Muhammad Ali, George Foreman, Carmen Basilio, and Tommy Farr certainly deserve honorable mentions.
But I would be very interested to hear about who you think should have made the list above any of the guys above. You can leave me your take in the comments section below.
If you haven't had your fill of news, views, and lists relating to the "sweet science," make sure to check out our boxing blog for more content.
August
Casino of the Month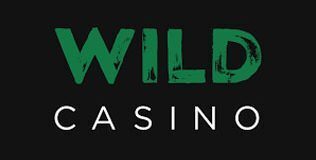 Welcome Bonus
250% up to $5,000