Full Tilt Poker Founders' Biographies
Full Tilt Poker was once the second largest poker site in the world, largely thanks to its decision to continue serving poker players in the United States after 2006.
This is when online gambling legislation was introduced that led to many gambling sites withdrawing from the region.
Ultimately, however, the site suffered when its domain was seized by the US government and they transpired it, plus the site wasn't able to pay its players their deposits back.
Today Full Tilt Poker is operational again and owned by the same company that owns PokerStars.
On this page we will look at the people that were behind the original launch of Full Tilt Poker. These include a number of the well-known poker professionals that formed "Team Full Tilt".
Raymond Bitar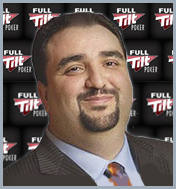 The parent company behind the launch of Full Tilt Poker in 2004 was Tiltware. This software company, based in California, was founded and run by Raymond Bitar.
He was one of the individuals who was instrumental in getting Full Tilt Poker off the ground. Bitar stated that he always had a keen interest in poker, which started when he began playing at age 12. Professionally, Bitar's background is in trading equities.
He started his career at the age of 16 and traded on the Pacific Stock Exchange as a market maker for several years.
He subsequently entered into a partnership with another company to open a new trading office which he ran. It was during that time that he met, and traded for, professional poker player Chris Ferguson. It was partly through that relationship that the idea for Full Tilt Poker came about.
In 2011, Bitar was one of several people charged by the United States government in relation to online gambling activities. Charged with five counts, including money laundering and bank fraud, he faced a maximum jail term of 65 years.
These initial charges were just the start; it was subsequently discovered that Bitar, along with others, had been using funds that were supposedly ring-fenced to cover customer deposits to operate the business and also pay large salaries and dividends.
After a fresh indictment was issued, Bitar eventually returned to the US in July 2012 to face prosecutors. He issued a statement, through his attorney, saying that he understood why people were angry at him and that he should never have let Full Tilt get in a position where it could not pay players their funds.
A plea bargain deal was agreed upon in April 2013, when it was revealed that Bitar was awaiting a heart transplant.
Howard Lederer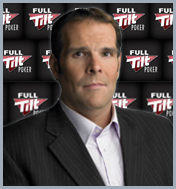 Howard Lederer, fondly known as the Professor of Poker for his analytical approach to the game, is one of the leading players who helped found Full Tilt Poker.
As a young college graduate, Lederer was hooked on chess and even made the move to New York to be closer to the active chess clubs in the city.
It was actually in the back rooms of one of these clubs that Lederer stumbled on poker.
Lederer was soon playing up to 80 hours of poker a week in a bid to become one of the best players in the world. His game improved significantly when he started to play at the world famous Mayfair Club in New York and rubbed shoulders with other pros including Erik Seidel and Steve Zolotow.
Lederer and his poker buddies were among the first in the world to try out the newly created No Limit Hold 'em Poker and perfected the game to the format that we all know today.
Poker genius definitely runs in the family, since Lederer's sister Annie Duke soon picked up the bug and started following her brother around on the circuit. Duke has gone on to become one of the highest paid women players in the world, no doubt thanks in part to her brother's guidance.
In 1994, Lederer and Duke met at the final table of the World Series of Poker competition, the first time in history that a brother and sister have met across the felt at such a late stage in the tournament.
After moving to Las Vegas to improve his game even further in 1993, Lederer had some of the best years in his career, taking his first of two consecutive Poker Hall of Fame titles in 1994.
Lederer's eyes, however, were set on the World Series of Poker tournament and his dream was finally fulfilled in 2000, when he won the $5000 Limit Omaha Hi Lo event, taking home his first gold bracelet. He had a pair after taking another event the following year.
Lederer went on to win more of the biggest live tournaments in the world, including the WPT Championship at Foxwoods in 2002, three Bellagio titles, and a host of others.
In 2008, he walked away with $1.25 million at the Aussie Millions competition, an event that had a whopping entry fee of $100,000. Having become one of the best-known names in the poker industry, he joined Team Full Tilt and helped to launch the new poker site in 2004.
In September, 2011, Lederer was named in a civil complaint filed by the US Department of Justice, accusing Full Tilt of defrauding players. A three way settlement between Full Tilt Poker, PokerStars, and the Department of Justice followed in 2012, when PokerStars agreed to purchase Full Tilt in exchange for providing the funds to pay back Full Tilt Poker players.
Subsequently, Lederer settled personally with the Department of Justice, admitting no wrongdoing and forfeiting assets of around $2.5 million.
Phil Ivey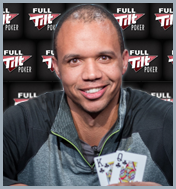 Phil Ivey is another poker player who helped turn the dream of Full Tilt Poker into a reality. Ivey is considered one of the most brilliant poker players of all times and has been named "The Tiger Woods of Poker" by his contemporaries.
He was introduced to poker at the tender age of five by his grandfather, who probably didn't realize that he had a legend in the making staring back at him across their makeshift poker table.
By 16, Ivey was ready to play where the big money was, and he faked an ID and made for the casino floors of Atlantic City.
He played so long at the tables that he was nicknamed "No Home Jerome" by the other players at the casino. His long hours and dedication to the game paid off and by 2000 Ivey felt that he was ready for the World Series of Poker. He took the leap into world of professional poker, at age 24.
Ivey's first attempt at the $2,000 No Limit Texas Hold 'em he achieved fifth place, but it was in the $2,500 Pot Limit Omaha, where he won his first gold bracelet. Along the way he outshined some of the world's most brilliant players at the time, including Phil Hellmuth and David "Devilfish" Ulliott.
2002 was an awesome year for the young legend, who was clearly enjoying his career. Ivey won three gold bracelets at the WSOP, a feat that has only ever been achieved by two other players: Phil Hellmuth and Ted Forrest.
In 2004, Ivey joined forces with some of the top names in the business to form Full Tilt Poker, and he became part of Team Full Tilt. His individual success didn't stop though, and he won his fifth WSOP bracelet in 2005 in the $5000 pot limit Omaha event.
He made history, and earned a staggering $1.6 million in the span of 24 hours, when he won the Monte Carlo Millions and then the Full Tilt Poker Invitational live event several hours later.
In 2006, Ivey won an incredible $16.6 million in a matter of three days after taking up a challenge put out by Texas billionaire Andy Beal. While Beal managed to beat players such as Jen Harman and Johnny Chan, he was no match for Ivey.
Ivey won his first World Poker Tour title in 2008 after making his record eighth WPT Final Table. His ultimate goal was to win the Main Event at the World Series of Poker, and he came close in 2009 when he made the final table.
His dedication to the game continued and he was playing frequently, both online at Full Tilt and live. He was fiercely protective of his private life and rarely gave public interviews. The spotlight was well on him and he was incredibly popular among aspiring amateur poker players.
Following the Full Tilt scandal he filed a lawsuit against the poker site, claiming breach of contract. He sought significant damages and asked to be released from his contract with the company.
Today, Ivey lives in Las Vegas and is still an active poker player. Indeed, he's regarded by many as the best all around player in the world.
Chris Ferguson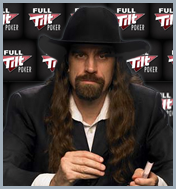 Christopher Ferguson, nicknamed 'Jesus' because of his trademark long beard and hair, is another extremely talented poker player who helped launch Full Tilt Poker.
With his Texas style hat and sunglasses, Ferguson is one of the most recognized faces on the poker circuit and cuts quite a fearful figure at first glance.
Yet Ferguson is known as a 'nice guy' with an incredible knack for poker, and he has managed to make some of the highest cash in recent history.
Born in 1963, Ferguson grew up in a home where mathematics was a revered subject. His ability to observe and analyze games is credited to his early childhood, and these characteristics were put to good use in college where he studied Computer Science.
It was during his student years that Ferguson was introduced to an Internet Relay Chat (IRC) channel and became a highly ranked poker player. These were the early years of online poker, and Ferguson considered it a personal challenge to use this amazing tool to advance his skills so that he could eventually play in leading live tournaments.
Ferguson's first World Series of Poker event was in 1995 and his results were poor. He realized that if he wanted to achieve his goals he had hard work ahead of him, and so he began to dedicate virtually all his time to poker from that point on.
By 2000, Chris Ferguson was a household name, having accomplished no less than seven World Series of Poker final tables and cashed in 12 events.
Ferguson ushered in the millennium in style, by winning the WSOP Main Event bracelet and earning himself a cool $1.5 million, after winning his first bracelet in the $2.5K Seven Card Stud event.
In 2001, Ferguson bagged the $1,500 Omaha Hi Lo Split bracelet, and two years later he won another two bracelets in another Omaha event, followed by the $2K Limit Hold 'em and Seven Card Stud event at the WSOP 2003.
Eager to use his status to advance quality poker online, Ferguson teamed up with fellow poker players to launch Full Tilt Poker in 2004. He continued to push for the development and evolution of online poker.
He also regularly contributed to articles and publications on the subject. He managed to demonstrate the importance of bankroll management by turning $0 into $10,000 through his $10K Challenge, educating a new generation of talented online poker players.
Ferguson also continued to do well on the live poker tournament circuit, winning the 2008 NBC Heads Up Championship, taking down two finishes in the 2008 World Series of Poker event, and a second place finish in the Aussie Millions $10K HORSE event in 2009.
He finished sixth in the 2009 LA Poker Classic, winning himself a quarter of a million dollars, and fifteenth in the 2009 WSOP Europe No Limit Hold 'em event.
Following the Full Tilt Poker scandal, Ferguson denied allegations leveled against him relating to the misappropriation of funds. Through his attorney, he suggested that the issues were the result of mismanagement rather than malice.
He continues to play as a poker professional today, and is known as a highly analytical player.
Ferguson is also proud of his other talents in life, such as ballroom dancing and stock trading. It's believed he has plans to return to academia (where he spent many years) to become a professor like his father.
The Rest of Team Full Tilt
There were a total of 9 members of Team Full Tilt at the time of Full Tilt Poker launching.
In addition to Lederer, Ivery, and Ferguson, the team also comprised Phil Gordon, Jennifer Harman, John Juanda, Erik Seidel, Erick Lindgren, and Andy Bloch.
They all had roles to play and were all respected in the poker industry at the time. Phil Gordon was particularly involved in the development of the software and Andy Bloch is believed to have been key in recruiting some of the other members.