All About The Tampa Bay Buccaneers
The Tampa Bay Buccaneers can hang their hat on their magical Super Bowl run from 2002, but ever since then, the wins were hard to come by. In fact, the team entered the 2019 NFL season having missed out on the playoffs in each of the last 11 years.
Good things come to those who wait, of course, as they have a potent offense with the addition of Quarterback Tom Brady, and head coach Bruce Arians.
Whether you plan on betting on the Buccaneers or not, this guide should be a good resource containing the latest Buccaneers information, updated stats, records, and more.
Tampa Bay Buccaneers Overview and Key Information
The Tampa Bay Buccaneers joined the NFL as an expansion team in 1976. Despite a 2-26 record in their first two years, the Bucs rebounded with ten playoff appearances and eventually won in their lone Super Bowl appearance.
In the 2002 season, under head coach Jon Gruden, Tampa Bay faced the Oakland Raiders at Super Bowl XXXVIII and emerged victoriously with a final score of 21-48. Along with the Jets and Saints, the Bucs are one of only three NFL teams to win their only Super Bowl game.
The Buccaneers have made their home at Raymond James Stadium since 1996. The open-air stadium is known for having one of the best playing surfaces in the league and is slated to host Super Bowl LV in 2021.
Tamp Bay Buccaneers – Key Info
Established

1976

Division

NFC South

Current Team Location

Tampa, Florida

Stadium

Raymond James Stadium

Head Coach

Bruce Arians

Owner

Glazer Family

Website

Team Value (Forbes 2018)

$2 billion (28th)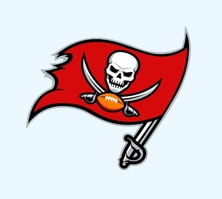 Tampa Bay Buccaneers Team History
The Tampa Bay Buccaneers (aka "Bucs") were established in 1974 and played their first season in 1976 as the newest NFL expansion team. The name was a result of a "name the team" contest and based on the mythical pirate "José Gaspar," who had set up hidden operations on the west coast of Florida.
For the first two seasons, in 1976 and 1977, Tampa Bay struggled on the field. While it's not uncommon for a new team to take a few years to get some footing, the Bucs didn't win a single game in their debut season (0-14) and went just 2-26 over their first two years in the NFL.
Despite the abysmal record, coach John McKay remained and managed to turn things around in 1979.
Tampa Bay went from three consecutive fifth-place finishes to a first-place Central Division title in 1979 with a 10-6 record. While they beat the Eagles in the divisional playoffs, they couldn't score against the Rams in the NFC championship and were defeated 9-0.
In 1981 and 1982, the Buccaneers made two more postseason appearances but fell flat after the first round. From 1983 through 1996, the team went on a 14-year dry spell, taking 4th or 5th for ten seasons.
Tony Dungy was hired on as head coach in 1996, and everything finally shifted for the Tampa Bay team starting in 1997. Not only did they have a new home at Raymond James Stadium courtesy of efforts by the Gruden family, who took over ownership in 1994, but they were also out of the basement and made the playoffs four times under Dungy.
Super Bowl Appearances and Playoff History
Tampa Bay first made the playoffs in 1979, going 10-6 and winning the NFC Central Division. The team advanced to the NFC title game, losing a defensive battle to the Rams, 9-0.
Tampa Bay made the playoffs twice more in 1981 and 1982 but then endured an ugly 14-year playoff drought. Tony Dungy got the team back into the playoffs in 1997, and the team reached the NFC title game again for the second time in 1999.
In 2002, Jon Gruden replaced Dungy, taking a title contender all the way to Super Bowl XXXVII. The Bucs didn't just have their first and only Super Bowl appearance, but they defeated the Oakland Raiders (Gruden's former team) by a score of 48-21. Along with the New Orleans Saints and the New York Jets, Tampa Bay is only the third team to go 1-0 in the Super Bowl.
The Bucs have not enjoyed much playoff success since winning their only title, making the playoffs just two more times and producing five seasons with a winning record.
Overall, the Bucs have made the playoffs ten times with their first in 1979 and last in 2007. Since their championship success in 2002, they've been fourth in the NFC South for seven seasons, including every year from 2011 through 2015.
Super Bowl Appearance: 2002, 2020
Super Bowl Championship: 2002, 2020
NFC Central Titles: 1999, 1981, 1979
NFC South Titles: 2007, 2005, 2002
Playoff Appearances: 2007, 2005, 2002, 2001, 2000, 1999, 1997, 1982, 1981, 1979
Home Stadium – Raymond James Stadium
Inaugurated: 1998
Capacity: 65,890
Grass or Turf: Grass
From 1976 through 1997, the Buccaneers called Tampa Stadium home. The open-air venue was built in the '60s and had hosted soccer as well as University of Tampa and University of South Florida football.
Raymond James Stadium (aka "Ray Jay") was erected in Tampa Stadium's parking lot area, on the spot of the former minor league baseball's Al Lopez Field. Tampa Stadium was then demolished in 1999.
Ray Jay is also an open-air park with a replica pirate ship in the north end zone. The ship's cannons go off every time the home team scores. The entire stadium is themed to set it apart from any other facility. Buccaneer Cove provides standard concessions and restrooms but is designed with a fishing village motif.
The football stadium hosts both Buccaneers' NFL action as well as the South Florida Bulls' NCAA games. It's also held soccer matches, concerts, and other special events.
Stadium Address: Raymond James Stadium, 4201 N Dale Mabry Hwy, Tampa, FL 33607
Mailing Address: Tampa Bay Buccaneers, One Buccaneer Place, Tampa, FL 33607-5701
Phone: 813-879-2827
Tampa Bay Buccaneers Head Coaches
Since the Tampa Bay Bucs arrived on the scene in 1976, there have been 11 head coaches hired and only two that have recorded a winning record. There aren't many legendary coaches in Tampa Bay's history, but there certainly are a few worth noting.
John McKay
Tampa Bay's early history is often ignored, but after a sluggish start, they actually were pretty competitive. Despite going a brutal 7-37 during his first three years on the job, McKay got the opportunity to turn the Bucs into a winner and finally did that in 1979.
In all, McKay lasted nine years in Tampa Bay, securing two division titles and making three trips to the playoffs. The highlight of McKay's stay (and Tampa Bay's entire history for the first 20 years of their existence) was a run to the NFC title game in 1979.
Tony Dungy
The Bucs suffered through a decade of losing until Tony Dungy came to town. Tampa Bay still only went 6-10 during his debut season but finished 8-8 or better in each of his other five seasons with the franchise.
Dungy led the Buccaneers to the playoffs four different times, including a trip to the team's second NFC title game in 1999. Tampa Bay lost a slugfest with the Rams in an ugly 11-6 contest.
Jon Gruden
The Bucs made a splash move in 2002, moving on from Dungy and trading for Raiders head coach Jon Gruden. Gruden's former team marched on to the Super Bowl, where Gruden and the Bucs met them and prevailed in an easy 48-21 win.
Gruden didn't have much high-level success after that title but still made two more playoff runs and produced three more winning seasons (four in all) during his time with the Bucs.
The debate is on for who is the best Buccaneers coach ever, but considering Gruden nabbed Tampa Bay their lone title, he appears to be in the lead.
Bruce Arians
Tampa Bay struggled after parting with Gruden in 2009. Gruden at least kept the Bucs competitive, but the team had difficulty finding an upgrade. Raheem Morris, Greg Schiano, Lovie Smith, and Dirk Koetter all had stays on the sidelines, but none were able to get the Bucs back to the postseason.
Koetter was Tampa Bay's most recent coach, but after three tries to crack the playoffs, he was let go after the 2018 NFL season. He was replaced by Bruce Arians, former head coach of the Arizona Cardinals and offensive coordinator for the Browns, Steelers, and Colts.
Arians has had success at every stop and may be the man needed to end Tampa Bay's current 11-year playoff drought.
| | | | | | | | |
| --- | --- | --- | --- | --- | --- | --- | --- |
| # | Years | Coach | W-L | % | Playoffs | % | Titles |
| 11 | 2019- | Bruce Arians | 18-14 | .563 | 4-0 | 1.000 | 1 |
| 10 | 2016-18 | Dirk Koetter | 19-29 | .396 | – | – | – |
| 9 | 2014-15 | Lovie Smith | 8-24 | .250 | – | – | – |
| 8 | 2012-13 | Greg Schiano | 11-21 | .344 | – | – | – |
| 7 | 2009-11 | Raheem Morris | 17-31 | .354 | – | – | – |
| 6 | 2002-08 | Jon Gruden | 57-55 | .509 | 3-2 | .600 | 1 |
Tampa Bay Buccaneers' Last Five Seasons
| | | | | | |
| --- | --- | --- | --- | --- | --- |
| Season | Coach | Finish | W-L | % | Playoffs |
| 2020 | Bruce Arians | 2nd | 11-5 | .688 | 4-0 |
| 2019 | Bruce Arians | 3rd | 7-9 | .438 | – |
| 2018 | Dirk Koetter | 4th | 5-11 | .313 | – |
| 2017 | Dirk Koetter | 4th | 5-11 | .313 | – |
| 2016 | Dirk Koetter | 2nd | 9-7 | .563 | – |
Tampa Bay Buccaneers' All-Time Career Leaders
| | | | |
| --- | --- | --- | --- |
| Category | Player | Stats | Years |
| Passing Yards | Vinny Testaverde | 14,820 | 1987-92 |
| Passing Touchdowns | Jameis Winston | 88 | 2015- |
| Rushing Yards | James Wilder | 5,957 | 1981-89 |
| Rushing Touchdowns | Mike Alstott | 58 | 1996-06 |
| Receptions | James Wilder | 430 | 1981-89 |
| Receiving Yards | Mike Evans | 6,103 | 2014- |
| Receiving Touchdowns | Mike Evans | 40 | 2014- |
| Tackles | Derrick Brooks | 1,297 | 1995-08 |
| Sacks | Warren Sapp | 77 | 1995-03 |
| Interceptions | Ronde Barber | 47 | 1997-12 |
Tampa Bay isn't a team littered with Hall of Fame players, but they did have some good years under Tony Dungy and Jon Gruden that produced quality talent.
Here are a few Buccaneers players you should probably know about.
Warren Sapp
Warren Sapp was unanimous all-American in 1994 at the University of Miami where he also won the Lombardi Award, Bronko Nagurski Trophy, and was named Big East Defensive Player of the Year. He was Tampa Bay's first-round 1995 draft pick and played for the Buccaneers from 1995-2003. The defensive tackle started for the Bucs his rookie season and made 27 tackles and one interception.
He was named to seven consecutive Pro Bowls from 1997 through 2003 and was first-team All-Pro every year from 1999-2002. The NFL recognized Sapp as their Defensive Player of the Year in 1999. Additionally, he was named to the NFL's 1990s and 2000s All-Decade Teams. Sapp went on to play for four more years with the Oakland Raiders from 2004 through 2007 before retiring. He was inducted into the Pro Football Hall of Fame, and the Buccaneers retired his number 99.
Vinny Testaverde
Vinny Testaverde was the Buccaneers' first pick in the first round of the 1987 NFL Draft out of the University of Miami where he would eventually earn College Football Hall of Fame honors. Testaverde compiled a long list of awards and honors as a Miami Hurricane.
In 1986, he won the Heisman Trophy as well as the Maxwell Award and Davey O'Brien and Walter Camp awards. The Sporting News also named him the Player of the Year that same season. Testaverde was a Consensus All-American and is considered to be one of the university's greatest quarterbacks.
Vinny played for eight teams during his 21-year NFL career. He started with the Bucs in 1987 and remained through 1992. He's currently the Tampa Bay Buccaneers' all-time passing leader with 2,160 attempts, 1,126 completions, 77 touchdowns, and 14,820 yards.
Derrick Brooks
Pro and College Football Hall of Famer Derrick Brooks was the Buccaneers' first-round pick in the 1995 NFL draft, and he remained true to his Tampa Bay team throughout his entire NFL career (1995-2008). The outside linebacker was a two-time consensus All-American for the Florida State Seminoles (FSU) before being named to 11 Pro Bowls and winning a Super Bowl championship with Tampa Bay in 2002.
He was named First-Team All-Pro for five seasons and was the Walter Payton NFL Man of the Year in 2000. Brooks was also the league's Defensive Player of the Year in 2002 and named to the 2000s NFL All-Decade Team. Along with four other veteran players, Derrick was released by the Bucs in 2009 in the franchise's attempt to build a younger team. Tampa Bay went on to honor Brooks by retiring his number 55 and naming him to the Ring of Honor.
Simeon Rice
Simeon Rice was initially drafted by the Cardinals as their first-round pick in 1996 and spent five years on their roster. But his stint in Tampa Bay was longer, and he earned his Super Bowl ring courtesy of the Bucs at XXXVII. Rice was a first-team All-American at the University of Illinois in 1994 and 1995. He broke a school record his freshman year with nine sacks, and he was also voted Big Ten Rookie of the Year.
In his NFL rookie season, he was recognized as the Defensive Rookie of the Year. Rice went on to three Pro Bowls and four All-Pro designations, both back-to-back in 2002 and 2003 with the Bucs. His last NFL season was with the Broncos and Colts in 2007, and he compiled career stats of 475 tackles and 122 sacks. In 2009, he came out of retirement to spend one season with the United Football League's New York Sentinels.
Ronde Barber
The Buccaneers were known for their elite defense when they were at their best. Barber, a third-round pick out of Virginia in the 1997 NFL Draft, was a huge piece to Tampa Bay's defensive puzzle and helped the team win their lone title.
Barber was a highly productive ball hawk, shutting down opposing wide receivers and also wreaking havoc on quarterbacks with 47 career interceptions (good for #1 in Tampa Bay history). Barber was named to five Pro Bowls during his impressive 16-year career, one in which he spent his entire time with the Bucs.
Mike Alstott
Tampa Bay wasn't known for its offense usually, but one weapon every Bucs fan will remember is Mike Alstott. A second-round pick out of Purdue in the 1996 NFL Draft, Alstott made his presence known with over 900 total yards, 65 receptions, and six total scores in his rookie season.
Alstott turned into one of the best fullbacks in the NFL, earning Pro Bowl honors in six consecutive seasons and retiring as Tampa Bay's all-time leader in rushing scores. Alstott played a key role in the Buccaneers' title run and spent his entire 11-year career in Tampa Bay.
John Lynch
The hard-hitting Lynch was taken out of Stanford with the 82nd pick in the 1993 NFL Draft. After playing sparingly over his first three seasons, Lynch enjoyed his first 100+ tackle campaign in 1995, also chipping in three interceptions and his first sack.
From there, Lynch was a mainstay of Tampa Bay's defense, generating turnovers, quarterbacking the last line of the Bucs defense, and also punishing anyone who dared enter his territory.
A brutal hitter and tackle machine, Lynch played a key hand in Tampa Bay's title run and was named to nine Pro Bowls during an impressive 15-year career. The former Bucs great now heads the San Francisco front office as GM.
Tampa Bay Buccaneers Trivia
Lee Roy Selmon was Tampa Bay's first-ever draft pick in 1976. The Oklahoma product went on to record 78.5 sacks, won Defensive Player of the Year in 1979, and was inducted into the Pro Football Hall of Fame in 1995.
Tampa Bay had the NFL's lone winless season in the modern era until the Detroit Lions bested them with an 0-16 run during the 2008 season.
In 1977, the Buccaneers became the first team since 1940 to own the #1 pick in the NFL Draft in successive years. They accomplished this feat a second time in 1987, and only two other teams (Bengals and Browns) have done it since.
The Buccaneers have had bad luck with former quarterbacks leaving and winning elsewhere. They traded quarterback Steve Young to the 49ers in 1987. The legendary quarterback would go on to win league MVP twice and even win a title with San Francisco. Doug Williams and Trent Dilfer also left and went on to win Super Bowls.
More NFL Team Guides
Other NFC South Team Guides
Other NFC Team Guides
All AFC Team Guides