Seattle Seahawks Team Guide
The Seattle Seahawks have only existed in the NFL since 1976 yet have been to three Super Bowls and have a Lombardi Trophy. Not bad for an expansion franchise that has had to play in two conferences in its first 40+ years.
Seattle rarely looks like a title threat going into the season. They're just so fundamentally sound that they always end up as part of the conversation.
Whether you're planning on betting on the Seahawks or not, refer to this Seattle Seahawks team guide for the latest team stats, updated records, coaching information, and more.
Seattle Seahawks Overview and Key Information
The Seattle Seahawks are the only team in the Pacific Northwest, and they have a loyal fan base that covers multiple states and parts of Canada.
In 1976, the Seahawks played their first game at the Seattle Kingdome as one of the two new NFL expansion franchises, along with the Tampa Bay Buccaneers. Like most new teams, it took some years for the Seahawks to gain momentum. Seattle had its first playoff appearance in 1983, losing the AFC Championship to the Raiders.
The Seahawks have made 16 postseason appearances and are the only team to play in both the AFC and NFC championship games.
They earned a trip to the Big Game three times in 2005, 2013, and 2014. While Seattle lost in 2005's Super Bowl XL to the Pittsburgh Steelers and XLIX to the New England Patriots in 2014, 2013 was a different story. The Seattle Seahawks, guided by current head coach Pete Carroll, beat the Denver Broncos in Super Bowl XLVIII by a score of 43-8, making it their first and last championship to date.
Seattle Seahawks – Key Info
Established

1976

Division

NFC West

Current Team Location

Seattle, Washington

Stadium

CenturyLink Field

Head Coach

Pete Carroll

Owner

Paul Allen Trust

Website

Team Value (Forbes 2018)

$2.58 billion (16th)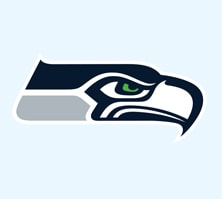 Seattle Seahawks Team History
Compared to some of the teams that have been around for nearly a century, the Seahawks are one of the newer competitors. They were added as an expansion team, along with the Tampa Bay Buccaneers, in 1976.
The Seahawks switched conferences twice, starting out as an NFC West team in 1976, but then swapped places with Tampa Bay. That meant a position in the AFC West from 1977 through 2001.
With the 2002 NFL realignment, they were back in the NFC West once again and have been a mainstay since 2002, winning eight NFC western division championships and only two AFC West titles.
In 1996, then-owners Ken Behring and Ken Hofmann intended to move the team to Anaheim, California, but the NFL threatened fines on an already financially challenged organization. So, the Seahawks were sold to Microsoft co-founder Paul Allen in 1997.
Since Allen took over the team, Seattle has enjoyed its best stretch in franchise history. Sadly, Allen succumbed to illness in 2018, leaving the team under the control of the Paul Allen Trust.
Super Bowl Appearances and Playoff History
Since their inception, the team has made 17 playoff appearances and three trips to the Super Bowl (2005, 2013, and 2014). The Super Bowl XLVIII championship in 2013 is the only one to date.
Seattle's first Super Bowl came in 2005 under Mike Holmgren. Running back Shaun Alexander scored 28 total touchdowns en route to winning NFL MVP, while the team clashed with the Pittsburgh Steelers.
This first Super Bowl would live in infamy, as the officiating was highly controversial. The Steelers ultimately won an ugly 21-10 game, but few Seahawks fans came away feeling their team had a fair chance at winning.
Seattle's second try came in Super Bowl XLVIII, where they were underdogs against a potent Broncos offense. The Legion of Boom completely shut Peyton Manning and co. down, easily winning 43-8.
The Seahawks turned right back around for a repeat the next season, reaching the Super Bowl after surviving an overtime thriller against the Packers in the NFC title game. Seattle failed on the big stage, though, blowing a 24-14 lead in the fourth quarter.
Seattle had a chance to win at the goal-line with only moments remaining in the game, but the coaching staff opted for a slant pass instead of a run from Marshawn Lynch. The play resulted in an iconic interception that resulted in Seattle's second Super Bowl defeat.
While Seahawks fans won't forget that loss anytime soon, they can at least hang their hat on the stellar success the franchise has seen since 1999. Since then, the team has appeared in three Super Bowls, won nine division titles, and has at least reached the playoffs 13 different times.
Super Bowl Appearances (NFC Conference Championships): 2014, 2013, 2005
Super Bowl Championship: 2013 (XLVIII)
NFC West Titles: 2016, 2014, 2013, 2010, 2007, 2006, 2005, 2004
AFC West Title: 1999, 1988
Playoff Appearances: 2018, 2016, 2015, 2014, 2013, 2012, 2010, 2007, 2006, 2005, 2004, 2003, 1999, 1988, 1987, 1984, 1983
Home Stadium – CenturyLink Field
Inaugurated: 2002
Capacity: 69,000
Grass or Turf: Turf
The Seattle Seahawks played their inaugural game at the Kingdome, where they set up shop for 24 years, from 1976 through 1999. While the team's brand-new stadium was being constructed on the same site as the Kingdome, they temporarily moved into Husky Stadium for the 2000 and 2001 seasons.
CenturyLink Field was formerly known as Seahawks Stadium and then Qwest Field. It includes 111 suites and 7,000 club seats and was designed in a "U shape" to provide fans with views of downtown Seattle at the north end.
Although plans for a retractable roof were cost-prohibitive and eventually scrapped, the venue does have a permanent shelter that covers 70% of the seating area but leaves the field wide open. CenturyLink Field is primarily used for Seahawks games but was built to accommodate both football and soccer.
Stadium Address: CenturyLink Field, 800 Occidental Ave S, Seattle, WA 98134
Mailing Address: Seattle Seahawks, 12 Seahawks Way, Renton, WA 98056
Phone: 425-203-8000
Seattle Seahawks Head Coaches
Despite an overall losing record and no postseason play, the Seahawks' first coach, Jack Patera, was highly regarded in 1978 as the Coach of the Year named by both the Sporting News and the Associated Press.
Unsurprisingly, the Seahawks don't have a crazy history of legendary head coaches, only being in the NFL since 1976. Despite that, their list is relatively strong. Here are the best Seahawks coaches of all time.
Chuck Knox
One of the longest-tenured Seahawks coaches, Knox brought Seattle to the playoffs for the first time in team history in his first year on the job in 1983. That same year, the Seahawks made it to the AFC title game.
Knox went 12-4 in year two and got the Seahawks to the playoffs three more times before bowing out in 1991. Before leaving, he took home Coach of the Year honors in 1984.
Mike Holmgren
Holmgren is most famous for reaching two Super Bowls with the Green Bay Packers, but he was given absolute power in Seattle (he was also GM), and he jumped at the challenge.
Seattle endured a ten-year playoff drought prior to bringing in Holmgren, who instantly snapped their skid with a 9-7 finish and postseason appearance in 1999. Holmgren kept Seattle competitive throughout his time with the team, producing just three seasons below .500 over the course of ten seasons.
Holmgren generated six playoff runs for the Seahawks, including a trip to Super Bowl XL. It was Seattle's first trip to the big game and helped Holmgren join rare company as a coach to bring two different teams to the league's title game.
Pete Carroll
Arguably the greatest Seahawks head coach arrived in 2010, after Jim E. Mora failed to produce results in his lone year at the helm in 2009. That would be none other than Pete Carroll, who thrived in the college game and decided to give the pros one last crack.
Carroll found instant success, as the Seahawks won the NFC West and made the playoffs in his very first season. Seattle even beat the Saints in round one before bowing out in a loss to the Bears in round two.
Seattle only got better from there, as two years later they were 11-5 and back in the playoffs. A year later, they were 13-3, won the division, and won the franchise's first-ever championship.
Carroll got the Seahawks back to a second consecutive Super Bowl the following season, but a poor decision late in the game led to an interception and an eventual 28-24 loss to the Patriots.
While it will always sit as a historic gaffe, Carroll still registers as the greatest Seahawks coach in team history. To date, he's helped the Seahawks win four NFC West crowns and has pushed the team to seven different playoff runs.
| | | | | | | | |
| --- | --- | --- | --- | --- | --- | --- | --- |
| # | Years | Coach | W-L | % | Playoffs | % | Titles |
| 8 | 2010- | Pete Carroll | 112-63 | .606 | 10-8 | .556 | 1 |
| 7 | 2009-09 | Jim L. Mora | 5-11 | .313 | – | – | – |
| 6 | 1999-08 | Mike Holmgren | 86-74 | .541 | 4-6 | .400 | – |
| 5 | 1995-98 | Dennis Erickson | 31-33 | .484 | – | – | – |
| 4 | 1992-94 | Tom Flores | 14-34 | .292 | – | – | – |
Seattle Seahawks' Last Five Seasons
| | | | | | |
| --- | --- | --- | --- | --- | --- |
| Season | Coach | Finish | W-L | % | Playoffs |
| 2020 | Pete Carroll | 1st | 12-4 | .750 | 0-1 |
| 2019 | Pete Carroll | 2nd | 11-5 | .688 | 1-1 |
| 2018 | Pete Carroll | 2nd | 10-6 | .625 | 0-1 |
| 2017 | Pete Carroll | 2nd | 9-7 | .563 | – |
| 2016 | Pete Carroll | 1st | 10-5-1 | .656 | 1-1 |
Seattle Seahawks' All-Time Career Leaders
| | | | |
| --- | --- | --- | --- |
| Category | Player | Stats | Years |
| Passing Yards | Matt Hasselbeck | 29,434 | 2001-10 |
| Passing Touchdowns | Russell Wilson | 196 | 2012- |
| Rushing Yards | Shaun Alexander | 9,429 | 2000-07 |
| Rushing Touchdowns | Shaun Alexander | 100 | 2000-07 |
| Receptions | Steve Largent | 819 | 1976-89 |
| Receiving Yards | Steve Largent | 13,089 | 1976-89 |
| Receiving Touchdowns | Steve Largent | 100 | 1976-89 |
| Tackles | Eugene Robinson | 942 | 1985-95 |
| Sacks | Jacob Green | 97.5 | 1980-91 |
| Interceptions | Dave Brown | 50 | 1976-86 |
Seattle doesn't have the best NFL team history, but they did have some solid success in the 1980s and have been extremely competitive in recent years. Those two strong eras of football have helped produce some of their most notable stars.
Steve Largent
Although Steve Largent spent most of his rookie year with the Seahawks, he was initially drafted by the Houston Oilers in the fourth round of the 1976 NFL Draft from the University of Tulsa. The wide receiver spent 14 seasons in Seattle and is still the franchise's all-time receiving leader.
In 1979 and '85, he was the NFL's receiving yards leader and 1988's NFL Man of the Year. Largent was not only the first Seahawk to be selected to the Pro Bowl with his first of seven invitations in 1978, but he was also the first to have his number (#80) retired by the team.
He retired with 819 receptions, 13,089 receiving yards, and 100 touchdowns. The wide receiver made it into the Pro Football Hall of Fame in 1995. In 1999, he was the only Seahawk to make The Sporting News' list of the 100 Greatest Football Players, coming in at number 46.
Russell Wilson
Russell Wilson is currently on the Seahawks' active roster where he's been since 2012. The quarterback was picked in the third round of the 2012 draft after playing for the NC State Wolfpack, earning First-Team All-ACC honors in 2008 and First-Team All-Big Ten in 2011.
In his first pro season, Wilson tied Peyton Manning's record for most passing TDs by a rookie at 26 and was named the Pepsi NFL Rookie of the Year. Wilson has been in four Pro Bowls from 2012 through 2017 and was named Offensive MVP at the 2015 game. Also in 2015, he was the NFL's passer rating leader and 2017's passing touchdowns leader.
In the 2013 Super Bowl, Wilson recorded 206 yards, two TDs, and no interceptions to help his team win their first Big Game, defeating the Broncos 43-8 in Super Bowl XLVIII.
Matt Hasselbeck
Matt Hasselbeck started his NFL career with the Green Bay Packers as a backup for Brett Favre. But his ten seasons with the Seahawks were momentous as he set a long list of Seahawks franchise records. Hasselbeck was the Packers' 6th-round selection in 1998 out of Boston College. He was traded to Seattle and was the Seahawks' primary starting QB for nine out of ten seasons.
Matt was named to three Pro Bowls and led Seattle to six playoff seasons. He set regular-season franchise records for 131 career games as a starter and most pass attempts in a career with 4,250. The quarterback is the all-time passing leader for the Seahawks and tied the record with Russell Wilson for 13 wins by a starting QB in 2005. Hasselbeck retired with the Colts after 2015 with a career 212-153 TD-INT and is currently a sports analyst for ESPN.
Marshawn Lynch
Marshawn Lynch was on Seattle's 2013 championship team after being drafted by the Bills in round one of the 2007 Draft out of UC Berkeley. He was First-Team All-American, First-Team All-Pac-10, and the Pac-10 Offensive Player of the Year in 2006 for the Golden Bears.
The running back spent six seasons with the Seahawks from 2010 through 2015 and was the NFL's rushing touchdowns leader in both 2013 and 2014. Lynch is a five-time Pro Bowler and was First-Team All-Pro in 2012. His fellow NFL players ranked him number nine on the 2015 NFL Top 100.
Walter Jones
Walter Jones was a career Seahawk. He was Seattle's round-one pick in the 1997 NFL Draft out of Florida State. The offensive tackle is considered to be one of the best by multiple NFL coaches. He started in 180 games for the Seahawks, only giving up 23 QB sacks and nine penalties for holding.
Jones made the Pro Bowl team nine times and was First-Team All-Pro four times. He spent the 1997 through 2009 seasons in Seattle before stepping down and becoming only the third player in Seahawks history to have his jersey (#71) retired. In 2014, his first year of eligibility, Walter Jones was inducted into the Pro Football Hall of Fame.
Seattle Seahawks Trivia
The Seahawks originally played in the AFC, hailing from the AFC West division.
Seattle legend Steve Largent wasn't drafted by the Seahawks. Instead, he went down as the first player the team ever acquired via trade. It turned out to be a good move, as Largent played 13 seasons and holds most of the franchise's pass-catching records.
Former Seahawks running back Marshawn Lynch is known by many as "Beast Mode." Lynch earned the nickname after saying he went into "beast mode" following a game-winning touchdown run in a playoff game versus the Saints. Lynch broke nine tackles on the iconic play.
Shaun Alexander became the first Seahawks player to win the NFL MVP award in 2005. His record-breaking year also helped the Seahawks reach their first Super Bowl that same season.
Richard Sherman, Kam Chancellor, and Earl Thomas made up a stingy Seahawks secondary that was notoriously dubbed "The Legion of Boom." That group reached two Super Bowls together, including the franchise's only win.
More NFL Team Guides
Other NFC West Team Guides
Other NFC Team Guides
All AFC Team Guides