Pittsburgh Steelers Team Guide
The Pittsburgh Steelers have an impressive history of winning, as they've burned through just three iconic coaches since 1970 and have secured a league-leading six Super Bowl wins during that span.
The Steelers dealt with some sharp turnover going into 2019 but still made a run at the title. Whether you believe in the Steelers or not, keep coming back to this page for updates, Steelers stats, news, analysis, and current records.
Pittsburgh Steelers Overview and Key Information
The Pittsburgh Steelers are the oldest team in the AFC, dating back to 1933. Since day one, the Rooney family has owned the franchise, and various family members have held the role of team president over the years.
While the team was lackluster in the early days, the 1970s breathed new life into the franchise, and the Steelers won four Super Bowls in one decade. They picked up two more in 2005 and 2008, putting the Pittsburgh team tied with the New England Patriots at the top of the NFL leaderboard for Big Game wins.
Starting in 2001, Heinz Field took over from Three Rivers Stadium as the Steelers' home venue. Six years later, head coach Mike Tomlin came on board. Tomlin has led the team to eight playoff appearances and a win at Super Bowl XLIII.
Pittsburgh Steelers – Key Info
Established

1933

Division

AFC North

Current Team Location

Pittsburgh, Pennsylvania

Stadium

Heinz Field

Head Coach

Mike Tomlin

Owner

Rooney Family

Website

Team Value (Forbes 2018)

$2.58 billion (15th)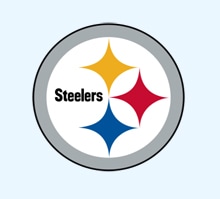 Pittsburgh Steelers Team History
The NFL was founded in 1920, and while the Pittsburgh franchise wasn't one of the charter members, it was added in 1933, along with the Cincinnati Reds and Philadelphia Eagles.
At the time, the Steelers were known as the Pittsburgh Pirates. The Steelers name initially came in 1940 as a tribute to the steel industry in western Pennsylvania.
But during wartime in 1943 and '44, the team merged with two other NFL franchises to overcome the player shortages. So, in 1943, the Steelers and Eagles became the Phil-Pitt Steagles. In 1944, Pittsburgh joined forces with the Chicago Cardinals, and the combination team played as Card-Pitt.
The Card-Pitt team not only had an awkward name that sounded like "carpet" but was also the only winless team in the Steelers' history, finishing the season at 0-10.
In 1945, the Steelers were back, but it would be a long time before the team could catch some momentum. A playoff appearance in 1947 was the only postseason action until 1972. Then, the Pittsburgh franchise hit its stride, making 30 playoff appearances since 1972.
Super Bowl Appearances and Playoff History
The '70s were the era of the Steelers as they made eight consecutive playoffs from 1972 through 1979 and won four Super Bowl championships (1974, 1975, 1978, and 1979). The '70s success was spearheaded by players like QB Terry Bradshaw, "Mean" Joe Greene, Mel Blount, Lynn Swann, Jack Lambert, and other future Hall of Famers.
Head coach Chuck Noll was behind the selections and the championships with his 16-8 postseason record for a .667 winning percentage. Noll held the top spot from 1969-1991.
The final two of six Super Bowl wins came in 2005 and 2008 under Bill Cowher ('05) and current head coach Mike Tomlin. Pittsburgh also reached two more NFL title games, which were split between Cowher (1995) and Tomlin's (2010) tenures.
Despite the Steelers' rocky beginnings, they've become one of the most successful NFL franchises. Pittsburgh's six Super Bowl titles tie them with only the New England Patriots for most Lombardi Trophies in NFL history.
Beyond their absurd Super Bowl success, the Steelers have been regular division title winners and playoff participants. Have a look at their insane success since Noll took over in 1969.
Super Bowl Appearances: 2010, 2008, 2005, 1995, 1979, 1978, 1975, 1974
Super Bowl Championships: 2008, 2005, 1979, 1978, 1975, 1974
AFC North Titles: 2017, 2016, 2014, 2010, 2008, 2007, 2004, 2002
AFC Central Titles: 2001, 1997, 1996, 1995, 1994, 1992, 1984, 1983, 1979, 1978, 1977, 1976, 1975, 1974, 1972
Playoff Appearances: 2017, 2016, 2015, 2014, 2011, 2010, 2008, 2007, 2005, 2004, 2002, 2001, 1997, 1996, 1995, 1994, 1993, 1992, 1989, 1984, 1983, 1982, 1979, 1978, 1977, 1976, 1975, 1974, 1973, 1972, 1947
Home Stadium – Heinz Field
Inaugurated: 2001
Capacity: 68,400
Grass or Turf: Grass
The Steelers have had six homes in Pittsburgh since they played their first game in 1933 at Forbes Field. Shibe Park, Comiskey Park, and Pitt Stadium all followed. But Three Rivers Stadium may be best associated with the franchise. Three Rivers was home turf for 31 seasons from 1970 to 2000.
In 2001, construction was completed on Heinz Field located in Pittsburgh's North Shore area. The stadium pays homage to the steel industry with 12,000 tons of steel integrated into the design.
Heinz Field features 6,600 club seats and 129 luxury boxes. It's used for concerts and other special events like the NFL Winter Classic and the Pittsburgh Marathon.
Stadium Address: Heinz Field, 100 Art Rooney Ave., Pittsburgh, PA 15212
Mailing Address: Pittsburgh Steelers, 3400 South Water Street, Pittsburgh, PA 15203-2349
Phone: 412-432-7800
Pittsburgh Steelers Head Coaches
The Steelers have had 16 head coaches in their 85-year history, with their most recent three (and best) making up the position since 1970.
There haven't been a lot of coaches in Pittsburgh's long NFL history, but only three have really left a mark. Here are the Steelers coaches you need to know about.
Chuck Noll
Pittsburgh was not very successful to start out as a franchise, failing to make the playoffs 35 times in their first 36 years of existence. The arrival of Chuck Noll didn't immediately stop the bleeding, but by his third season of calling the shots, the Steelers had morphed into a perennial title threat.
Noll was absurdly prolific as the Steelers' coach, pushing Pittsburgh into the playoffs 12 different times. Noll also helped the Steelers nab nine division titles and reached the AFC title game seven times.
Noll is best known for his elite performance in the big game, where the Steelers went a perfect 4-0 under his watch.
Bill Cowher
Coach Noll was followed by Bill Cowher from 1992 to 2006, who carried the torch with a .623 winning percentage in the regular season and a 12-9 record in postseason play. Cowher led the team to ten playoff appearances and the 2005 Super Bowl XL championship.
Pittsburgh never missed a beat with the transition from one legend to the next. Cowher got the Steelers to postseason play with an 11-5 record in his very first season, and he missed the playoffs just five times during his tenure.
Cowher's stay with the Steelers included eight division titles, six AFC title game appearances, two Super Bowl trips, and one Lombardi Trophy. Upon his retirement in 2006, Cowher took a permanent post with CBS as an analyst.
Mike Tomlin
The Steelers are three for three with their last three coaches. Mike Tomlin took the baton from Cowher in 2007 and remains as Pittsburgh's head coach. Tomlin also has a Super Bowl ring from the Steelers' last Big Game win in 2008 against the Cardinals.
That was one of two big game appearances for Tomlin, who has also helped the Steelers keep that ridiculous winning tradition alive. Tomlin has never posted a losing record in his 12 seasons at the helm, while his Steelers have nabbed six division crowns, made the playoffs eight times, and reached the AFC title game three times.
| | | | | | | | |
| --- | --- | --- | --- | --- | --- | --- | --- |
| # | Years | Coach | W-L | % | Playoffs | % | Titles |
| 16 | 2007- | Mike Tomlin | 145-78-1 | .650 | 8-8 | .500 | 1 |
| 15 | 1992-06 | Bill Cowher | 149-90-1 | .623 | 12-9 | .571 | 1 |
| 14 | 1969-91 | Chuck Noll | 193-148-1 | .566 | 16-8 | .667 | 4 |
| 13 | 1966-68 | Bill Austin | 11-28-3 | .282 | – | – | – |
| 12 | 1965-65 | Mike Nixon | 2-12 | .142 | – | – | – |
Pittsburgh Steelers' Last Five Seasons
| | | | | | |
| --- | --- | --- | --- | --- | --- |
| Season | Coach | Finish | W-L | % | Playoffs |
| 2020 | Mike Tomlin | 1st | 12-4 | .750 | 0-1 |
| 2019 | Mike Tomlin | 2nd | 8-8 | .500 | – |
| 2018 | Mike Tomlin | 2nd | 9-6-1 | .594 | – |
| 2017 | Mike Tomlin | 1st | 13-3 | .813 | 0-1 |
| 2016 | Mike Tomlin | 1st | 11-5 | .688 | 2-1 |
Pittsburgh Steelers' All-Time Career Leaders
| | | | |
| --- | --- | --- | --- |
| Category | Player | Stats | Years |
| Passing Yards | Ben Roethlisberger | 56,194 | 2004- |
| Passing Touchdowns | Ben Roethlisberger | 363 | 2004- |
| Rushing Yards | Franco Harris | 11,950 | 1972-83 |
| Rushing Touchdowns | Franco Harris | 91 | 1972-83 |
| Receptions | Hines Ward | 1,000 | 1998-11 |
| Receiving Yards | Hines Ward | 12,083 | 1998-11 |
| Receiving Touchdowns | Hines Ward | 85 | 1998-11 |
| Tackles | James Farrior | 731 | 2002-11 |
| Sacks | James Harrison | 80.5 | 2002-17 |
| Interceptions | Mel Blount | 57 | 1970-83 |
The Pittsburgh Steelers are one of the proudest franchises in NFL history thanks to a winning tradition and marquee talent. Known for both their winning ways and impressive stats, here's a look at some of the most treasured Steelers players of all time.
Ben Roethlisberger
The Steelers' current quarterback was drafted by the team in the first round of the 2004 NFL Draft out of Miami University in Ohio. Roethlisberger was named the MAC Offensive Player of the Year in '03 as a Redhawk, and in his first NFL season, he was named the NFL's Offensive Rookie of the Year.
He holds the longest NFL winning streak for the start of a QB career, winning all 13 starts in 2004 and the first two in 2005. Ben was the youngest starting quarterback to ever win the Super Bowl in 2005. He holds a long list of NFL records as well as Pittsburgh franchise records, including the highest completion percentage in a season (67.1% in 2014), most pass completions (408 in 2014), and the single-game record for six touchdown passes that he broke and tied in back-to-back games in 2014. The QB is a six-time Pro Bowl player and has two Super Bowl rings with XL and XLIII.
Joe Greene
Charles Edward Greene is best known as "Mean" Joe Greene. The defensive tackle was on the Steelers' roster from 1969 to 1981 after being picked as fourth overall in the 1969 draft. In 1968, the senior at North Texas State was chosen as the defensive tackle for the All-American team by consensus. The next year, he was in the NFL and named as the league's Defensive Rookie of the Year.
Greene was a two-time NFL Defensive Player of the Year, ten-time Pro Bowl selection, and has four Super Bowl championships, all with the Pittsburgh Steelers. After he retired in 1981, he went on to coach with the Steelers, Dolphins, and Cardinals. The Steelers and North Texas have retired Mean Green's number 75 jersey.
Terry Bradshaw
Quarterback Terry Bradshaw was the starter for four Steelers Super Bowl championships in the 1970s and MVP of XIII and XIV. He's currently a TV sports analyst but played professionally for Pittsburgh from 1970 through 1983 after being the first player selected in the 1970 NFL Draft. Bradshaw set most of Louisiana Tech's passing records and was inducted into the school's first Hall of Fame class as well as the Louisiana Sports Hall of Fame.
Terry was the NFL's MVP in 1978 and the passing touchdowns leader that same year as well as in 1982. In 1979, he received Sports Illustrated's Sportsman of the Year honor. He retired with a career 212-210 TD-INT, 27,989 passing yards, and he's in the top fifteen on the all-time list of career wins by a quarterback.
Mel Blount
Many people consider Mel Blount to be one of the best all-time NFL cornerbacks. Blount was a Pro-Scouts All-American at Southern University. The Steelers picked him as their third-round draft choice in 1970, and he remained with the franchise until his retirement after the 1983 season.
Like Bradshaw and Greene, Mel Blount was on the four 1970s Super Bowl championship teams. In 1975, he was named NFL Defensive Player of the Year, AFC Defensive Player of the Year, and NFL interceptions leader. He also received his first of five Pro Bowl selections and was First-Team All-Pro in 1975 and 1981. The cornerback was named to the NFL's 75th Anniversary All-Time Team, the 1980s All-Decade Team, and the Louisiana Sports Hall of Fame.
Franco Harris
Franco Harris is a Pro Football Hall of Famer, inducted in 1990, six years after his retirement. The fullback from Penn State was a number 13 pick in the first round by the Steelers in 1972 and was named the NFL Offensive Rookie of the Year that first season. Harris also earned four Super Bowl rings from the Steelers' 1970s domination and was named MVP of Super Bowl IX.
He was named to the Pro Bowl for nine consecutive seasons from 1972 to 1980. In '76, the NFL named him as the Man of the Year, and he also was the league's 1976 rushing touchdowns leader. Harris spent his final pro season with the Seattle Seahawks in 1984 after wearing the Steelers uniform for 12 seasons. The halfback retired with 12,120 career rushing yards, 91 rushing TDs, and 307 receptions. He was named to the Pittsburgh Steelers All-Time Team.
Pittsburgh Steelers Trivia
Johnny "Blood" McNally became the first Steelers player inducted into the Pro Football Hall of Fame in 1963. The two-way player excelled as a wide receiver and was known for vicious hits as a defender.
The Pittsburgh Steelers have held the #1 pick in the NFL Draft three times, picking Bill Dudley (1942), Gary Glick (1956), and Terry Bradshaw (1970). Bradshaw was the biggest hit by far, helping the Steelers win four Super Bowls during his career.
Legendary running back Franco Harris is remembered best for the "Immaculate Reception." The Steelers great caught a deflected pass with the tips of his fingers and returned it for the game-winning touchdown to beat the Raiders in round two of the 1972 playoffs. It's still regarded as one of the greatest plays in NFL history
More NFL Team Guides
Other AFC North Team Guides
Other AFC Team Guides
All NFC Team Guides