Football Fan's Guide to the Philadelphia Eagles
The Philadelphia Eagles have been one of the more successful franchises in the NFL, winning multiple championships in their early history and securing a Lombardi Trophy in 2017.
Philly is in amazing shape to make another title run, firmly generating plenty of NFL buzz. Whether bettors wish to back them or not, this Philadelphia Eagles team guide will serve as a permanent tool to refer to for the latest Eagles information.
Philadelphia Eagles Overview and Key Information
The Eagles started playing back in 1933 as a member of the NFL and won their first NFL Championship game in 1948, followed by a second the next season. A third NFL Championship in 1960 broke up a 27-year postseason drought that lasted from 1950 through 1977. Since 1977, the Eagles have made 22 playoff seasons, including three Super Bowl appearances in 1980, 2004, and 2017.
Doug Pederson, the current head coach, was behind the 2017 championship season. Pederson was hired by the Eagles in 2016 after spending time in previous roles with the franchise as a player in 1999 and coach from 2009-2012.
Philadelphia Eagles – Key Info
Established

1933

Division

NFC East

Current Team Location

Philadelphia, Pennsylvania

Stadium

Lincoln Financial Field

Head Coach

Nick Sirianni

Owner

Jeff Lurie

Website

Team Value (Forbes 2018)

$2.75 billion (10th)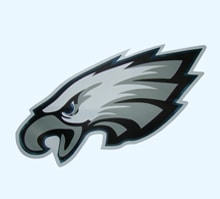 Philadelphia Eagles Team History
The Philadelphia Eagles have been in the NFL for more than 80 seasons after being added as an expansion team in 1933.
The Eagles have always resided in Philadelphia. For all but one year in 1943, when they merged rosters with Pittsburgh during wartime and were called Phil-Pitt "Steagles," they've been known as the Philadelphia Eagles.
Before Super Bowl play began in 1967, the Eagles made four playoff appearances. The team won the NFL East division and NFL championships in 1947, 1948, and 1949, as well as the NFL Eastern Conference in 1960.
Super Bowl Appearances and Playoff History
After the AFL-NFL merger and in 1970, the Eagles became a part of the NFC East, winning ten divisional championships. In 1980, they made their first Super Bowl appearance, losing at XV to the Raiders 27-10. In 2004, they were back in the Big Game, but this time, they lost to the Patriots 24-21.
After 51 years without a Super Bowl win, the Philadelphia Eagles finally brought home the trophy in 2017, defeating the New England Patriots 41-33 in Super Bowl LII.
In 2017, the Eagles had a shot at redemption, facing the Patriots again in Super Bowl LII, and the outcome was much different. The Philadelphia Eagles won their first Super Bowl championship by a score of 41-33. Quarterback Nick Foles, who was backing up injured starter Carson Wentz, was named MVP.
The current owner, Jeff Lurie, purchased the Eagles in 1994 from Norman Braman for approximately $185 million. Forbes currently values the franchise at $2.8 billion, making it the 10th-most-valuable NFL team.
Super Bowl Appearances: 2017, 2004, 1980
Super Bowl Championships: 2017
NFC East Titles: 2017, 2013, 2010, 2006, 2004, 2003, 2002, 2001, 2000, 1988, 1980, 1960, 1949, 1948, 1947
Playoff Appearances: 2018, 2017, 2013, 2010, 2009, 2008, 2006, 2004, 2003, 2002, 2001, 1996, 1995, 1992, 1991, 1990, 1989, 1988, 1981, 1980, 1979, 1978, 1960, 1949, 1948, 1947
Home Stadium – Lincoln Financial Field
Inaugurated: 2003
Capacity: 69,176
Grass or Turf: Grass
The Eagles have had six homes in the Philadelphia area since their inaugural game in 1933 at the Baker Bowl. Philadelphia Municipal Stadium was used from 1936-39, followed by one year at Connie Mack Stadium, and then a switch back to Philadelphia Muni. Connie Mack housed the Eagles again from 1942-57, followed by Franklin Field, Veterans Stadium, and the current Lincoln Financial Field venue.
Lincoln Financial Field (aka "The Linc") is part of the South Philadelphia Sports Complex in South Philadelphia. The stadium has 172 luxury suites and two club lounges.
The stadium is also used as the home field for Temple University football as well as soccer, lacrosse, concerts, and other special events.
Stadium Address: Lincoln Financial Field, 1 Lincoln Financial Field Way, Philadelphia, PA 19148
Mailing Address: Philadelphia Eagles, NovaCare Complex, One NovaCare Way, Philadelphia, PA 19145
Phone: 215-463-2500
Philadelphia Eagles Head Coaches
The Eagles have had 23 coaches throughout their relatively long 85-year history. The first, Lud Wray, recorded a disappointing 9-21 in three seasons. Philly enjoyed a good amount of success not too long after that, however, paving the way for numerous eras of elite football.
Here's a look back at the franchise's best head coaches.
Earle "Greasy" Neale
In 1941, Earle "Greasy" Neale led the Eagles to two back-to-back NFL Championships in 1948 and '49. Neale was named Sporting News Coach of the Year in 1948.
Neale turned around a dormant franchise, producing seven winning seasons in a decade with the team. Philly got to the league's title game three years in a row under Neale's direction, winning three NFC East crowns along the way.
Dick Vermeil
Fans shouldn't ignore the title Buck Shaw delivered in 1960, but his stay with the team lasted just three years, and he only generated one memorable season. Dick Vermeil arrived in 1976 with an eye on turning the franchise back into a winner, seeing as the Eagles were riding a nasty 15-year playoff drought.
That dry spell continued for two years under Vermeil, but he did turn the Eagles around and got them back to the playoffs with a 9-7 record in 1978. Philly would make the playoffs three more times under Vermeil, even advancing to Super Bowl XV in 1980.
Vermeil left the team after the 1982 season and stayed away from the game for 15 years. Philadelphia struggled without him until Buddy Ryan, Rich Kotite, and Ray Rhodes all had 4- to 5-year stints with the team.
All three coaches got the Eagles back to the playoffs at least once, but none were able to even reach the NFC title game.
Andy Reid
All things considered, Andy Reid is probably the greatest Eagles coach of all time. The former Packers assistant arrived in Philly in 1999 and braved a 5-11 debut season before turning the Eagles into a yearly title threat.
The Eagles were back in the playoffs in Reid's second season and reached the NFC title game by year three. Their 2001 playoff run was the start of an impressive four-year stretch of NFC Championship game visits.
That fourth attempt was finally successful, with the Eagles getting to Super Bowl XXXIX and losing a tight game to the Patriots, 24-21.
After a mild drop-off the following year, Reid helped the Eagles to four more playoff runs over his final eight seasons. Philly would get to one last NFC title game, while Reid was also credited for temporarily turning around Michael Vick's career.
Reid was let go after the 2012 season, in which the Eagles regressed sharply and went 4-12. Still the Eagles' all-time winningest coach, Reid currently resides in Kansas City where he coaches the Chiefs.
Doug Pederson
Pederson spent much of his on-field career as the backup quarterback to Brett Favre with the Packers. But in 1999, he started nine games for the Philadelphia Eagles.
Pederson's NFL coaching career also began with the Eagles as the offensive quality control coordinator in 2009-10 and quarterbacks coach in 2011-12. After three years as the Kansas City Chiefs' offensive coordinator, Pederson was given the top job for the Eagles.
The Eagles were a respectable 7-9 during Pederson's first run-through with the Eagles and won their first Lombardi Trophy in just his second season. In just three short seasons, Pederson already stands in as one of the most accomplished Eagles coaches in team history.
| | | | | | | | |
| --- | --- | --- | --- | --- | --- | --- | --- |
| # | Years | Coach | W-L | % | Playoffs | % | Titles |
| 23 | 2016-2020 | Doug Pederson | 42-31 | .531 | 4-2 | .667 | 1 |
| 22 | 2013-15 | Chip Kelly | 26-21 | .553 | 0-1 | .000 | – |
| 21 | 1999-12 | Andy Reid | 130-93 | .583 | 10-9 | .526 | – |
| 20 | 1995-98 | Ray Rhodes | 1-15 | .460 | 1-2 | .333 | – |
| 19 | 1991-94 | Rich Kotite | 36-28 | .563 | 1-1 | .500 | – |
Philadelphia Eagles' Last Five Seasons
| | | | | | |
| --- | --- | --- | --- | --- | --- |
| Season | Coach | Finish | W-L | % | Playoffs |
| 2020 | Doug Pederson | 4th | 4-11-1 | .281 | – |
| 2019 | Doug Pederson | 1st | 9-7 | 0-1 | – |
| 2018 | Doug Pederson | 2nd | 9-7 | .563 | 1-1 |
| 2017 | Doug Pederson | 1st | 13-3 | .813 | 3-0 |
| 2016 | Doug Pederson | 4th | 7-9 | .438 | – |
Philadelphia Eagles' All-Time Career Leaders
| | | | |
| --- | --- | --- | --- |
| Category | Player | Stats | Years |
| Passing Yards | Donovan McNabb | 32,873 | 1999-09 |
| Passing Touchdowns | Donovan McNabb | 216 | 1999-09 |
| Rushing Yards | LeSean McCoy | 6,792 | 2009-14 |
| Rushing Touchdowns | Steve Van Buren | 69 | 1944-51 |
| Receptions | Harold Carmichael | 589 | 1971-83 |
| Receiving Yards | Harold Carmichael | 8,978 | 1971-83 |
| Receiving Touchdowns | Harold Carmichael | 79 | 1971-83 |
| Tackles | Andre Waters | 910 | 1984-93 |
| Sacks | Reggie White | 124 | 1985-92 |
| Interceptions | Brian Dawkins | 34 | 1996-08 |
The Eagles have been one of the more competitive teams in NFL history. From their early days of securing three NFL Championships to three Super Bowl appearances (one win), they've generated a lot of success and offered a stage for some huge stars.
Whether they won or not, the following Eagles players have left a mark on the franchise's history.
Reggie White
A former All-American at the University of Tennessee, Reggie White played two years in the USFL for the Memphis Showboats. He was then selected by the Eagles in the first round of the 1984 Supplemental Draft and played eight seasons in Philadelphia. He was the 1987 and '88 NFL Defensive Player of the Year and three-time NFC Defensive Player of the Year.
The defensive end was also a 13-year consecutive Pro Bowler and ten-time First-Team All-Pro. In '87 and '88, he claimed the top spot in the NFL for sacks. After his retirement in 2000, he was the NFL's all-time sacks leader (198). But that record has since been topped by Bruce Smith with 200. Reggie White was named to the NFL's 1980s and 1990s All-Decade Teams and 75th Anniversary All-Time Team. Both the Eagles and the Packers (1993-98) retired his number 92.
Donovan McNabb
Donovan McNabb was the 1995 Big East Rookie of the Year and three times named the Big East Offensive Player of the Year ('96-'98) as quarterback for the Syracuse University Orange. McNabb was the second overall pick in 1999 by the Eagles, and he spent 11 seasons on Philadelphia's roster.
McNabb was named to the Pro Bowl six times from 2000-2009. Donovan led the Eagles to their second Super Bowl appearance in 2004 after becoming the first QB in the NFL to throw over 30 touchdowns and fewer than ten interceptions in a season. McNabb retired after the 2011 season with the Vikings. His number 5 was retired by the Eagles, and he was inducted into the franchise's Hall of Fame.
Brian Dawkins
Brian Dawkins was an Eagles' second-round draftee in 1996 out of Clemson where he was named First-Team All-ACC in 1995. The safety spent 13 years in Philadelphia before signing with the Denver Broncos for the 2009-2011 seasons. Dawkins was named to the Pro Bowl nine times and was First-Team All-Pro five seasons.
He was the first NFL player to record at least 30 interceptions and 30 forced fumbles in a career and the first to record a sack, interception, forced fumble, and TD reception in a single game. Dawkins' number 20 jersey was retired by the Eagles, and he was a 2018 inductee to the Pro Football Hall of Fame.
Randall Cunningham
Quarterback Randall Cunningham played for four NFL teams but spent his first 11 years with the Eagles from 1985-1995. Cunningham played for UNLV (University of Nevada, Las Vegas) and is a member of the College Football Hall of Fame.
He was selected in the second round of the 1985 draft and was named NFC Player of the Year and PFWA NFL MVP in 1990 and 1992's NFL Comeback Player of the Year. Randall was twice First-Team All-Pro and named to four Pro Bowls. He retired with a TD-INT ratio of 207-134 and an 81.5 passer rating. The three-time Bert Bell Award recipient is also a member of the Philadelphia Eagles Hall of Fame.
Harold Carmichael
Harold Carmichael played for the Eagles from 1971-1983 and retired in 1984 with the Dallas Cowboys. The tri-sport athlete (basketball, track and field, and football) from Southern University was the Eagles' seventh-round pick in 1971.
The wide receiver had a breakout year in 1973 as the NFL's receptions leader and receiving yards leader. That year was also the first of four Pro Bowls and three second-team All-Pro designations. Carmichael is the Eagles' all-time receiving leader with 589 receptions, 8,978 yards, and 79 receiving touchdowns. He was named to the NFL's 1970s All-Decade Team as well as the Philadelphia Eagles Hall of Fame.
Brian Westbrook
Westbrook doesn't lead the Eagles in any major rushing category, but he's without a doubt one of the best Philadelphia players to ever hit the field.
Exceptionally versatile and dynamic, Westbrook was a focal point of Andy Reid's successful offenses from 2002-2009. Westbrook only rushed for over 1,000 yards twice but topped 1,000 total yards five different times in his career.
A third-round pick out of Villanova, Westbrook was quite the offensive weapon in that he could spring big plays and burn defenses as either a runner or receiver. During his time with the team, the Eagles made the playoffs six times, played in four different NFC title games, and almost took home the Lombardi Trophy in Super Bowl XXXIX.
Philadelphia Eagles Trivia
Freddie Mitchell, best known as "FredEx," may be best known for a miraculous reception he hauled in on 4th and 26 against the Green Bay Packers in a 2004 second-round playoff game. The play set up a game-tying field goal that eventually propelled the Eagles to the NFC title game.
Upon releasing troubled wide receiver Cris Carter, former Eagles head coach Buddy Ryan quipped, "All he can do is score touchdowns." Ryan proved to be quite wrong, but the future Hall of Famer went on to score 111 of them outside of Philly.
Clearly assuming the best was long gone for franchise quarterback Donovan McNabb, the Eagles traded him inside the division to the Redskins in 2010. Two years later, McNabb was out of the league.
Due to a shortage of players during World War II, the Eagles and Steelers temporarily merged their teams for the 1943 season. The Phil-Pitt Steagles went 5-4-1 on the year.
More NFL Team Guides
Other NFC East Team Guides
Other NFC Team Guides
All AFC Team Guides