Oakland Raiders Betting and Team Guide
The Oakland Raiders have an impressive history of winning with their franchise, but they haven't been doing much of it over the past 20 years.
While it's been bleak in Oakland ever since they reached Super Bowl XXXVII, the return of Jon Gruden and a plethora of interesting moves could have the team on the rise.
Just how much bettors want to back the Raiders in 2019 remains to be seen, but for all of the latest Raiders news, updated odds, and predictions, be sure to keep coming back to this Oakland Raiders betting guide.
Oakland Raiders Betting in 2019
Betting on the Raiders won't come easy in 2019, but there could be some NFL markets to consider. Check out the latest Raiders odds before placing your final wager.
Latest Oakland Raiders Odds for 2019
Oakland Raiders Odds to Win Super Bowl 54
+100000
Oakland Raiders Odds to Win AFC Conference
+50000
Oakland Raiders Odds to Win AFC West
OFF
Oakland Raiders Predictions for 2019
Current Prediction: 4-5 wins, will not make the playoffs
Current Pick: Under 6 wins at -120
There is no doubt that the Oakland Raiders improved their roster over the past year. There were some eyebrows raised when Jon Gruden and company traded away star talent in Khalil Mack and Amari Cooper, but the moves from there have helped create a more balanced roster.
Derek Carr is only a couple of years removed from an MVP-caliber season and theoretically can still lead a productive offense. Insert stud rookie running back Josh Jacobs and newly added wide receivers such as Antonio Brown and Tyrell Williams, and it's arguable Carr has his best supporting cast of his career.
Oakland has also invested in an improved offensive line, while trading away Mack has opened the door to more balance across their defense.
The Raiders arguably reached for Clemson pass-rusher Clelin Ferrell with the 4th overall pick in the 2019 draft, but he still offers elite talent on the edge. The defense has a long line of viable additions, returning assets, and retreads that could help this unit take a positive step forward.
There is hope in Oakland, but there are still too many questions marks. The Raiders provide interesting betting value in 2019, but they also carry a ton of risk.
Previous 2019 Raiders Predictions
Oakland Raiders News and Updates
August 12, by Noah Davis
The Oakland Raiders have a situation on their hands, as prized offseason acquisition wide receiver Antonio Brown has missed the majority of training camp. Brown has missed time due to a foot injury he sustained after not wearing the proper footwear upon entering a cryotherapy chamber, while he's also battling the league over a helmet issue. With Brown's situation in limbo, the Raiders could already be regretting the huge investment they have in the diva wide receiver.
Previous News and Updates

August 11, by Noah Davis

Raiders rookie pass rusher Maxx Crosby has suffered a broken hand. Oakland drafted the freak athlete out of Eastern Michigan with hopes of him earning a spot in their defensive end rotation, but this injury clouds his immediate future. Regardless, the team does anticipate he'll make a full recovery, and he could be back on the field by week one of the regular season.
This Oakland Raiders betting guide will assist you in betting on the Silver & Black, but there's much more to cover in the NFL betting world. For more assistance, refer to our top NFL betting pages.
Beyond helpful betting information and the latest NFL odds, we also regularly provide Oakland Raiders content in our blog. Take a look at the latest NFL betting articles, including anything pertaining to the Oakland Raiders.
The Oakland Raiders in 2019
Oakland Raiders Depth Chart for 2019
As noted, the Raiders look a lot different than they did a season ago. Derek Carr still leads this offense, but they added more speed to all facets of the roster.
Rookie running back Josh Jacobs should head the ground game, while Antonio Brown (if healthy and active) gives Carr his best weapon yet.
Oakland looks much more talented on offense, but there's also optimism on the other side of the ball. Just how good Oakland ends up being as a defense may hinge on the development of 4th-overall pick Clelin Ferrell, however.
A lot of change has arrived in Oakland. Check out the latest 2019 Oakland Raiders roster to see for yourself.
Raiders Offense

QB: Derek Carr, Mike Glennon, DeShone Kizer
RB: Josh Jacobs, Jalen Richard, DeAndre Washington
WR: Tyrell Williams, Hunter Renfrow, J.J Nelson, Ryan Grant, Dwayne Harris
TE: Darren Waller, Foster Moreau, Derek Carrier
LT: Kolton Miller, Brandon Parker
LG: Jordan Devey, Jonathan Cooper
C: Rodney Hudson, Andre James
RG: Denzelle Good, Gabe Jackson
RT: Trent Brown, David Sharpe
K: Daniel Carlson
P: A.J. Cole III

Raiders Defense

DE: Clelin Ferrell, Arden Key, Josh Mauro, Benson Mayowa, Maxx Crosby
DT: Maurice Hurst, Jonathan Hankins, Corey Liuget, PJ Hall
SLB: Tahir Whitehead, Marquel Lee
MLB: Vontaze Burfict
WLB: Nicholas Morrow, Kyle Wilber
CB: Gareon Conley, Daryl Worley, Keisean Nixon, Trayvon Mullen
FS: Lamarcus Joyner, Jonathan Abram, Curtis Riley
SS: Karl Joseph, Erik Harris, Dallin Leavitt
From a sheer talent perspective, the Raiders absolutely got better during the offseason. Oakland appears to have enjoyed a very good draft, while in a vacuum, the addition of someone as talented as Antonio Brown could be huge.
The front office still has to find out if Derek Carr is the guy they want under center, while the defense remains a work in progress until results are seen.
Raiders fans can only ask for improvement at the moment, though. Barring something crazy, they should get it in some capacity in 2019.
Oakland Raiders Coaching Staff in 2019
Jon Gruden begins year two of his second go-around as the Raiders' top shot-caller. Year one was a nightmare, but he inherited a middling roster and swung some big trades to acquire assets.
It looks like Gruden and new GM Mike Mayock have a vision and have begun to carry it out. Whether or not it actually leads to the Raiders doing anything of merit in 2019 and beyond, of course, remains to be seen.
Along for the ride are offensive coordinator Greg Olson and defensive coordinator Paul Guenther.
Owner: Mark Davis
General Manager: Mike Mayock
Head Coach: Jon Gruden
Coordinators: Greg Olson (Offensive Coordinator), Paul Guenther (Defensive Coordinator)
Only time will tell if the front office decisions will put the Raiders in position to succeed, but Oakland has acquired a bunch of talent and appears to be headed in a more positive direction.
It's difficult to trust Mayock as GM due to his lack of experience, while some of Gruden's coordinators have scuffled in recent years. Gruden himself isn't even easy to back, as he's been out of the league for the better part of 20 years.
In theory, Oakland has a lot of bright football minds working hard to improve this team's direction. That's all fans can ask going into 2019.
Oakland Raiders 2019 Schedule
The Raiders should benefit from the addition of talent to their roster, but they'd benefit even more if they didn't have such a difficult schedule.
It's a little alarming to see a team coming off a 5-11 season have such a tough draw, but Oakland sees the league's toughest schedule going into 2019.
Playing the Chiefs and Chargers twice each plays into that, but the Raiders schedule simply isn't going to be a cakewalk. Here it is, in full.
Preseason

Week 1 vs. Los Angeles Rams at Oakland Coliseum – Saturday, 8/10 at 8 pm ET
Week 2 @ Arizona Cardinals at State Farm Stadium – Thursday, 8/15 at 8 pm ET
Week 3 vs. Green Bay Packers at IG Field – Thursday, 8/22 at 8 pm ET
Week 4 @ Seattle Seahawks at CenturyLink Field – Thursday, 8/29 at 10 pm ET

Regular Season

Week 1 vs. Denver Broncos at Oakland Coliseum – Monday, 9/9 at 10:20 pm ET
Week 2 vs. Kansas City Chiefs at Oakland Coliseum – Sunday, 9/15 at 4:05 pm ET
Week 3 @ Minnesota Vikings at U.S. Bank Stadium – Sunday, 9/22 at 1 pm ET
Week 4 @ Indianapolis Colts at Lucas Oil Stadium – Sunday, 9/29 at 1 pm ET
Week 5 vs. Chicago Bears at Tottenham Hotspur – Sunday, 10/6 at 1 pm ET
Week 6 BYE WEEK
Week 7 @ Green Bay Packers at Lambeau Field – Sunday, 10/20 at 1 pm ET
Week 8 @ Houston Texans at NRG Stadium – Sunday, 10/27 at 1 pm ET
Week 9 vs. Detroit Lions at Ford Field – Sunday, 11/3 at 4:05 pm ET
Week 10 vs. Los Angeles Chargers at Oakland Coliseum – Thursday, 11/7 at 8:20 pm ET
Week 11 vs. Cincinnati Bengals at Oakland Coliseum – Sunday, 11/17 at 4:25 pm ET
Week 12 @ New York Jets at MetLife Stadium – Sunday, 11/24 at 1 pm ET
Week 13 @ Kansas City Chiefs at Arrowhead Stadium – Sunday, 12/1 at 1 pm ET
Week 14 vs. Tennessee Titans at Oakland Coliseum – Sunday, 12/8 at 4:25 pm ET
Week 15 vs. Jacksonville Jaguars at Oakland Coliseum – Sunday, 12/15 at 4:05 pm ET
Week 16 @ Los Angeles Chargers at Dignity Health Sports Park – Saturday, 12/21 TBD
Week 17 @ Denver Broncos at Broncos Stadium at Mile High – Sunday, 12/29 at 4:25 pm ET
This is not an easy schedule. The four games against the Chiefs and Chargers sting, while Oakland has a game overseas, a Thursday Night Football contest, and two primetime outings.
More specifically, Oakland also faces playoff teams from 2018 in Indy, Chicago, KC, Houston, and LA, while road dates with the Packers and Vikings don't look ideal. Down the stretch, it only gets worse, with the Raiders playing four of their final six games on the road.
Oakland could still overcome this schedule, but it's not a lie to suggest that this very well could be the most difficult schedule in the NFL in 2019.
More NFL Team Betting Guides
Other AFC West Team Betting Guides
Other AFC Team Betting Guides
All NFC Team Betting Guides
Oakland Raiders Overview and Key Information
The Oakland Raiders have also been known as the Los Angeles Raiders. They're expected to be making one more name change when the team moves from its original home in Oakland, California, to Las Vegas, Nevada, by the start of the 2020 season.
As a charter member of the AFL in 1960, the Raiders spent ten years in the league, claiming three division championships and one AFL Championship. Since the NFL merger in 1970, 19 more playoff appearances have followed, and the team has a 3-1 Big Game record.
The Raiders are Super Bowl XI, XV, and XVIII champions (1976, 1980, and 1983), with the first win coming under head coach John Madden. Their last appearance in 2002 wasn't as successful, losing to the Buccaneers after trading head coach Jon Gruden to the Bucs that same year.
Jon Gruden returned to the NFL with the Oakland Raiders at Oakland-Alameda County Stadium in 2018 after a 19-year hiatus from Oakland. It was Gruden's first job back in the NFL since 2008.
Oakland Raiders – Key Info
Established

1960

Division

AFC East

Current Team Location

Oakland, California

Stadium

Oakland-Alameda County Coliseum

Head Coach

Jon Gruden

Owner

Mark Davis

Website

Team Value (Forbes 2018)

$2.85 billion (8th)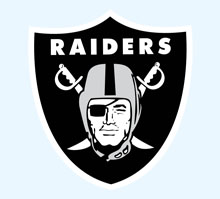 Oakland Raiders Team History
The Oakland Raiders were established in 1960 and owed their franchise to the Minnesota Vikings. Minnesota originally signed with the AFL but league-hopped to the NFL, allowing Oakland to take the replacement spot with the American Football League.
During their first few years, the team struggled to get its footing, finishing 1961 and 1962 with 4th-place spots and 2-12 and 1-13 records, respectively. Al Davis stepped in as head coach in 1963 and pulled the Raiders up out of the AFL basement and into a 2nd-place finish. Davis eventually took over ownership that was inherited by his son, Mark.
In 1967, the Raiders won their first and only AFL Championship and started a string of nine first-place finishes that continued through the NFL merger in 1970. Division wins were recorded every year from 1967 through 1976 except for a 2nd in 1971.
Super Bowl Appearances and Playoff History
Under John Madden, the winningest head coach in franchise history, the Raiders won their first Super Bowl (XI) in 1976 against the Vikings. Tom Flores then led the Raiders to their 1980 championship win versus the Eagles and the third to date in 1983 against the Redskins.
Since 1983, the Raiders made one more Super Bowl appearance in 2002 but lost XXXVII to the Buccaneers 21-48.
While the Raiders name has been consistent, their location changed in 1982. The Oakland Raiders became the Los Angeles Raiders through the '94 season before returning home again in 1995 and moving right back into the Oakland-Alameda County Coliseum.
Super Bowl Appearances: 2002, 1983, 1980, 1976
Super Bowl Championships: 1983, 1980, 1976
AFC West Titles: 2002, 2001, 2000, 1990, 1985, 1983, 1982, 1976, 1975, 1974, 1973, 1972, 1970, 1969, 1968, 1967
Playoff Appearances: 2016, 2002, 2001, 2000, 1993, 1991, 1990, 1985, 1984, 1983, 1982, 1980, 1977, 1976, 1975, 1974, 1973, 1972, 1970, 1969, 1968, 1967
Home Stadium – Oakland-Alameda County Coliseum
Inaugurated: 1966
Capacity: 56,063
Grass or Turf: Grass
The Oakland-Alameda County Stadium has been the home turf of the Raiders from 1966-1981 and then again from 1995. During the interim, the team set up shop at the Los Angeles Memorial Coliseum under their Los Angeles Raiders designation.
Oakland-Alameda is a multi-purpose venue and is also the home of MLB's Oakland Athletics. It's the only stadium left that's shared between pro football and baseball teams.
Except for the StubHub Center, which is the temporary home of the Los Angeles Chargers, Oakland-Alameda County Stadium is the smallest in the NFL with a 56,063 seating capacity.
In 2020, the Raiders have plans to move into their new home in Las Vegas. Las Vegas Stadium will be a domed venue that will also be used by the UNLV Rebels football team. The capacity will be 65,000 with 100 executive suites, and it will feature retractable side windows that offer a view of the Las Vegas Strip.
Stadium Address: Oakland-Alameda County Stadium, 7000 Coliseum Way, Oakland, CA 94621
Mailing Address: Oakland Raiders, 1220 Harbor Bay Parkway, Alameda, CA 94502
Phone: 510-864-5000
Oakland Raiders Head Coaches
Oakland has struggled a lot in recent years, but this is still a proud franchise with a lot of winning. Here's a look at some of the biggest names that helped the Raiders during their most prolific periods in the NFL.
Al Davis/John Rauch
Easily one of the most iconic owners in pro football, Davis also coached the Raiders for three years during the 1960s. Davis kept Oakland competitive during that time, too, producing two winning seasons, including a 10-4 run in 1964.
Davis eventually gave way to John Rauch in 1966. Rauch had even more success, helping the Raiders to three straight winning seasons, including a Super Bowl 1 appearance and a run to the 1968 AFL title game.
Neither Davis nor Rauch was able to net Oakland a championship, but they helped the start of a mini dynasty.
John Madden
John Madden is one of the most well-known of all NFL coaches for his coaching expertise as well as being a television color commentator and analyst and the name behind the Madden NFL video game series that launched in 1988.
Madden took the top spot with the Raiders in 1969, following John Rauch, the coach behind the Raiders' one AFL Championship in 1967. He earned Pro Football Weekly Coach of the Year honors his first season and retired with a regular-season record of 102-32-7 (.750) and post-season 9-7 with a .563 winning percentage.
Throughout his tenure with the Raiders, Madden recorded consistent winning seasons and currently holds the franchise record for most wins. That elite run includes a win in Super Bowl XI, seven AFC West crowns, and ten winning seasons in ten years.
Madden retired in 1978 at just 42 years of age and would never return to coaching again.
Tom Flores
Tom Flores is the coach behind the Raiders' two other Super Bowl wins in XV and XVIII. Flores was the assistant coach under Madden for Super Bowl XI and took over upon Madden's retirement in 1978.
Flores and Mike Ditka are the only two members of the NFL to win a Super Bowl as a player, an assistant coach, and a head coach. Flores compiled a career head coaching record of 105-90 (.538).
The Raiders really didn't skip a beat with the transition from Madden to Flores, as they stayed above .500 in Flores' first year on the job and won the franchise's second Lombardi Trophy in just his second season.
Flores pushed the Raiders into the playoffs five different times during his tenure and also helped the team secure two AFC West division titles.
Jon Gruden
Art Shell kept the Raiders relatively competitive in the early '90s and got the Raiders to the AFC title game, while Bill Callahan took Jon Gruden's team and pushed them to the Super Bowl in 2002.
Neither coach really cracks this list, but former and current head coach Jon Gruden sure does. Jon Gruden, who previously held the top spot with the Raiders from 1998 through 2001, returned to Oakland in 2018.
Between his tenure with the Raiders, Gruden was the head coach for the Tampa Bay Buccaneers from 2002 through 2008, earning his first Super Bowl championship at XXXVII. The Super Bowl win is not without irony as the Big Game was against the Raiders, who traded him to Tampa Bay that season.
Overall, Gruden has helped the Raiders claim two AFC West crowns and make the playoffs twice. The 2018 season was the first time the Raiders finished below .500 under Gruden's direction.
| | | | | | | | |
| --- | --- | --- | --- | --- | --- | --- | --- |
| # | Years | Coach | W-L | % | Playoffs | % | Titles |
| 20 | 1998-2001/2018- | Jon Gruden | 42-38 | .525 | 2-2 | .500 | – |
| 19 | 2015-17 | Jack Del Rio | 25-23 | .521 | 0-1 | .000 | – |
| 18 | 2012-14 | Dennis Allen | 8-28 | .222 | – | – | – |
| 17 | 2011-11 | Hue Jackson | 8-8 | .500 | – | – | – |
| 16 | 2009-10 | Tom Cable | 17-27 | .386 | – | – | – |
Oakland Raiders' Last Five Seasons
| | | | | | |
| --- | --- | --- | --- | --- | --- |
| Season | Coach | Finish | W-L | % | Playoffs |
| 2018 | Jon Gruden | 4th | 4-12 | .250 | – |
| 2017 | Jack Del Rio | 3rd | 6-10 | .375 | – |
| 2016 | Jack Del Rio | 2nd | 12-4 | .750 | 0-1 |
| 2015 | Jack Del Rio | 3rd | 7-9 | .438 | – |
| 2014 | Dennis Allen | 4th | 0-4 | .000 | – |
Oakland Raiders' All-Time Career Leaders
| | | | |
| --- | --- | --- | --- |
| Category | Player | Stats | Years |
| Passing Yards | Ken Stabler | 19,078 | 1970-79 |
| Passing Touchdowns | Ken Stabler | 150 | 1970-79 |
| Rushing Yards | Marcus Allen | 8,545 | 1982-92 |
| Rushing Touchdowns | Marcus Allen | 79 | 1982-92 |
| Receptions | Tim Brown | 1,070 | 1988-03 |
| Receiving Yards | Tim Brown | 14,734 | 1988-03 |
| Receiving Touchdowns | Tim Brown | 99 | 1988-03 |
| Tackles | Eddie Anderson | 761 | 1987-97 |
| Sacks | Greg Townsend | 107.5 | 1983-97 |
| Interceptions | Willie Brown | 39 | 1967-78 |
While the Raiders haven't done a whole lot of winning over the past two decades, they enjoyed a lot of success in the 1960s, 1970s, and 1980s.
That delivered numerous iconic athletes for the franchise. Here are a few profiled below.
Howie Long
Howie Long is one of the most recognizable names in football, having spent 13 seasons with the Raiders from 1981 through 1993. He's also an actor and current studio analyst for Fox Sports' NFL coverage. Long was a second-round draft pick in 1981 out of Villanova where he earned All-East honors and was an honorable mention All-American.
From 1983 through '85, the defensive end was a three-time All-Pro. He was named the NFL Defensive Player of the Year in 1985 as well as to eight Pro Bowls from 1983 through 1993. In 2000, one of his career goals was fulfilled when he was inducted into the Pro Football Hall of Fame.
Marcus Allen
Another player turned sports analyst, Marcus Allen spent 11 years with the Raiders, four with the Chiefs, and is now part of CBS football media coverage. Allen was the tenth pick in the first round of the 1982 draft by the Raiders, coming out of USC. He's the only player to have won a Heisman Trophy, NCAA Championship, a Super Bowl, and be named NFL and Super Bowl MVP.
The running back's list of accomplishments doesn't stop there, though. He was named NFL Rookie of the Year in 1982 and the NFL's rushing yards leader and Offensive Player of the Year in '85. In both 1982 and 1993, he was the NFL rushing touchdown leader and retired after the 1997 season in Kansas City with 12,243 rushing yards and 123 rushing touchdowns. He's currently the Raiders' all-time rushing leader. Marcus Allen has joined other top players in both the College Football and Pro Football Halls of Fame.
Tim Brown
Tim Brown is a 1987 Heisman Trophy winner out of Notre Dame and the first wide receiver to ever win the award. He was the Raiders' round-one pick in 1988 and spent 16 years with the team, through the 2003 seasons. During that time, Brown was named to the Pro Bowl team nine times. He was also First-Team All-Pro in 1988 and '97. In 1997, he was the NFL's receptions co-leader.
Brown currently holds NFL records for ten consecutive seasons with at least 75 receptions and the rookie-season record for 2,317 combined yards gained (1988). Tim is the Raiders' all-time receiving leader with 14,734 yards, 1,070 receptions, and 99 TDs. He spent his last year in the NFL with the Buccaneers (2004) and was inducted into the Pro Football Hall of Fame in 2015.
Jim Plunkett
Jim Plunkett helped lead the Raiders to two Super Bowl championships in 1980 and '83. The quarterback was drafted by the Patriots as their first pick in '71 out of Stanford and started his career in New England, earning the AFC Rookie of the Year award in 1971.
After five seasons, he was traded to the 49ers, but it wasn't until 1978 with the Raiders that Plunkett showed his most potential. Plunkett was named the NFL Comeback Player of the Year in 1980 and Super Bowl XV's Most Valuable Player. He retired after 1986 and is currently fifth-leading passer in franchise history. He's also tied for the NFL record for longest career pass, a 99-year pass play in October of '83 against the Redskins.
Jim Otto
Hall of Famer Jim Otto was part of the inaugural Raiders team back in 1960, but it happened by default. He was initially signed to the Minneapolis franchise after playing for the University of Miami. But Minneapolis broke their AFL deal to join the NFL, and Otto's contract ended up in Oakland.
The center was a career Raider (1960-1974), spending ten years with the AFL and then five in the NFL. He was a nine-time AFL All-Star and ten-time First-Team All-AFL also named to the AFL's All-Time Team. From 1960-69, Otto was the Sporting News' All-League center. For the NFL, Jim was named to the Pro Bowl three times from 1970-72. In 1999, The Sporting News listed Jim Otto as one of the 100 Greatest Football Players.
Oakland Raiders Trivia
Late Raiders owner Al Davis took over a struggling Raiders team in 1963, promptly going 10-4 and winning Coach of the Year honors.
Jim Otto was the first Raiders player to be inducted into the Pro Football Hall of Fame. The legendary center was inducted in his first year of eligibility in 1980.
Only two Raiders were ever named NFL MVP. Both were quarterbacks, with Ken Stabler winning in 1974 and Rich Gannon taking the honors in 2002.
Tom Flores, who was one of Oakland's most successful head coaches, also happened to be the franchise's first-ever starting quarterback.
Former Raiders running back Bo Jackson became the first player ever to be named an All-Star in two different major American sports.