New York Giants Team Guide
The New York Giants have an amazing history of getting to and claiming NFL championships. Whether it's NFL title games from when the league first started or the Super Bowl eras with Bill Parcells and Tom Coughlin, New York has done their fair share of winning.
Those days of brilliance have temporarily passed, of course, as the G-Men haven't had much winning success as of late. Hopefully, for Giants fans, things will turn around soon.
In the meantime, for all of your New York Giants information, keep checking back on this page, where we'll routinely update you with news, season stats, and coaching records.
New York Giants Overview and Key Information
The New York Giants are the oldest NFL team in the northeast, playing their first season in 1925, just five years after the start of the NFL.
Over the nearly 100-year history of the Giants, they've made 32 playoff appearances.
The team has won four NFL Championships from 1925 through 1969 before the AFL-NFL merger. Four Super Bowl victories in five attempts followed in 1986, 1990, 2007, and most recently in 2011 with Super Bowl XLVI against the New England Patriots.
Joe Judge was hired to be the head coach for 2020.
New York Giants – Key Info
Established

1925

Division

AFC East

Current Team Location

Foxborough, Massachusetts

Stadium

MetLife Stadium

Head Coach

Joe Judge

Owner

John Mara and Steve Tisch

Website

Team Value (Forbes 2018)

$3.3 billion (3rd)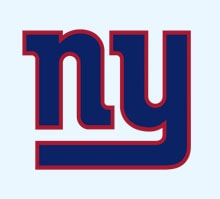 New York Giants Team History
The New York Giants weren't one of the first NFL teams, but they were close. While the NFL started in 1920, the Giants came along just five years later.
Tim Mara was the original owner, and he bought the team that now has an estimated value of $3.3 billion for just $500 in 1925. While the New York Giants name technically hasn't changed, they were initially known as the New York Football Giants so that they wouldn't be confused with the baseball Giants.
For the first eight years of the franchise, the Giants weren't overly impressive on the field. They did win their first NFL Championship in 1927, but the surrounding seven seasons were uneventful. Starting in 1933, though, the Giants hit their stride with three consecutive first-place finishes and eight out of 14 playoff years.
The Giants won the NFL Championship in both 1934 and 1938, but the fourth wasn't until 1956 with a 47-7 finish against the Bears.
Super Bowl Appearances and Playoff History
The first Super Bowl championship win was in 1986 with another in 1990. Legendary head coach Bill Parcells was behind both, with New York dismantling the Broncos 39-20 in an easy Super Bowl XXI win and narrowly edging out the Bills in a 20-19 win at Super Bowl XXV.
The 2007 through 2011 seasons were nearly identical to '86 to '90 with two more Big Game titles within five years. It was Tom Coughlin leading the way this time around, with the first game seeing the Giants upend the 18-0 Patriots.
Super Bowl XLII was a defensive battle, ending with a clutch helmet-catch by David Tyree and a Plaxico Burress fade to end New England's bid for perfection. Coughlin led his crew up against the Patriots again three years later in Super Bowl XLVI, where New York was again victorious in a 21-17 win.
Eli Manning won MVP of both Super Bowls, extending New York's record to 4-1 in the Big Game.
Success has been hard to come by ever since the franchise's fourth Lombardi Trophy. Since 2011, the Giants have made one wild card playoff appearance and are on their third head coach (Pat Shurmur) since Tom Coughlin.
Super Bowl Appearances: 2011, 2007, 2000, 1990, 1986
Super Bowl Championships: 2011 (XLVI), 2007 (XLII), 1990 (XXV), 1986 (XXI)
NFC East Titles: 2011, 2008, 2005, 2000, 1997, 1990, 1989, 1986, 1946, 1944, 1941, 1939, 1938, 1935, 1934, 1933

Playoff Appearances: 2016, 2011, 2008, 2007, 2006, 2005, 2002, 2000, 1997, 1993, 1990, 1989, 1986, 1985, 1984, 1981, 1963, 1962, 1961, 1959, 1958, 1956, 1950, 1946, 1944, 1943, 1941, 1939, 1938, 1935, 1934, 1933, 1927
Home Stadium – MetLife Stadium
Inaugurated: 2010
Capacity: 82,500
Grass or Turf: Turf
The New York Giants have had six home stadiums throughout the New York and New Jersey area since 1925. The first was Polo Grounds followed by 18 years at Yankee Stadium. The team was then temporarily housed at Yale Bowl and Shea Stadium until Giants Stadium was completed in 1976.
Giants Stadium remained home turf for the franchise until 2010 when the brand-new MetLife Stadium was unveiled. The Giants and the New York Jets need to play nice together as both teams share the one venue. It's a 50/50 partnership, and possession is indicated courtesy of a custom lighting system.
The color switches from Jets green to Giants blue depending on who takes the field. Additionally, there's an 18-hour turnover time to convert the endzones from one team to the other.
MetLife Stadium is located in East Rutherford, New Jersey, but it's just across the river from NYC, so the New York Giants are still considered one of New York's own.
Stadium Address: MetLife Stadium, One MetLife Stadium Drive, East Rutherford, NJ 07073
Mailing Address: New York Giants, Quest Diagnostics Training Center, 1925 Giants Drive, East Rutherford, NJ 07073
Phone: 201.559.1500
New York Giants Head Coaches
Over the team's nearly century-long history, there have been 20 head coaches starting with Bob Folwell in 1925. Folwell went 8-4 as the head man but was only with the team for one season.
Despite a rich history filled with championships, only a few of New York's head coaches truly stand out. Here's a look at the most iconic figures to roam the Giants sidelines.
Steve Owen
The first championship came under Earl Potteiger in 1927, but like Folwell, his stay with the G-Men was brief. Steve Owen was the first Giants coach to stick around for more than two seasons, and shockingly enough, he opted to coach for 23 consecutive years.
Owen understandably settles in as the Giants coach with the longest run (1931-1953) but also compiled a 151-100-17 record and was 1950's Sporting News Coach of the Year.
Owen was extremely successful during his 20+ years on the job, guiding Big Blue to eight NFC East division titles, 15 winning seasons, eight NFL Championship game appearances, and three titles.
Jim Lee Howell
New York had a long string of success during the early stages of the franchise's history, and it continued on from Owen to Jim Lee Howell, who took over in 1954.
Howell never had a losing season over the course of seven years on the job, finding a way to nab six division titles, one world title, and three NFL Championship game appearances.
Bill Parcells
Allie Sherman is worth noting for three National Championship game appearances, but he was never able to land the Giants a title. Bill Parcells got two in the Super Bowl era and got his first in just his third season in New York.
After years of struggling (one playoff appearance in the previous 20 years), Parcells rescued the Giants and had them back in the playoffs in just his second season. Two years later, and the G-Men were champions again.
Parcells kept the Giants near the top of the NFL for the majority of his stay in the Big Apple, leading them to three NFC East division crowns, six winning seasons, five playoff appearances, and two Lombardi Trophies. Win number two came in 1990, right before Parcells opted for a brief retirement.
Tom Coughlin
Jim Fassel did a decent job not long after Parcells left town, getting the Giants back to the Big Game in Super Bowl XXXV. It wasn't until Tom Coughlin arrived in 2004, however, that the Giants again had a legit shot at securing a title.
Coughlin was head coach for the remaining two Big Game wins in 2007 and 2011. Coughlin recorded a 102-90 record for a .531 winning percentage and also was 8 and 3 in the postseason.
Coughlin spent 12 seasons in New York, leading the Giants to three AFC East titles, six winning seasons, and two Super Bowl victories.
Pat Shurmur
Former Cleveland Browns head coach (2011-12) Pat Shurmur was hired by the Giants as their head coach for the 2018 season.
Shurmur started his coaching career at the collegiate level as a grad assistant at Michigan State in 1988-89 and then was promoted to tight ends, offensive line, and special teams coach through 1997. His first NFL position was the tight ends and offensive line coach for the Philadelphia Eagles from 1999-2001.
Other teams and positions followed, including quarterbacks coach for the Eagles, offensive coordinator for the Rams, and tight ends coach for the Vikings, and he also held the interim head coach spot with the Eagles in 2015.
| | | | | | | | |
| --- | --- | --- | --- | --- | --- | --- | --- |
| # | Years | Coach | W-L | % | Playoffs | % | Titles |
| 21 | 2020- | Joe Judge | 6-10 | .375 | – | – | – |
| 20 | 2018-2019 | Pat Shurmur | 9-23 | .281 | – | – | – |
| 19 | 2016-17 | Ben McAdoo | 13-15 | .464 | 0-1 | .000 | – |
| 18 | 2004-15 | Tom Coughlin | 102-90 | .531 | 8-3 | .727 | – |
| 17 | 1997-03 | Jim Fassel | 58-53 | .522 | 2-3 | .400 | – |
| 16 | 1993-96 | Dan Reeves | 31-33 | .484 | 1-1 | .500 | – |
New York Giants' Last Five Seasons
| | | | | | |
| --- | --- | --- | --- | --- | --- |
| Season | Coach | Finish | W-L | % | Playoffs |
| 2020 | Joe Judge | 2nd | 6-10 | .375 | – |
| 2019 | Pat Shurmur | 3rd | 4-12 | .250 | – |
| 2018 | Pat Shurmur | 4th | 5-11 | | – |
| 2017 | Ben McAdoo | 4th | 2-10 | .167 | – |
| 2016 | Ben McAdoo | 2nd | 11-5 | .688 | 0-1 |
New York Giants' All-Time Career Leaders
| | | | |
| --- | --- | --- | --- |
| Category | Player | Stats | Years |
| Passing Yards | Eli Manning | 55,981 | 2004- |
| Passing Touchdowns | Eli Manning | 360 | 2004- |
| Rushing Yards | Tiki Barber | 10,449 | 1997-06 |
| Rushing Touchdowns | Brandon Jacobs | 60 | 2005-13 |
| Receptions | Amani Toomer | 668 | 1996-08 |
| Receiving Yards | Amani Toomer | 9,497 | 1996-08 |
| Receiving Touchdowns | Amani Toomer | 54 | 1996-08 |
| Tackles | Leonard Marshall | 660 | 1983-92 |
| Sacks | Michael Strahan | 141.5 | 1993-07 |
| Interceptions | Emlen Tunnell | 74 | 1948-58 |
It's always good to lead a franchise in any statistical category, but career leaders don't always tell the whole story. For instance, Lawrence Taylor was probably the best Giants defender of all time, yet despite racking up over 131 quarterback sacks, he still will always trail Michael Strahan.
Stats aside, here are some of the very best Giants players you probably should know about.
Eli Manning
While Eli Manning was initially the San Diego Chargers' first overall pick in the 2004 NFL Draft, he was immediately traded to the Giants in a deal that included Philip Rivers. Manning was First-Team All-SEC, Second-Team All-American, and the SEC Offensive Player of the Year in 2003 at Ole Miss, earning more than a dozen awards playing for the Rebels.
Manning was named the Giants' 2005 starter after Kurt Warner left, and he finished the season as one of the top five NFL quarterbacks for passing yards and TD passes that year. Manning has earned two Super Bowl rings, leading the Giants to championships in 2007 and 2011 while earning MVP honors both games. He was named to four Pro Bowls and holds the NFL record for most 4th-quarter TD passes (15) in 2011 and is tied for the longest pass completion and touchdown (99 yards) in '11. The current Giants quarterback also has his name attached to a long list of franchise records.
Lawrence Taylor
Lawrence "L.T." Taylor was drafted by the Giants in round one in 1981. He was the 1980 ACC Player of the Year and Consensus All-American at the University of North Carolina at Chapel Hill. The linebacker was on the New York Giants roster from 1981 through 1993 and was on two of the Giants championship teams in '86 and '90.
Taylor was the NFL's Defensive Rookie of the Year in '81 and earned Pro Bowl honors for ten consecutive seasons and was an eight-time First-Team All-Pro. In 1986, his name was all over the NFL leaderboards as sacks leader, NFL Defensive Player of the Year, and Most Valuable Player. L.T. is currently the Giants' all-time AV leader at 182. The team retired his number 56 and named him to the Ring of Honor.
Phil Simms
Phil Simms was a career Giant, spending all 14 years with the team from 1979-93. The quarterback was drafted in round one in 1979 out of Morehead State. While Simms was the starting QB for both of the Giants' first two Super Bowl championship years (1986 and 1990), he was named MVP for XXI but was out of XXV due to a broken foot.
Phil was named to the Pro Bowl in 1985 and '93 and was First-Team All-Pro in '86. Also, in 1986, he was named NEA NFL Most Valuable Player. He retired with a 199-157 TD-INT and is in the top two of many Giants franchise records. The team retired his number 11 in 1995, and Simms has also been added to the Giants Ring of Honor. Phil has gone on to take several hosting and commentary jobs with ESPN, CBS, and the NFL Network.
Frank Gifford
Frank Gifford may be best remembered as a member of the Monday Night Football team on ABC, but his career started on the field as a halfback and wide receiver for the New York Giants from 1952-1960 and 1962-1964. He was the Giants' round-one pick in the 1952 NFL draft out of USC where he was a 1951 First-Team All-American.
Gifford was a member of the Giants' championship team in 1956 and was named the NFL's Most Valuable Player. He was named to eight Pro Bowls and was a six-time First-Team All-Pro. In 1962, Gifford was named the NFL's Comeback Player of the Year after coming out of a brief temporary retirement in '61 as a result of a head injury in a 1960 game versus the Eagles. Frank Gifford was inducted into both the Pro Football and College Halls of Fame. The Giants retired his number 16.
Michael Strahan
Michael Strahan is a name to know even if you didn't follow football more than ten years ago, as he's one of the morning hosts on ABC's Good Morning America. Strahan played for the Giants for his entire 15-year NFL career from 1993-2007. The defensive end was drafted in 1993 in round two by the Giants out of Texas Southern University where he was named the SWAC (Southwestern Athletic Conference) Player of the Year for two back-to-back seasons.
Strahan was the NFL's Defensive Player of the Year in 2001 and the NFL sacks leader in both 2001 and 2003. He was named to seven Pro Bowls and was a four-time First-Team All-Pro. Michael holds the current NFL record for 22.5 sacks in a season (2001), breaking New York Jets' Mark Gastineau's previous record of 22. He retired after the 2007 Super Bowl championship win and was inducted into the Pro Football Hall of Fame and named to the NY Giants Ring of Honor.
New York Giants Trivia
The Giants came cheap in 1925 when founder Tim Mara paid just $500 for the team's rights.
Philip Rivers was a Giant for a brief moment. New York selected him with the #4 overall pick in the 2004 NFL Draft before dealing him for Eli Manning, who was the #1 pick.
In one of the most gruesome sports injuries ever, Lawrence Taylor sacked Redskins quarterback Joe Theismann, causing a compound fracture in his leg. L.T. was mortified, and the Redskins passer never played again.
The Giants were part of the last scoreless tie in NFL history. New York battled to an ugly 0-0 finish against the Detroit Lions in 1943.
Odell Beckham Jr. became an NFL icon after making a dazzling one-handed catch as he fell backwards in a game against the rival Cowboys. He also left a mark historically from a statistical perspective, becoming the fastest player ever to reach 200 career receptions and 4,000 receiving yards.
More NFL Team Guides
Other NFC East Team Guides
Other NFC Team Guides
All AFC Team Guides