All About the New Orleans Saints
The New Orleans Saints don't have a very rich NFL history, but the duo of Sean Payton and Drew Brees made sure to change that when they teamed up back in 2006. Since then, the Saints have been one of the most exciting and successful teams in pro football.
New Orleans has been threatening for a second world championship lately. For updated Saints information, the latest news, and records, keep coming back to this New Orleans Saints team guide.
New Orleans Saints Overview and Key Information
The New Orleans Saints emerged in 1967 as the NFL's newest team. They set up shop at Tulane Stadium for their home games through the 1974 season before moving into the Mercedes-Benz Superdome, formerly called the Louisiana Superdome or just Superdome.
The team from New Orleans spent two decades trying to get some momentum going but didn't have a playoff season until 1987. Since then, the Saints have gone on to 12 total playoff appearances, seven divisional titles in both the NFC West and South combined, and a Conference Championship that gave them their only ride to the Big Game.
In 2009, under current head coach Sean Payton and current starting QB Drew Brees, the Saints went 1-0 in the Super Bowl, defeating the Indianapolis Colts 31-17. Drew Brees earned MVP honors and tied a Super Bowl record held by Tom Brady for 32 completions.
New Orleans Saints – Key Info
Established

1967

Division

NFC South

Current Team Location

New Orleans, Louisiana

Stadium

Mercedes-Benz Superdome

Head Coach

Sean Payton

Owner

Gayle Benson

Website

Team Value (Forbes 2018)

$2.075 billion (26th)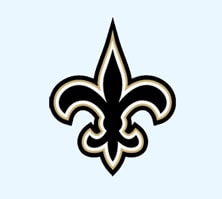 New Orleans Saints Team History
The New Orleans Saints began in 1967, but their first 20 years were less than stellar on the field. The team didn't even record their first winning season until 1987 when they took second in the NFC West and lost in the wild card playoffs to the Minnesota Vikings.
As the New Orleans area has a relatively large Catholic population, the "Saints" designation is an homage to All Saints Day (November 1st). Fans also break into song with "When the Saints Go Marching In" during home games.
The Saints began play before the AFL-NFL merger in 1970 and started in the Capitol and Century Divisions before being inserted into the NFC West from 1970 through 2001.
They won two West Division championships in 1991 and 2000. In 2002, the NFL realigned to balance out the divisions, and the Saints were moved into the NFC South with the Falcons, Buccaneers, and Panthers. The team has won South division titles in 2006, 2009, 2011, 2017, and 2018.
Super Bowl Appearances and Playoff History
The Saints now have more than 50 years in the NFL and have made 12 playoff appearances and recorded a regular and postseason combined win-loss of 345-437.
In 2009, the Saints earned an invitation to the Big Game and won their one and only Super Bowl appearance with a 31-17 victory over the Colts at Super Bowl XLIV. As with the Buccaneers and Jets, the Saints are one of three teams to earn one lone appearance and take the win.
Super Bowl Appearances (NFC Conference Championship): 2009
Super Bowl Championship: 2009
NFC South Titles: 2018, 2017, 2011, 2009, 2006
NFC West Titles: 2000, 1991
Playoff Appearances: 2018, 2017, 2013, 2011, 2010, 2009, 2006, 2000, 1992, 1991, 1990, 1987
Home Stadium – Mercedes-Benz Superdome
Inaugurated: 1975
Capacity: 73,208
Grass or Turf: Turf
The current Mercedes-Benz Superdome has only been preceded by Tulane Stadium since the Saints started play in 1967. Tulane was their first home turf from 1967-1974.
While the formerly named Louisiana Superdome has been the Saints field since 1975, it was famously forced into refurbishment in 2005 after suffering storm damage from Hurricane Katrina. The Superdome, at the time, was internationally famous for being one of the main places of refuge for the storm victims. But even though it provided shelter, it still sustained damage.
The indoor arena is the largest fixed dome structure in the world and hosts basketball, football, boxing, gymnastics, and motocross, amongst other special events.
Stadium Address: Mercedes-Benz Superdome, 1500 Sugar Bowl Drive, New Orleans, LA 70112
Mailing Address: New Orleans Saints, 5800 Airline Drive, Metairie, LA 70003-3876
Phone: 504-733-0255
New Orleans Saints Head Coaches
The New Orleans Saints have had 16 head coaches over their more than 50-year history, starting with Tom Fears who spent nine years on the field as a split end with the Los Angeles Rams.
Fears didn't find much success in the early stages of the Saints' NFL development, but that was the case for others such as Hank Stram, John North, Dick Nolan, and Bum Phillips as well. Some of them kept the Saints competitive, but none were able to lead New Orleans to the playoffs.
It wasn't until Jim E. Mora came around that the Saints finally ended a nasty 20-year playoff drought to begin their franchise history. Here's a look at Mora's impact, along with the other noteworthy coaches in Saints history.
Jim Mora
Jim E. Mora was the first to earn Coach of the Year honors. He was recognized by both the AP and UPI in 1987 after leading the team to their first-ever postseason, 20 years after their first season.
Mora went 7-9 in his first season on the job but quickly turned the Saints into a tough out, going 12-3 in year two. The Saints never earned a playoff win in the Mora era, but they did win the NFC West title once and posted four different 10+ win seasons.
Mora kept the Saints incredibly competitive, with New Orleans winning at least seven games in each of his ten seasons. That run included four playoff trips and three runner-up finishes in the NFC West.
Jim Haslett
Mike Ditka had a three-year stint with the Saints but mortgaged the team's future to land stud running back Ricky Williams. The move backfired, and New Orleans was never better than 6-10 under his watch.
Jim Haslett was next up, turning Ditka's 3-13 team into a 10-6 NFC West division winner. Haslett's squad got to the playoffs and beat the Rams in round one in his debut season, understandably creating real buzz in New Orleans. The successful season also earned Haslett 2000 NFL Coach of the Year honors.
That's as good as it'd get under Haslett, but he did keep the Saints competitive, going 7-9 or better over his next four seasons. Haslett's Saints bottomed out in his final year, however, going just 3-13.
Sean Payton
Current head coach Sean Payton was hired by the Saints in 2006 as the 14th head coach for the franchise. He had been in the NFL in various positions starting in 1997 as the Eagles' quarterbacks coach. Before accepting New Orleans' offer, Payton was the assistant head coach and quarterbacks coach with the Dallas Cowboys.
In his first season, Payton was named 2006's AP Coach of the Year after the Saints took first in the NFC South. Payton's fourth season in 2009, he led the Saints all the way to NFL Championship status when New Orleans made their first and only Big Game appearance at Super Bowl XLIV, defeating the Colts 31-17.
Coach Payton has split tenure with the Saints, as he was suspended by the NFL for the 2012 season. He was allegedly involved in a bounty scandal that he has consistently denied. Regardless, the 2012 season was left in the hands of interim coaches Aaron Kromer and Joe Vitt.
| | | | | | | | |
| --- | --- | --- | --- | --- | --- | --- | --- |
| # | Years | Coach | W-L | % | Playoffs | % | Titles |
| 16 | 2006- | Sean Payton | 143-81 | .638 | 9-8 | .529 | 1 |
| 15 | 2000-05 | Jim Haslett | 45-51 | .469 | 1-1 | .500 | – |
| 14 | 1997-99 | Mike Ditka | 15-33 | .313 | – | – | – |
| 13 | 1987-95 | Jim Mora | 93-74 | .557 | 0-4 | .000 | – |
| 12 | 1982-85 | Bum Phillips | 27-42 | .391 | – | – | – |
New Orleans Saints' Last Five Seasons
| | | | | | |
| --- | --- | --- | --- | --- | --- |
| Season | Coach | Finish | W-L | % | Playoffs |
| 2020 | Sean Payton | 1st | 12-4 | .750 | 1-1 |
| 2019 | Sean Payton | 1st | 13-3 | .813 | 0-1 |
| 2018 | Sean Payton | 1st | 13-3 | .813 | 1-1 |
| 2017 | Sean Payton | 1st | 11-5 | .688 | 1-1 |
| 2016 | Sean Payton | 3rd | 7-9 | .438 | – |
New Orleans Saints' All-Time Career Leaders
| | | | |
| --- | --- | --- | --- |
| Category | Player | Stats | Years |
| Passing Yards | Drew Brees | 62,089 | 2006- |
| Passing Touchdowns | Drew Brees | 440 | 2006- |
| Rushing Yards | Deuce McAllister | 6,096 | 2001-08 |
| Rushing Touchdowns | Mark Ingram | 50 | 2011-18 |
| Receptions | Marques Colston | 711 | 2006-15 |
| Receiving Yards | Marques Colston | 9,759 | 2006-15 |
| Receiving Touchdowns | Marques Colston | 72 | 2006-15 |
| Tackles | Rickey Jackson | 1,104 | 1981-93 |
| Sacks | Rickey Jackson | 115 | 1981-93 |
| Interceptions | Dave Waymer | 37 | 1980-89 |
The New Orleans Saints didn't have an impressive history prior to the Sean Payton/Drew Brees era. They've done a great job helping fans forget about their decades of losing, but they still had some iconic players across all eras.
Including the great Drew Brees, here's a look at some of the best players in Saints history.
Drew Brees
The current Saints quarterback, Drew Brees, has played most of his career for the New Orleans Saints but started as a San Diego Charger. The Chargers selected Drew as their second-round pick in 2001 out of Purdue where he was a two-time Big Ten Offensive Player of the Year and Maxwell Award recipient.
Brees went back and forth as starting quarterback during his five seasons with the Chargers but led them to an AFC West division title for the first time in ten years in 2004, earning Brees the NFL Comeback Player of the Year award. The quarterback signed on with the Saints as a free agent in 2006. Drew started leading the NFL while in New Orleans as a seven-time passing yards leader, four-time passing touchdowns leader, and 2009's passer rating leader. He was named the Walter Payton NFL Man of the Year, the Sports Illustrated Sportsman of the Year, and two-time NFL Offensive Player of the Year.
Brees is also a 12-time Pro Bowl player and was named to First-Team All-Pro during his first season in New Orleans. In 2009, Brees led the Saints to their only Super Bowl win and appearance, also capturing MVP honors for XLIV. Brees is still on the active roster but has already set multiple NFL and franchise records.
Archie Manning
Archie Manning may be the father of famed NFL quarterbacks Eli and Peyton, but he had his own successful NFL career from 1971 through 1984, including 12 seasons with the Saints. Manning was New Orleans' second pick in the first round of the 1971 draft. He had played for the Ole Miss Rebels at the University of Mississippi and was the 1969 SEC Player of the Year as well as first-team All-American and first-team All-SEC that season. He was subsequently inducted into the College Football Hall of Fame.
For the Saints, he held the starting QB position for much of 11 seasons. Manning was the NFC's leader in passing yards in 1972 and led the league in pass attempts and completions that season. He was 1978's NFC Player of the Year, and the UPI and Sporting News designated him as All-NFC. Manning played in two Pro Bowls in 1978-79. He left the Saints for the Oilers midway through the 1982 season and retired with the Vikings after 1984. The New Orleans Saints named Manning to both their Ring of Honor and Hall of Fame.
Morten Andersen
Kicker Morten Andersen is not only the Saints franchise's lead scorer but is second on the list of all-time leading scorers in NFL history. Andersen was born in Copenhagen, Denmark, but attended Michigan State University on scholarship and was first-team All-American and first-team All-Big Ten in 1981.
Andersen was picked by the Saints in the fourth round of the 1982 NFL draft and played 13 seasons in New Orleans (1982-1994) before joining four other teams and eventually retiring after 2007 with the Atlanta Falcons.
Morten was a seven-time Pro Bowl pick and five-time First-Team All-Pro. The NFL named him to both the 1980s and 1990s All-Decade Teams. He holds the NFL record for 709 career field goal attempts and held the record for field goals made (565) upon his retirement. Andersen is a Saints Ring of Honor and Hall of Famer. He was also inducted into the Pro Football Hall of Fame in 2017.
Deuce McAllister
Running back Deuce McAllister spent his entire NFL career with the New Orleans Saints from 2001 through 2009. He was a first-round pick at the 2001 NFL Draft out of Ole Miss where Deuce was both first-team and second-team All-SEC. In his first year as a starter, McAllister led the NFC with 1,388 rushing yards and also scored 16 TDs. He earned his first of two Pro Bowls that season.
Deuce is the all-time career rushing leader for the Saints with 6,096 rushing yards. He retired after the 2009 season, and even though he didn't participate in Super Bowl XLIV, he still earned a championship ring. The Saints also inducted him into their Hall of Fame. Deuce still lives in the New Orleans area (Metairie) and runs the Catch 22 Foundation for under-privileged Gulf South Region youth.
Rickey Jackson
Rickey Jackson was a second-team All-American in 1980 at the University of Pittsburgh before being picked by the Saints in the second round of the 1981 NFL Draft. He played in New Orleans from 1981 through the 1993 seasons and was named to the NFL All-Rookie team after playing all 16 games his first year.
Throughout his 13 seasons with the Saints, he only missed two games, resulting from a car accident. The linebacker led the league in fumble recoveries in 1990 and 1991. He currently holds Saints franchise records for most games (195), most opponent's fumbles recovered with 26 career and 7 for the 1990 season, and most career sacks at 123.
Jackson was named to six Pro Bowls and was a four-time first-team All-Pro. The Saints named him to their Hall of Fame and Ring of Honor, and in 2010, Rickey Jackson was elected to the Pro Football Hall of Fame.
New Orleans Saints Trivia
Former Saints coach Mike Ditka traded away all of the team's draft picks in the 1999 NFL Draft in order to select Texas running back Ricky Williams.
Aaron Brooks was the first quarterback to score a playoff win for the Saints in 2000. It was the franchise's first postseason victory since entering the league in 1967.
Another quarterback, Bobby Hebert, was responsible for getting the Saints to their first-ever playoff game in 1987. Known as the "Cajun Cannon," Hebert began his playing career in the USFL, where he led the league in passing yardage before it folded.
New Orleans has had numerous star players throughout their history, but running back Chuck Muncie was their first to ever make the Pro Bowl.
Saints cornerback Tracy Porter is best known for icing Super Bowl XLIV. With New Orleans up by just one score (24-17) and the Colts driving, he picked off a Peyton Manning pass and returned it 74 yards to seal a 31-17 victory.
The "Dome Patrol," the nickname for defensive coordinator Steve Sidwell's gritty 3-4 defense, roamed the field in the late '80s and early '90s.
More NFL Team Guides
Other NFC South Team Guides
Other NFC Team Guides
All AFC Team Guides