New England Patriots Team Guide
The New England Patriots are one of the most successful franchises in NFL history, and the majority of it is tied to the Bill Belichick and Tom Brady duo.
The two were bound together going into the 2019 NFL season until that knot began to unravel with Brady leaving town for Tampa Bay.
If you're thinking about betting on the Pats or just want to brush up on their history, keep coming back to this New England Patriots team guide.
New England Patriots Overview and Key Information
The New England Patriots have been the NFL's household name of the 21st century, winning their first Super Bowl in 2001 and five more since then.
"Record-breaking" is the best term to describe the team of the last few decades. Since 2001, the Patriots have won the AFC East every year, except for two when they came in second. They've made six out of nine successful trips to the Super Bowl with championships in 2001 (XXXVI), 2003 (XXXVII), 2004 (XXXIX), 2014 (XLIX), 2016 (LI), and 2018 (LIII).
Throughout the franchise's history, the Patriots have claimed 20 divisional championships and made 26 playoff appearances.
Bill Belichick is the 14th head coach for the Patriots organization, following Pete Carroll in the 2000 season. The Patriots have made their home at Gillette Stadium in Foxborough, Massachusetts, since 2002.
New England Patriots – Key Info
Established

1960

Division

AFC East

Current Team Location

Foxborough, Massachusetts

Stadium

Gillette Stadium

Head Coach

Bill Belichick

Owner

Robert Kraft

Website

Team Value (Forbes 2018)

$3.8 billion (2nd)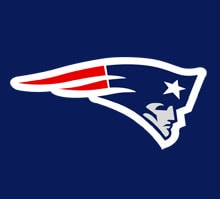 New England Patriots Team History
The New England Patriots were initially known as the Boston Patriots and were one of eight founding franchises that comprised the AFL or American Football League. Their first game was in 1960 under head coach Lou Saban.
Throughout their AFL years, the Patriots were homeless, bouncing from stadium to stadium, like Fenway Park, Harvard Stadium, and Nickerson Field, all around the Boston area.
When the NFL and AFL merged in 1970, the Patriots were given a place in the AFC East. They moved into their new Foxboro Stadium and changed the name to New England Patriots, as fans were located throughout the region.
As the Boston Patriots, the team earned one first-place finish but an eventual loss in the AFL Championship.
The first Super Bowl appearance for the renamed New England Patriots was in 1985 under head coach Raymond Berry. The team lost to the Bears in Super Bowl XX 10-46. Another near miss came in 1996 when the Packers became Super Bowl XXXI champions.
Super Bowl Appearances and Playoff History
The 21st century would be a whole new world for the New England Patriots. Bill Belichick signed on in 2000 and has remained head coach for nearly two decades. Under Belichick and quarterback Tom Brady, the Patriots won their first Super Bowl (XXXVI) against the St. Louis Rams, 20-17.
New England was the underdog in their first Super Bowl win, while kicker Adam Vinatieri nailed a last-second field goal to grab the win. Two more Super Bowl victories followed in 2003 and 2004, both of which went down to the wire and finished with the Patriots winning by three points.
New England would reach the big game six more times overall, securing wins in three more Super Bowls. Since the 2001 season, the Patriots have also dominated their division, claiming first in the AFC East every year except 2002 and 2008 when they finished second.
They've made eight Super Bowl appearances and won five, with a regular-season record of 201-71. Their ten trips to the final game have broken the NFL record.
Along with the Dallas Cowboys (1993-1996), the Patriots are the only other team to win three Super Bowls in four years.
Super Bowl Appearances: 2018, 2017, 2016, 2014, 2011, 2007, 2004, 2003, 2001, 1996, 1985
Super Bowl Championships: 2018, 2016, 2014, 2004, 2003, 2001
AFC East Titles: 2018, 2017, 2016, 2015, 2014, 2013, 2012, 2011, 2010, 2009, 2007, 2006, 2005, 2004, 2003, 2001, 1997, 1996, 1986, 1978
Playoff Appearances: 2018, 2017, 2016, 2015, 2014, 2013, 2012, 2011, 2010, 2009, 2007, 2006, 2005, 2004, 2003, 2001, 1998, 1997, 1996, 1994, 1986, 1985, 1982, 1978, 1976
Home Stadium – Gillette Stadium
Inaugurated: 2002
Capacity: 65,878
Grass or Turf: Turf
Gillette Stadium is the replacement for the previous Foxboro Stadium. It's located in Foxborough, Massachusetts, about 28 miles from Boston and 20 from Providence, Rhode Island.
The venue not only houses the Patriots but Major League Soccer's New England Revolution team as well as several of the premier concerts on tour. It holds 65,878 for American football and was converted from grass to FieldTurf in 2006.
Patriot Place is the area surrounding the stadium and features shopping, restaurants, CBS studios, movie theaters, and the Renaissance Hotel.
The Hall at Patriot Place is an interactive museum highlighting the accomplishments of the Patriots and housing the Patriots Pro Shop.
Stadium Address: Gillette Stadium, One Patriot Place, Foxborough, MA 02035
Mailing Address: New England Patriots, c/o Gillette Stadium, One Patriot Place, Foxborough, MA 02035
Phone: 508-384-4203
New England Patriots Head Coaches
Including the first decade as the Boston Patriots, the team has had 14 head coaches, but none have made the impact of Bill Belichick. Here's a quick breakdown of the best Patriots coaches and how they helped the team.
Chuck Fairbanks
Most fans don't look too far back into New England's history, but the team had some success back in the 1970s and 1980s. It started under head coach Chuck Fairbanks, who roamed the sidelines from 1973 to 1978.
Fairbanks never registered a playoff win, but he had the Patriots on the winning path with three 9+ win seasons (including two 11-win seasons) and two trips to the playoffs. The Pats also secured an AFC East title under Fairbanks in 1978.
Raymond Berry
Berry was the first Patriots head coach to ever get the team to the Super Bowl. He took over for an ineffective Ron Meyer in 1984 and guided the team until 1989.
Berry's New England tenure wasn't filled with a lot of winning, but he was very successful in his first two years. His debut season saw the Pats go 11-5 and make it to Super Bowl XX. New England was trounced by a record-setting Bears defense, but this still stood as their first trip to the NFL's biggest stage.
The Patriots enjoyed another 11-5 run the following year and won the AFC East crown but were eliminated in their first playoff game. Berry kept the Pats competitive with 8+ wins over the next two years, but in his final four seasons, they'd never get back to the postseason.
Bill Parcells
The legendary Parcells took the challenge of turning the Patriots around in 1993. Going into his second season with the team, the Pats had sat out of the playoffs for seven straight years.
Year two of Parcells' Patriots tenure produced a 10-6 finish and a playoff appearance. New England took a step back the following year, but in 1996, they went 11-5, won the AFC East, and made it to the franchise's second Super Bowl.
The Patriots fell to Green Bay, and Parcells exited as head coach during the offseason.
Bill Belichick
Pete Carroll came after Parcells and had minimal success, getting to the playoffs twice but only landing one postseason win.
Belichick signed on in 2000, and not only has he coached more regular and postseason games than anyone else, but he has also recorded more wins (214). Under Belichick's leadership, the New England Patriots have made nine of their 11 total Super Bowl appearances, winning six out of the nine.
Belichick and the Patriots go hand in hand. He's been named the AP NFL Coach of the Year three times as well as receiving Coach of the Year honors from the Sporting News and Pro Football Weekly in 2003. His .739 winning percentage is by far the best of any Patriots coach in franchise history.
| | | | | | | | |
| --- | --- | --- | --- | --- | --- | --- | --- |
| # | Years | Coach | W-L | % | Playoffs | % | Titles |
| 14 | 2000- | Bill Belichick | 244-92 | .726 | 30-11 | .732 | 6 |
| 13 | 1997-99 | Pete Carroll | 27-21 | .563 | 1-2 | .333 | – |
| 12 | 1993-96 | Bill Parcells | 32-32 | .500 | 2-2 | .500 | – |
| 11 | 1991-92 | Dick MacPherson | 8-24 | .250 | – | – | – |
| 10 | 1990-90 | Rod Rust | 1-15 | .063 | – | – | – |
New England Patriots' Last Five Seasons
| | | | | | |
| --- | --- | --- | --- | --- | --- |
| Season | Coach | Finish | W-L | % | Playoffs |
| 2020 | Bill Belichick | 3rd | 7-9 | .438 | – |
| 2019 | Bill Belichick | 1st | 12-4 | .750 | 0-1 |
| 2018 | Bill Belichick | 1st | 11-5 | .688 | 3-0 |
| 2017 | Bill Belichick | 1st | 13-3 | .813 | 2-1 |
| 2016 | Bill Belichick | 1st | 14-2 | .875 | 3-0 |
New England Patriots' All-Time Career Leaders
| | | | |
| --- | --- | --- | --- |
| Category | Player | Stats | Years |
| Passing Yards | Tom Brady | 70,514 | 2000- |
| Passing Touchdowns | Tom Brady | 517 | 2000- |
| Rushing Yards | Sam Cunningham | 5,453 | 1973-82 |
| Rushing Touchdowns | Jim Nance | 45 | 1965-71 |
| Receptions | Wes Welker | 672 | 2007-12 |
| Receiving Yards | Stanley Morgan | 10,352 | 1977-89 |
| Receiving Touchdowns | Rob Gronkowski | 79 | 2010-18 |
| Tackles | Vincent Brown | 737 | 1988-95 |
| Sacks | Andre Tippett | 100 | 1982-93 |
| Interceptions | Ty Law | 36 | 1995-04 |
Records aside, Patriots history is littered with iconic figures who have put up big numbers and/or played a key role in a Super Bowl run. For a team that has at least appeared in an astonishing eleven Super Bowls, that shouldn't be much of a surprise.
New England's rich history demands focused attention, but here are a few individuals who stand out over the years.
Tom Brady
Tom Brady is the only player in NFL history to win six Super Bowls playing for the same team. Brady played for the University of Michigan and was drafted in 2000 in the sixth round as the 199th overall pick. He's the current Patriots quarterback.
In addition to six Super Bowl rings, he's accumulated a long list of awards and achievements, including Super Bowl MVP four times and the NFL's MVP three times. He's twice been named NFL Offensive Player of the Year as well as 2009's NFL Comeback Player of the Year. The list goes on with NFL top spots, including the passing yards leader for three years and passing touchdowns leader for four.
Drew Bledsoe
Brady's predecessor, Drew Bledsoe, has a list of achievements of his own. He was the Patriots' first pick in round one of the 1993 NFL Draft after three years of setting records at Washington State. In '98, Bledsoe became the first quarterback in the NFL to complete game-winning touchdown passes, with less than 30 seconds to go, in two consecutive games.
He was integral in getting his team to their third postseason in a row, and he's credited with playing a significant role in the Patriots' emergence over the past few decades. He retired after the 2006 season with the Cowboys and was inducted into the New England Patriots Hall of Fame in 2011.
Andre Tippett
Andre Tippett played for the Patriots his entire 12-season NFL career after being drafted in the second round in 1982. Tippett previously helped his University of Iowa Hawkeyes to their first Rose Bowl in 20 years. From 1984 through 1988, the linebacker was selected to five Pro Bowls.
In 1985, he was named both the AFC Player of the Year and NFL Defensive Player of the Year. He still holds the Patriots record for 100 career sacks, an average of .662 per game, ranking him fourth in NFL history for linebackers. He retired after the 1993 season and is a member of the Patriots Hall of Fame.
Adam Vinatieri
Adam Vinatieri is a placekicker who spent the 1996 through 2005 seasons with the Patriots. He's currently on the Indianapolis Colts roster and is one of the oldest active players in the NFL. Vinatieri was signed by the Patriots in '96 as an undrafted free agent after he graduated from South Dakota State University. He was SDSU's place-kicker and punter and the all-time leading scorer.
Vinatieri currently holds NFL records for most Super Bowl appearances and wins (5/4), three wins with the Patriots and one with the Colts. He's the only player to score 1,000 points with two different teams. He's tops in the NFL for 234 postseason points, 12 overtime field goals, and 44 straight field goals.
Rob Gronkowski
Tight end Rob Gronkowski was New England's 2010 second-round draft pick. Gronkowski previously played for the Wildcats at the University of Arizona and was named The Sporting News' freshman All-American.
Gronkowski holds franchise records for most career touchdown receptions at 76 and 16 games with multiple touchdowns. He tied an NFL record with Randy Moss for most offensive touchdowns in his first two seasons and retired in 2018 as the team's all-time receiving touchdown leader.
New England Patriots Trivia
Patriots fans forget, but it was Drew Bledsoe (not Tom Brady) that helped the Patriots win the AFC title game the year they finally won their first Super Bowl. Brady replaced the injured Bledsoe early in the year, and Bledsoe stepped in while Brady nursed an injury of his own.
Former Patriots wide receiver Randy Moss had a record-setting year in 2007, hauling in a still-standing NFL record of 23 scores in a single season.
New England's 16-0 perfect regular season is the best regular season in NFL history. While they couldn't pull off a win in Super Bowl XLII to go 19-0 and nab the second-ever perfect season, their 18-0 record going into the big game still stands as the best undefeated streak in any given season in league history.
Wide receivers Troy Brown and Julian Edelman have both displayed their versatility for the Patriots, taking snaps at quarterback and defensive back during their New England tenures.
The three teams the Patriots have lost Super Bowls to in the Bill Belichick era all come from the NFC East. Two were to the Giants, who former New England coach Bill Parcells used to coach for.
More NFL Team Guides
Other AFC East Team Guides
Other AFC Team Guides
All NFC Team Guides