An NFL Fan's Guide to The Miami Dolphins
The Miami Dolphins have a rich history of winning championships, putting up gaudy numbers, and competing at a high level. Sadly, those days largely ended once legendary quarterback Dan Marino retired in 1999.
Miami has just one playoff win since Dan the Man hung up his cleats, while they've been to the playoffs just three times over that span.
The amount of hope that you place in a run at a title for the Dolphins is up to you, but for all of the insight, analysis, updated stats, and Dolphins information you can handle, this page will be your ultimate guide.
Miami Dolphins Overview and Key Information
The Miami Dolphins played their first game in 1966 as an expansion team with the AFL. Their first NFL game was in 1970 under head coach Don Shula.
While the Dolphins experienced both a perfect season and two Super Bowl championships in the '70s, the team has yet to recapture the magic of the Don Shula days. Their last Super Bowl appearance was in 1984, and overall, the franchise has recorded 23 playoff appearances, including 13 division championships and five conference championships.
The Chicago Bears offensive coordinator, Adam Gase, was hired in 2016, and the Miami Dolphins seized their first playoff spot since 2008. However, in 2018, Gase was fired and replaced by Brian Flores, who has previously served as a defensive coordinator and linebackers coach for the New England Patriots.
Miami Dolphins – Key Info
Established

1966

Division

AFC East

Current Team Location

Miami Gardens, Florida

Stadium

Hard Rock Stadium

Head Coach

Brian Flores

Owner

Stephen M. Ross

Website

Team Value (Forbes 2018)

$2.75 billion (17th)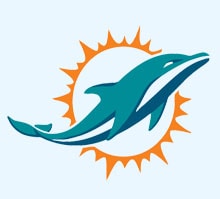 Miami Dolphins Team History
The Dolphins started out in the American Football League as an expansion franchise in 1966 before merging with the NFL and joining the AFC East Division in 1970. Their AFL years were less than successful with a 15-39-2 record in four seasons.
In 1970, it wasn't just the AFL-NFL merger that ignited the Miami team; it was a head coach by the name of Don Shula, whose name is practically synonymous with Dolphins football.
In the early '70s, the Dolphins made it to the AFC Championships for three years in a row. The biggest season in Dolphins history was 1972, though.
Super Bowl Appearances and Playoff History
Not only did the Dolphins complete an undefeated regular season in 1972, but the team went on to win two playoff games and claim their first Super Bowl win. They beat the Washington Redskins 14-7 in Super Bowl VII, making them the only NFL team to win every game including the Super Bowl in a season.
While the 1973 season wasn't a clean sweep again, the Dolphins repeated their Super Bowl success with a 24-7 win against the Minnesota Vikings. While they made the postseason play in '74, they ended up losing in the divisional playoffs to the Raiders.
Don Shula remained as head coach for 26 seasons from 1970 through 1995, ending his run with a 257-133-2 record (.659 winning percentage). Under Shula's leadership, the team won 11 AFC East titles, five AFC Championships, and two Super Bowls.
Since then, the Dolphins have only won two additional divisional championships, one in 2000 under Coach Dave Wannstedt and the other in 2008 under Tony Sparano. The most recent postseason play was in 2016 when the Dolphins lost to the Steelers 12-30 in a wild card playoff game.
Super Bowl Appearances (AFC Championships): 1984, 1982, 1973, 1972, 1971
Super Bowl Championships: 1973, 1972
AFC East Titles: 2008, 2000, 1994, 1992, 1985, 1984, 1983, 1981, 1979, 1974, 1973, 1972, 1971
Playoff Appearances: 2016, 2008, 2001, 2000, 1999, 1998, 1997, 1995, 1994, 1992, 1990, 1985, 1984, 1983, 1982, 1981, 1979, 1978, 1974, 1973, 1972, 1971, 1970
Home Stadium – Hard Rock Stadium
Inaugurated: 1987
Capacity: 64,767
Grass or Turf: Grass
From 1966 through 1986, the Miami Dolphins had the Miami Orange Bowl as their home field. But in 1987, the team moved into a brand-new facility that can't seem to get its name straight.
The venue was initially known as Joe Robbie Stadium for ten seasons. But then a series of changes followed from Pro Player Park to Pro Player Stadium. Then, it was Dolphins Stadium and the singular "Dolphin" Stadium. In 2009, it became Land Shark Stadium, then back to Dolphin. Sun Life Stadium seemed to stick for seven seasons, anyway, until 2016 and New Miami Stadium. Now, the Miami Gardens-based 64,000+ seat venue is called Hard Rock Stadium.
The facility features a grass field, 10,209 club seats, and 216 suites. In 2015, $350 million in renovations included new video boards in each corner and an open-air canopy over the main seating sections. Additionally, 48 luxury four-seat pods were installed that resemble little living rooms with upscale furniture and individual TV screens.
The stadium has been used for baseball, concerts, WrestleMania, soccer, and other special events when the Dolphins aren't at home.
Stadium Address: Hard Rock Stadium, 347 Don Shula Drive, Miami Gardens, FL 33056
Mailing Address: Miami Dolphins, c/o Hard Rock Stadium, 347 Don Shula Drive, Miami Gardens, FL 33056
Phone: 305-943-8000
Miami Dolphins Head Coaches
There's one name that's always associated with the Miami Dolphins, and that's coach Don Shula. Thanks to his dominance at the head spot for an unfathomable 26 years, Miami's coaching history is pretty brief.
Here are the Dolphins head coaches that are worth noting, including the iconic Shula.
Don Shula
Shula was Miami's head coach from 1970 through 1995, compiling an amazing 257-133 win-loss record and leading the Dolphins to their only two Super Bowl championships in 1972 and 1973.
Shula's playoff record of 17-14 covers 11 AFC East Division Championships and five AFC Championships. He was named UPI NFL Coach of the Year in 1970 and '72 and was inducted into the Pro Football Hall of Fame as a coach. He also stands in NFL history as the only coach to oversee a perfect (no losses) season.
Jimmy Johnson
After leaving the Cowboys, Jimmy Johnson took a break but eventually returned to the NFL by latching on with Miami in 1997. Johnson went just 8-8 in his first season but had Miami back in the playoffs in year two and reached the playoffs two more seasons.
Johnson's stay in South Beach only lasted four years in total, but he never had a losing season and generated one AFC East title and two playoff wins.
Dave Wannstedt
Most will mock this shoutout for Wannstedt's forgettable Bears career, but he actually had some solid success with the Dolphins. Wannstedt was also only in Miami for four years, but he produced a winning season (9-7) or better each season and made the playoffs twice.
Wannstedt also scored an AFC East championship in his first year on the job in 2000, while also nabbing a playoff victory that very season.
Adam Gase
Adam Gase joined the Dolphins in 2016 as a first-time head coach but held NFL coaching positions with the Lions, 49ers, Broncos, and Bears from 2003 through 2015. One of his best seasons was in 2013 as the Denver Broncos' offensive coordinator. The Broncos broke the Patriots' scoring record for a single season that year, scoring 606 points, a new NFL record.
Gase didn't have a ton of success while in Miami, but he also dealt with numerous injuries, specifically to franchise quarterback Ryan Tannehill. Despite it all, Gase did go 10-6 and make the playoffs in his first season with Miami.
Gase's head coaching stint for the Dolphins was short-lived, however, as he was replaced by Brian Flores following the 2018 season. Flores hadn't served in a head coaching role prior to his time with the Miami Dolphins, but he spent fourteen years in various positions within the New England Patriots organization prior to being named the Dolphins' head coach.
| | | | | | | | |
| --- | --- | --- | --- | --- | --- | --- | --- |
| # | Years | Coach | W-L | % | Playoffs | % | Titles |
| 13 | 2019- | Brian Flores | 15-17 | .469 | – | – | – |
| 12 | 2016-18 | Adam Gase | 23-25 | .479 | 0-1 | .000 | – |
| 11 | 2012-15 | Joe Philbin | 24-28 | .462 | – | – | – |
| 10 | 2008-11 | Tony Sparano | 29-32 | .475 | 0-1 | .000 | – |
| 9 | 2007-07 | Cam Cameron | 1-15 | .063 | – | – | – |
| 8 | 2005-06 | Nick Saban | 15-17 | .469 | – | – | – |
Miami Dolphins' Last Five Seasons
| | | | | | |
| --- | --- | --- | --- | --- | --- |
| Season | Coach | Finish | W-L | % | Playoffs |
| 2020 | Brian Flores | 2nd | 10-6 | .625 | – |
| 2019 | Brian Flores | 4th | 5-11 | .313 | – |
| 2018 | Adam Gase | 2nd | 7-9 | .438 | – |
| 2017 | Adam Gase | 3rd | 6-10 | .375 | – |
| 2016 | Adam Gase | 2nd | 10-6 | .625 | 0-1 |
Miami Dolphins' All-Time Career Leaders
| | | | |
| --- | --- | --- | --- |
| Category | Player | Stats | Years |
| Passing Yards | Dan Marino | 61,361 | 1983-99 |
| Passing Touchdowns | Dan Marino | 420 | 1983-99 |
| Rushing Yards | Larry Csonka | 6,737 | 1968-79 |
| Rushing Touchdowns | Larry Csonka | 53 | 1968-79 |
| Receptions | Mark Clayton | 550 | 1982-92 |
| Receiving Yards | Mark Duper | 8,869 | 1982-92 |
| Receiving Touchdowns | Mark Clayton | 81 | 1983-92 |
| Tackles | Zach Thomas | 1,035 | 1996-07 |
| Sacks | Jason Taylor | 131 | 1997-11 |
| Interceptions | Jake Scott | 35 | 1970-75 |
Legendary passer Dan Marino retired as the all-time leader in most NFL passing categories, so it's safe to say he'll stay atop the Dolphins record books for some time.
Marino's career was more than just wild numbers, though, and the same can be said about several other iconic Dolphins plays. Here are some of the best in franchise history.
Dan Marino
Former University of Pittsburgh Panther Dan Marino was the 27th pick in the first round by the Miami Dolphins. The quarterback was named the NFL's Rookie of the Year in 1983 and went on to play for 17 seasons in Miami through 1999. His long list of awards includes the 1984 NFL MVP and Offensive Player of the Year.
Marino was the NFL's passing touchdowns leader from 1984-86 and a five-time passing yards leader. He was named to nine Pro Bowls and given the Walter Payton NFL Man of the Year award in 1998. Marino retired with a career 61,361 passing yards and a 420-252 TB-INT ratio. His number 13 was retired by the Dolphins, and he's a member of the Miami Dolphins Honor Roll.
Larry Csonka
Larry Csonka started his career in Miami from 1968 and 1974 and returned for the '79 season after three years with the NY Giants before retiring from the NFL. The fullback played middle linebacker his first season at Syracuse University before switching to fullback and being named an All-American. He was the Dolphins' number one pick in 1968 and first running back drafted in the first round.
Csonka has two Super Bowl rings as well as the MVP title from Super Bowl VIII. He was picked five times for the Pro Bowl and a three-time first-team All-Pro. In 1979, Larry was named the NFL Comeback Player of the Year. His number 39 was retired by the Dolphins.
Bob Griese
Like Csonka, Bob Griese was also an All-American during his years with the Purdue Boilermakers. He was drafted by the AFL Miami Dolphins in 1967 as the fourth player selected in the Common Draft. The quarterback spent 14 seasons with the Dolphins from 1967-1980. He earned two Super Bowl rings and was the NFL's MVP in 1971.
Griese was picked for the Pro Bowl six times from 1970 to 1978 and was a first-team All-Pro twice. He retired with a TD-INT of 192-172 and 25,092 passing yards. The Miami Dolphins retired his number 12 and added him to the franchise's Honor Roll.
Paul Warfield
Paul Warfield started his NFL career with the Cleveland Browns from 1964 through 1969 before the Dolphins acquired him in 1970. Warfield was a first-team All-American at Ohio State and was part of the Browns' NFL championship team in 1964 and the Dolphins' Super Bowl-winning teams in 1972 and '73.
His five seasons with the Dolphins produced 156 receptions for 3,355 yards and 33 touchdowns. Warfield was picked for eight Pro Bowls including seven consecutive years from 1968-1974. He was a two-time NFL receiving touchdowns leader and six-time First-Team All-Pro. Paul Warfield retired with the Cleveland Browns in 1977 and was named to the Miami Dolphins Honor Roll for his contributions in the 1970-74 seasons.
Jason Taylor
Jason Taylor was a three-year starter for the Akron Zips football team at the University of Akron before the Dolphins chose him in round three of the 1997 NFL draft. For most of his professional career, Taylor wore a Miami uniform from 1997 through 2011 except 2008 with the Redskins and 2010 with the Jets.
Taylor's a two-time AFC Defensive Player of the Year and 2006 NFL Defensive Player of the Year. He was the 2002 NFL sacks leader and picked for six Pro Bowls. In 2007, he was named the Walter Payton NFL Man of the Year. Taylor retired after the 2011 season with 775 tackles, 29 fumbles recovered, and nine career touchdowns, making him the all-time leader in TDs for defensive linemen.
Miami Dolphins Trivia
The Miami Dolphins still stand in as the only NFL team to go an entire season without losing a single game. The 1972 Dolphins went 14-0 during the regular season and won all three of their playoff games to go a perfect 17-0.
Dolphins great Don Shula still holds the record for most wins by an NFL head coach (347) despite not having coached since 1995.
Paul Warfield was a dominant receiver for the Dolphins — so much so that he became the first Miami player inducted into the Pro Football Hall of Fame.
Former Dolphins quarterback Dan Marino had quite the list of accomplishments in just his second NFL season. He set the record for passing touchdowns (48) in a single year, was named NFL MVP, and led Miami to their last Super Bowl appearance.
Jim Grabowski had the honor of being Miami's very first draft pick in team history. The Illinois running back was selected with the first overall pick in the 1966 AFL Draft.
More NFL Team Guides
Other AFC East Team Guides
Other AFC Team Guides
All NFC Team Guides