LA Rams Team Guide
The Los Angeles Rams have long been a competitive NFL team and historically have also been fun to watch. After a rough stretch, Sean McVay vaulted them back into the discussion and in 2018 got them to the Super Bowl.
That has put the Rams on everyone's radar, and that could be the case for years to come. This page will keep you updated on the comings and goings of the team, as well as provide the latest Rams news, stats, coaching changes, career records, and more.
Los Angeles Rams Overview and Key Information
The Rams have been a member of the NFL since 1937 but have taken on different names depending on their location at the time. The former Cleveland Rams became the Los Angeles Rams in 1946. A move to Missouri prompted the new name of the St. Louis Rams. But in 2016, the team headed back to where they were in 1946. They moved into their original home at the Los Angeles Memorial Coliseum and resumed play as the Los Angeles Rams.
Regardless of their location, the Rams have made 28 playoff appearances. They've won two NFL Championships in 1945 and 1951 and have a 1-3 record in the Super Bowl, defeating the Tennessee Titans at XXXIV in 1999.
In 2017, the Rams hired head coach Sean McVay, who was named the 2017 AP NFL Coach of the Year at just 30 years old. McVay coached the Rams to an 11-5 regular-season finish and their first playoff game in eight years. The team also advanced to the Super Bowl under his guidance in 2018 before ultimately losing to the Patriots, 13-3.
LA Rams – Key Info
Established

1936

Division

NFC West

Current Team Location

Los Angeles, California

Stadium

Los Angeles Memorial Coliseum

Head Coach

Sean McVay

Owner

Stan Kroenke

Website

Team Value (Forbes 2018)

$3.2 billion (4th)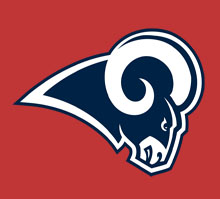 Los Angeles Rams Team History
The Rams are the only NFL franchise to win NFL Championships in three different cities (Cleveland in 1945, Los Angeles in 1951, and the Super Bowl XXXIV win in St. Louis in 1999).
The story begins with the Cleveland Rams in 1936. The original team was a member of the AFL for one season before joining the NFL. The name "Rams" was assigned by the first head coach and owner at the time, Damon Wetzel. It was an homage to his favorite college team, the Fordham Rams.
The Rams spent nine years in Cleveland, finishing their final regular season in Ohio in 1945 at 9 and 1 and their first NFL Championship.
It wasn't an easy feat, but Dan Reeves, who purchased the Rams in 1941, eventually received permission to move the team to Los Angeles, California, and into the Los Angeles Memorial Coliseum. They were the first in the NFL to set up shop in LA.
The California-based Rams made it to one Super Bowl appearance in 1979, losing to the Steelers 19-31 at XIV. But from 1973 through '89, there were only three years without the Rams entering postseason play. The momentum dried up, though, and the Rams had four seasons of fourth-place finishes before making another move.
Super Bowl Appearances and Playoff History
The St. Louis move was highly contested, but the Rams did head to Missouri for the 1995 season. It took a bit to get back on track, but in 1999, after nine seasons of no playoff action, the Rams defeated the Titans 23-16 in XXXIV, earning their one and only Super Bowl title.
A chance at a second championship ring followed in 2001, but the Patriots emerged victorious in Super Bowl XXXVI, 17-20.
From 2005-2016, the Rams hit another playoff drought. In 2016, they packed their bags and headed back to the West Coast. The Los Angeles Rams not only reverted to their second name but moved back into Los Angeles Memorial Coliseum.
In 2020, a new home for both the Los Angeles Rams and the Los Angeles Chargers is planned, as Los Angeles Stadium at Hollywood Park is currently under construction.
Super Bowl Appearances (NFC Conference Championships): 2018, 2001, 1999, 1979
Super Bowl Championship: 1999 (XXXIV)
NFC Conference Championships: 2018, 2001, 1999, 1979
NFC West Division Titles: 2018, 2017, 2003, 2001, 1999, 1985, 1979, 1978, 1977, 1976, 1975, 1974, 1973, 1969, 1967, 1949, 1945
Playoff Appearances: 2018, 2017, 2004, 2003, 2001, 2000, 1999, 1989, 1988, 1986, 1985, 1984, 1983, 1980, 1979, 1978, 1977, 1976, 1975, 1974, 1973, 1969, 1967, 1955, 1952, 1951, 1950, 1949, 1945
Home Stadium – Los Angeles Memorial Coliseum
Inaugurated: 1923
Capacity: 77,500
Grass or Turf: Grass
The Rams have lived in three states and have had seven homes. Cleveland Stadium, League Park, Shaw Stadium, Anaheim Stadium, Busch Memorial Stadium, and The Dome at America's Center have all hosted Rams football.
Los Angeles Memorial Coliseum was not only the original LA venue, but it's also the current one. The 1923-built open-air venue has been the home of the Rams from 1946 through 1979 and again since 2016.
The Rams and the Los Angeles Chargers have an agreement to cohabitate in brand-new digs in 2020, though. The Los Angeles Stadium at Hollywood Park is now being built on the site of the former Hollywood Park Racetrack in Inglewood.
Stadium Address: Los Angeles Memorial Coliseum, 3911 S. Figueroa Street, Los Angeles, CA 90037
Mailing Address: Los Angeles Rams, 29899 Agoura Road, Agoura Hills, CA 91301
Phone: 314-425-8830
Los Angeles Rams Head Coaches
The Rams organization is not afraid to make changes when it comes to head coaches. There have been 28 in the team's history, but only a handful stand out above the rest.
Here's a look at the best Rams coaches in team history.
Chuck Knox
Adam Walsh and Joe Stydahar secured NFL titles in 1945 and 1951, but their stays with the organization didn't last long. That was the opposite for Knox, who turned the Rams back into a winning team and got LA their first playoff win in 22 years.
That came in 1974, which serves as Knox's second season and the Rams' second straight playoff run under his watch. LA reached the NFC title game that year, narrowly losing to the Minnesota Vikings, 14-10.
Knox kept the Rams extremely competitive throughout his tenure with the team, producing five winning seasons — all of which had 10+ wins and got the team into postseason play. Knox helped the Rams reach the NFC title game in three straight seasons, too, all while claiming the NFC West division crown each year.
Knox returned to the team years later for a three-year stint (1992-1994) but failed to generate a winning season.
Ray Malavasi
While not nearly as successful over a long period of time as his predecessor, Malavasi took over Knox's winning team and kept trucking along.
The Rams once again advanced to the NFC title game in Malavasi's first season at the helm. In year two, the Rams pushed their way to their first-ever Super Bowl, losing 31-19 to the Steelers.
Malavasi made it three straight trips to the playoffs for LA in 1980 before struggling over his final two seasons as head coach.
John Robinson
The Rams made a coaching switch after a brief regression under Malavasi, next turning to John Robinson, who got them back to their winning ways his first year on the job in 1983.
Robinson lasted with the Rams for nine years, producing six playoff runs, one NFC West title, and five 10+ win seasons. His coaching helped the Rams reach the NFC Championship game twice, but the Rams got blown out both times.
Dick Vermeil
In 1997, former Eagles head coach Dick Vermeil came out of retirement to take Rich Brooks' spot. Vermeil was behind the Rams' only Super Bowl championship XXXIV in 1999, earning four Coach of the Year titles and a 3-0 postseason record (22-26-0 regular season).
Vermeil only got the Rams to the playoffs once in three years, but he landed the franchise its first-ever Lombardi Trophy. He opted for retirement shortly after but would resurface one last time as head coach of the Kansas City Chiefs.
Mike Martz
Martz picked up the torch and marched forward with a loaded Rams offense, one which will forever be known as "The Greatest Show on Turf." Martz wouldn't get the Rams another ring, but he kept them highly competitive, reaching the playoffs four times over his five years on the job.
During that stretch, the Rams were one of the best offenses in football and won two NFC West crowns. The Rams also reached another Super Bowl, falling to the Patriots in Super Bowl XXXVI, 20-17.
Sean McVay
After surviving a litany of bad coaches, the Rams finally brought in a bright mind again in 2017. Sean McVay is the most recent name added to the Rams head-coaching roster. He was hired in 2017 as the youngest NFL coach in the modern-day NFL at just 30 years old.
McVay began his coaching career with the Buccaneers as the assistant wide receivers coach in 2008. Before accepting the Rams' top spot, he spent seven seasons with the Washington Redskins as the assistant tight ends coach, tight ends coach, and offensive coordinator.
After recording his first-season record of 11-6 and the Rams' first postseason appearance since 2004, McVay was named the AP NFL Coach of the Year. McVay didn't stop there, of course, as he kept pushing the Rams the following year, which led to a second straight NFC West title, another year of 11+ wins, and a Super Bowl appearance.
| | | | | | | | |
| --- | --- | --- | --- | --- | --- | --- | --- |
| # | Years | Coach | W-L | % | Playoffs | % | Titles |
| 28 | 2017- | Sean McVay | 43-21 | .672 | 3-3 | .500 | – |
| 27 | 2012-16 | Jeff Fisher | 31-45 | .414 | – | – | – |
| 26 | 2009-11 | Steve Spagnuolo | 10-38 | .208 | – | – | – |
| 25 | 2006-08 | Scott Linehan | 11-25 | .306 | – | – | – |
| 24 | 2000-05 | Mike Martz | 53-32 | .624 | 3-4 | .429 | – |
Los Angeles Rams' Last Five Seasons
| | | | | | |
| --- | --- | --- | --- | --- | --- |
| Season | Coach | Finish | W-L | % | Playoffs |
| 2020 | Sean McVay | 2nd | 10-6 | .625 | – |
| 2019 | Sean McVay | 3rd | 9-7 | .563 | – |
| 2018 | Sean McVay | 1st | 13-3 | .813 | 2-1 |
| 2017 | Sean McVay | 1st | 11-5 | .688 | 0-1 |
| 2016 | Jeff Fisher | 4th | 4-9 | .308 | – |
Los Angeles Rams' All-Time Career Leaders
| | | | |
| --- | --- | --- | --- |
| Category | Player | Stats | Years |
| Passing Yards | Jim Everett | 23,758 | 1986-93 |
| Passing Touchdowns | Roman Gabriel | 154 | 1962-72 |
| Rushing Yards | Steven Jackson | 10,138 | 2004-12 |
| Rushing Touchdowns | Marshall Faulk | 1999-05 | 58 |
| Receptions | Isaac Bruce | 942 | 1994-07 |
| Receiving Yards | Isaac Bruce | 14,109 | 1994-07 |
| Receiving Touchdowns | Isaac Bruce | 84 | 1994-07 |
| Tackles | James Laurinaitis | 654 | 2009-15 |
| Sacks | Leonard Little | 87.5 | 1998-09 |
| Interceptions | Eddie Meador | 46 | 1959-70 |
The Rams have a storied history filled with impressive offenses and highly competitive play. Some players fortunate enough to rank among the franchise's career leaders even go down as all-time greats.
Starting with sack machine Deacon Jones, here's a look at some of the best players to ever put on a Rams uniform.
Deacon Jones
The Los Angeles Times referred to Deacon Jones as the "most valuable Ram of all time." Jones is one of the greatest defensive ends in football and spent the majority of his NFL career with the Los Angeles Rams from 1961-71. He was the Rams' 14th-round pick in the 1961 NFL Draft out of Mississippi Valley State. Jones specialized in quarterback sacks, and although they weren't officially counted at the time, his stats show a career total of 173½, putting him third on the NFL's all-time highest list.
Jones was in eight Pro Bowls and was a First-Team All-Pro every season from 1965-69. In both 1967 and 1968, he was the NFL's Defensive Player of the Year. After Deacon's 11 seasons with the Rams, he spent two with the Chargers and then retired after the '74 season with the Redskins. The 1980 Pro Football Hall of Fame inductee was also honored by the Rams when his number 75 jersey was retired.
Merlin Olsen
Merlin Olsen was on the Rams roster for the entirety of his 15-year NFL career. Drafted in 1962 out of Utah State, Olsen had his pick of the Rams of the NFL or the AFL's Denver Broncos. The NFL named the new defensive tackle Rookie of the Year in 1962, and he made his first of 14 Pro Bowls that year. He was also First-Team All-Pro for six seasons.
Combining Olsen's talents with Deacon Jones, Rosey Grier, and Lamar Lundy gave the Rams the "Fearsome Foursome," one of the best front fours in the history of the NFL. Olsen was selected for the Bert Bell Award in 1974 and retired after the '76 season. He was inducted into both the College and Pro Football Halls of Fame and had his number 74 jersey retired by the Rams organization.
Kurt Warner
Kurt Warner initially went undrafted in 1994 out of Northern Iowa but was signed and then subsequently released by the Green Bay Packers. So, Warner ended up starting his career in Arena Football in 1995 with the Iowa Barnstormers, named First Team All-Arena twice. The Rams chose Warner in the 1999 NFL Expansion Draft, and he became the only NFL QB to throw three touchdown passes in each of his first three starts.
Warner is best known for leading the Rams to their only Super Bowl championship win at XXXIV in 1999 when he also was named MVP for the Big Game. He was the NFL's passing yards leader in 1999 and 2001 as well as the AP's NFL MVP both seasons. Warner was selected for four Pro Bowls and was a two-time First-Team All-Pro.
Kurt continued with league-leading stats and collected awards including the Walter Payton NFL Man of the Year in 2008. He spent a year in 2004 with the Giants before retiring with the Cardinals after the 2009 season and is a Pro Football Hall of Famer.
Eric Dickerson
Eric Dickerson was named the NFL's Offensive Rookie of the Year in 1983 after his start with the Rams. He was picked second by Los Angeles in the first round of the '83 draft out of SMU. Dickerson immediately became the NFL's rushing yards leader for four seasons starting in 1983 and was named NFC Offensive Player of the Year three times early in his career.
The running back was a five-time First-Team All-Pro and named to six Pro Bowls. He set NFL records for 2,105 rushing yards in a season (becoming a member of the 2,000-yard club), and 1,808 rushing yards in his rookie year. Dickerson was traded to the Colts in 1987 and played for the Raiders and Falcons before retiring in 1993. The Los Angeles Rams honored him by retiring his number 29, and the Pro Football Hall of Fame added him to their impressive roster in 1999.
Marshall Faulk
Although Marshall Faulk started his NFL career with the Colts after being the second overall draft pick in 1994 out of San Diego State, he was traded to the Rams just in time for the 1999 championship. Faulk, the 1994 NFL Offensive Rookie of the Year, was named NFL's Offensive Player of the Year his first three seasons in Los Angeles. He was the NFL's Most Valuable Player in 2000 and a seven-time Pro Bowl selection and triple First-Team All-Pro.
Faulk's name is still on a long list of NFL records, including seven two-point conversions, most receiving yards by a running back in a season (1,048), 15 career games with both a rushing and receiving touchdown, and the only NFL running back with 100+ and 30+ receiving touchdowns. Marshall retired after eight seasons with the Rams, and his number 28 was also retired. In 2011, he was elected to the Pro Football Hall of Fame.
Isaac Bruce
There are countless iconic Rams receivers to note, with Torry Holt, Henry Ellard, and Flipper Anderson all coming to mind. But none were better than Bruce, who displayed remarkable longevity, deep speed, and productivity while with the Rams.
A second-round pick out of Memphis in the 1994 NFL Draft, Bruce made his presence felt early, recording a career-high 119 receptions in just his second season as a pro. Bruce piled it on from there, recording eight different 1,000+ yard campaigns with the Rams and playing a hand in two different Super Bowl runs.
Bruce left the team in 2007 but still holds team records for catches, yards, and touchdowns as a receiver.
Los Angeles Rams Trivia
The Rams are the only NFL franchise to win a championship in three different cities and among a select group that has done so in more than one.
Deacon Jones would have finished third all-time if the league recorded sacks as a stat when he played. Despite that not happening while he was active, he is said to be responsible for coining the word "sack."
Jones, ever the quarterback sack artist, also got a fitting nickname of his own, as "the Secretary of Defense."
Bob Waterfield was the first Rams player ever inducted in the Pro Football Hall of Fame. The versatile player manned four different positions during his career and was inserted into the Hall of Fame in 1965.
Former Rams linebacker Jack Youngblood was known for his toughness and tenacity. It was never proven to be more astute than when he started 201 consecutive games (a Rams record) across a 14-year career.
More NFL Team Guides
Other NFC West Team Guides
Other NFC Team Guides
All AFC Team Guides