Kansas City Chiefs Team Guide
The Kansas City Chiefs have a solid history of being competitive and at least threatening to win titles. The installment of the sensational Patrick Mahomes at quarterback in 2018 has risen their level of interest more than ever.
Kansas City is firmly on the map for every NFL fan out there. This Kansas City Chiefs team guide serves as a constant source of Chiefs stats, news, analysis, records, and even team history for anyone looking for all things Kansas City Chiefs.
Kansas City Chiefs Overview and Key Information
The Kansas City Chiefs spent their first decade recording three AFL championships as a member of the American Football League. In 1969, the Chiefs defeated the Vikings in (AFL-NFL) Super Bowl IV with a score of 23-7.
That championship was recorded nearly 50 years ago and is the last to date for the Chiefs. Since then, the team has made 16 NFL playoff appearances and won eight AFC West divisional titles, but they've yet to match the success of their first ten seasons.
The franchise, which began as the Dallas Texans from 1960 through 1962, has resided at Arrowhead Stadium since 1972.
In 2013, Andy Reid was named as the Kansas City Chiefs' 13th head coach, following in the footsteps of previous acclaimed coaches like Hank Stram, Marty Schottenheimer, and Dick Vermeil. Reid has guided the team to five postseason games and three first-place finishes in the AFC West.
Kansas City Chiefs – Key Info
Established

1960

Division

AFC West

Current Team Location

Kansas City, Missouri

Stadium

Arrowhead Stadium

Head Coach

Andy Reid

Owner

The Hunt Family

Website

Team Value (Forbes 2018)

$2.1 billion (24th)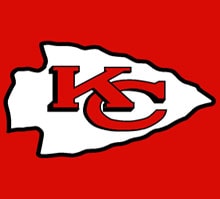 Kansas City Chiefs Team History
Kansas City and Dallas may be 500 miles apart, but the Kansas City Chiefs and the Dallas Texans are one and the same. The franchise started in 1960 as a charter member of the American Football League based in Dallas for three years.
When the NFL added the Cowboys as an expansion franchise, the enthusiasm for the Texans waned.
The then Kansas City mayor, Roe Bartle, promised to expand KC's Municipal Stadium and triple the season ticket sales. So, the Texans headed north and changed their name to the Kansas City Chiefs in honor of Mayor Bartle's "Chief" nickname.
As an AFL franchise, the Chiefs were putting up impressive numbers. Coach Hank Stram led the team to three AFL championships in 1962, 1966, and 1969 as well as the Super Bowl IV Championship against the Vikings.
The win was in an AFL-NFL Super Bowl championship, as the NFL merger didn't take place until the following year.
Super Bowl Appearances and Playoff History
As a member of the AFC West of the NFL, the Chiefs have made 16 playoff appearances and won eight divisional championships. They haven't, however, made another Super Bowl appearance since 1969.
After the Texans moved to Missouri, they set up shop at Municipal Stadium through 1971. In 1972, the Chiefs moved into the brand-new Arrowhead Stadium.
But despite a shiny, new home, the team started a postseason drought that lasted 14 years until they finally made the wild card playoffs in 1986, losing to the Jets 15-35.
The '90s were more promising with six consecutive playoff seasons followed by some hit and miss years until Coach Andy Reid came aboard for the 2013 season. The past six seasons, the Kansas City team has made post-season play five out of six years.
Super Bowl Appearance: 1969
Super Bowl Championship (AFL/NFL): 1969 (Super Bowl IV)
AFL Championships: 1969, 1966, 1962
AFC Conference Championships: 0
AFC West Division Championships: 2018, 2017, 2016, 2010, 2003, 1997, 1995, 1993, 1971
Playoff Appearances: 2018, 2017, 2016, 2015, 2013, 2010, 2006, 2003, 1997, 1995, 1994, 1993, 1992, 1991, 1990, 1986, 1971, 1969, 1968, 1966, 1962 (1962-69 in AFL)
Home Stadium – Arrowhead Stadium
Inaugurated: 1972
Capacity: 76,416
Grass or Turf: Grass
After spending nine seasons at Municipal Stadium, the Chiefs were given a brand-new facility in 1972.
Arrowhead Stadium is the sixth-largest NFL stadium with a 76,000+ seating capacity. It's part of the Truman Sports Complex that also includes the Kansas City Royals' Kauffman Stadium. Both Kauffman and Arrowhead were part of a four-year renovation project that was completed in 2010.
While Kansas City was conditionally awarded the 2015 Super Bowl if the renovations included a rolling roof, voters defeated the proposal and subsequently lost the rights to the game.
The open-air stadium did have updates, though, that included a Chiefs Hall of Honor and all new horizon-level, luxury suite seating.
Stadium Address: Arrowhead Stadium, One Arrowhead Drive, Kansas City, MO 64129
Mailing Address: Kansas City Chiefs, c/o Arrowhead Stadium, One Arrowhead Drive, Kansas City, MO 64129
Phone: 816-920-9300
Kansas City Chiefs Head Coaches
While the Chiefs only have one Super Bowl to their name, they've actually had a litany of productive seasons. They've also had some fantastic coaches call Kansas City home.
Here are some of the best Chiefs coaches in team history.
Hank Stram
Hank Stram was the first coach of the Kansas City Chiefs franchise when it was still known as the Dallas Texans. Stram coached from 1960-1962 in Dallas, leading the Texans to their 1962 AFL Championship win, the first of three.
In '63, Stram and the team relocated to Kansas City and continued to increase their wins tally with two more AFL Championships in 1966 and '69 and the Super Bowl IV championship in 1969. In '68, the Chiefs lost the Western Division playoff game to the Raiders, but it ended up being Stram's most awarded year, named as Coach of the Year by both the UPI and Pro Football Weekly.
Marty Schottenheimer
From 1975 through 1988, a series of replacements were announced and then soon departed. The Chiefs were out of postseason play from 1972 through 1986. There was no momentum for the team that had started out so promising in the '60s until Marty Schottenheimer was hired in '89.
Kansas City was then back in the playoffs seven out of eight seasons from 1990 through 1997. The team never got back to the big game with "Marty Ball," but Schottenheimer instilled a winning atmosphere, securing three division titles along the way and even reaching the AFC title game in 1993.
Andy Reid
Dick Vermeil brought the Chiefs back to the playoffs with a brilliant 13-3 campaign in 2003, but his five-year stay in KC was otherwise uneventful. Next up on the list of Chiefs coaches worth mentioning is Andy Reid, who was selected as the 13th head coach for the Chiefs organization. Reid held the top spot for the Philadelphia Eagles from 1999-2012, recording a 130-93-1 regular season win-loss with a .583 winning percentage.
Reid's first season in KC was 2013, and since then, he's churned out six winning seasons, three AFC West division crowns, and five campaigns of 10+ wins. Under Coach Reid, the team has made the playoffs five out of the past six seasons and in 2018 even reached the AFC title game.
| | | | | | | | |
| --- | --- | --- | --- | --- | --- | --- | --- |
| # | Years | Coach | W-L | % | Playoffs | % | Titles |
| 13 | 2013- | Andy Reid | 91-37 | .711 | 7-6 | .538 | 1 |
| 12 | 2011-12 | Romeo Crennel | 4-15 | .211 | – | – | – |
| 11 | 2009-11 | Todd Haley | 19-26 | .422 | 0-1 | .000 | – |
| 10 | 2006-08 | Herman Edwards | 15-33 | .313 | 0-1 | .000 | – |
| 9 | 2001-05 | Dick Vermeil | 44-36 | .550 | 0-1 | .000 | – |
Kansas City Chiefs' Last Five Seasons
| | | | | | |
| --- | --- | --- | --- | --- | --- |
| Season | Coach | Finish | W-L | % | Playoffs |
| 2020 | Andy Reid | 1st | 14-2 | .875 | 2-1 |
| 2019 | Andy Reid | 1st | 12-4 | .750 | 3-0 |
| 2018 | Andy Reid- | 1st | 12-4 | .750 | 1-1 |
| 2017 | Andy Reid | 1st | 10-6 | .625 | 0-1 |
| 2016 | Andy Reid | 1st | 12-4 | .750 | 0-1 |
Kansas City Chiefs' All-Time Career Leaders
| | | | |
| --- | --- | --- | --- |
| Category | Player | Stats | Years |
| Passing Yards | Len Dawson- | 28,507 | 1962-75 |
| Passing Touchdowns | Len Dawson | 237 | 1962-75 |
| Rushing Yards | Jamaal Charles | 7,260 | 2008-16 |
| Rushing Touchdowns | Priest Holmes | 76 | 2001-07 |
| Receptions | Tony Gonzalez | 916 | 1997-08 |
| Receiving Yards | Tony Gonzalez | 10,940 | 1997-08 |
| Receiving Touchdowns | Tony Gonzalez | 76 | 1997-08 |
| Tackles | Derrick Johnson | 938 | 2005-17 |
| Sacks | Derrick Thomas | 126.5 | 1989-99 |
| Interceptions | Emmitt Thomas | 58 | 1966-78 |
Kansas City has had several eras of exciting football. Even though most of them haven't translated into titles, they produced amazing individual seasons or contributed to impressive career totals.
Here are some of the most iconic Chiefs players over the course of the team's history.
Len Dawson
Len Dawson quarterbacked at Purdue before being the Steelers' first-round pick in the 1957 NFL Draft. Dawson spent three seasons with the Steelers and two with the Cleveland Browns before hitting his stride with the Dallas Texans/Kansas City Chiefs starting in 1962. His 14-year career on the field with the Chiefs produced a long list of career highlights.
In 1962, he was the AFL's Most Valuable Player. With the AFL, Len was a four-time passing touchdowns leader and six-time passer-rating leader. A decade later, he was the NFL's Man of the Year in 1973. He was named MVP for Super Bowl IV and retired after the 1975 season with a 239-183 TD-INT, 82.6 passer rating, and KC's all-time passing leader record. The Chiefs inducted Len Dawson into their Hall of Fame and retired his number 16.
Emmitt Thomas
Emmitt Thomas was the Kansas City Chiefs' defensive backs coach from 2010 until his retirement in 2019. But he was a cornerback on the field for the organization from 1966-1978 after signing on as an undrafted free agent out of Bishop College in Dallas. Thomas was both the AFL's interceptions leader in 1969 and the NFL's in 1974. He made the Pro Bowl four times and All-Pro three.
When Thomas ended his playing career after the '78 season, he had recorded 58 interceptions, 937 interception yards, and five TDs. His #18 was retired, and he's part of the Chiefs Hall of Fame and Pro Football Hall of Fame.
Tony Gonzalez
The former All-American at UC Berkeley was Kansas City's first-round pick in the 1997 draft. Gonzalez played in Kansas City from 1997 through the 2008 seasons before retiring with the Falcons after 2013. He was a 14-time Pro Bowler and named First-Team All-Pro for six years.
The tight end still holds the NFL record for total receiving yards in his position with 15,127. He's also second to Jerry Rice for 1,325 all-time receptions and first by a tight end. Gonzalez was named to the NFL's 2000s All-Decade Team and can be seen as a sports analyst on Fox NFL's pregame show.
Derrick Thomas
For all 11 of his NFL years, Derrick Thomas wore a Kansas City Chiefs uniform. He was drafted as a first-round pick in 1989 out of Alabama and the Crimson Tide. Thomas was named the NFL's Defensive Rookie of the Year in 1989 and the NFL sacks leader the next season. He was a nine-time Pro Bowl player for consecutive seasons and First-Team All-Pro for three. The outside linebacker/defensive end still holds the NFL record for seven sacks in one game.
Thomas is a member of the Pro Football Hall of Fame, and his number 58 was retired by the Chiefs. Derrick died from complications following a car accident on the way to the KC International Airport for a flight to St. Louis to watch the NFL championship game.
Jan Stenerud
Placekicker Jan Stenerud was the first Norwegian to play in the NFL and was a member of the Chiefs from 1967-79. Stenerud was attending Montana State University on a ski jumping scholarship when his previous soccer skills were proven useful while kicking a football to an injured halfback. He joined the team in 1965 and set a record for kicking a 59-yard field goal.
Jan became one of the first pro players used as a dedicated kicker and set a 24-year-long record for the longest field goal in a Super Bowl after kicking a 48-yarder in Super Bowl IV. After 13 seasons with the Chiefs, he went on to play six more with the Packers and the Vikings.
Stenerud was inducted into the Pro Football Hall of Fame in 1991 as one of only five placekickers to receive the honor. He was named to the NFL 75th Anniversary All-Time Team, as well as the Chiefs and Packers Halls of Fames. Kansas City also honored him by retiring his number 3.
Priest Holmes
Holmes rose to stardom during the Dick Vermeil era when he virtually carried the Kansas City offense over a six-year span. An undrafted free agent out of Texas, Holmes enjoyed a 1,000+ yard season and a Super Bowl win with the Baltimore Ravens before latching on with the Chiefs in 2001.
From there, Holmes rose to superstardom, putting up 1,555 rushing yards and 10 total touchdowns in his first season with a full-time role. His impact only grew from there, as Holmes totaled over 2,000 yards from scrimmage the following season, along with 24 total touchdowns.
Holmes' best season arrived in year three with the Chiefs, however, where he ran for 1,420 yards and scored an at the time record 27 rushing touchdowns. This also happened to be Kansas City's best season during the Vermeil era, where they went 13-3 and advanced to the playoffs.
Dante Hall
One of the most electrifying players in NFL history, Dante Hall was drafted in the fifth round of the 2000 NFL Draft out of Texas A&M. While Hall never fully realized his potential as a wide receiver in the pros, he did chip in with some solid stat lines.
Hall's real mark came in the return game, where he dazzled with highlight reel returns, both on punt return duty and on kick returns. Hall finished his Chiefs career with 1,882 punt return yards and five scores, while he was also dominant on kick returns with five consecutive seasons of 1,200+ kick return yards.
Another six scores were had from kick returns, while Hall ended his career in Kansas City as the all-time leader in kick return yards, kick return scores, and punt return scores.
Jamaal Charles
There are more KC players worth mentioning, but no list is complete without a nod to Charles, who may go down as the best Chiefs rusher of all time.
A third-round draft pick out of Texas in the 2008 NFL Draft, Charles was always known for his blazing speed and versatility. Charles was also absurdly efficient, as he averaged over 5.0 yards per carry in each of his first eight NFL seasons.
Charles didn't score quite as much as Priest Holmes, but he retired as the Chiefs' all-time leading rusher. He was also very successful from a team perspective, playing on four teams that made the AFC playoffs.
Kansas City Chiefs Trivia
Kansas City is known for some solid quarterbacks over the years, but it's actually the somewhat forgettable Elvis Grbac who holds the franchise record for most passing yards (504) in a single game.
Christian Okoye only lasted six years in the NFL, but he was known for his punishing running style. An electrifying 1,480-yard season in 1989 played a hand in him being dubbed the "Nigerian Nightmare."
Bobby Bell was the first-ever Chiefs player inducted into the Pro Football Hall of Fame. A two-time AFL championship participant, Bell was placed into the Hall of Fame in 1983.
Former Chiefs wide receiver Stephone Paige set the record for receiving yards in a game with 309 in 1985. The record would later be broken by Flipper Anderson, but Paige's mark is still the most for a game that ended in regulation.
More NFL Team Guides
Other AFC West Team Guides
Other AFC Team Guides
All NFC Team Guides