All About the Detroit Lions
The Detroit Lions haven't experienced some of the high-level success other NFL franchises have, but they've remained relatively competitive throughout their history.
This page provides fans with Lions records, history, and other information.
Hit up this Lions team guide for help in placing wagers on the Lions, or if you just want to read up on the Lions latest stats or learn about the team's history.
Detroit Lions Overview and Key Information
The Detroit Lions have made Detroit, Michigan, their home since 1934 after moving from Ohio and changing their name from the Portsmouth Spartans.
In the first few decades, the Lions were fierce competitors in the NFL. They won their first NFL Championship in 1935 and then three more in the '50s (1952, '53, and '57). The post-AFL-NFL merger era since 1970 has been a different story, though.
Detroit is one of only four teams that have never made a single Super Bowl appearance. As a member of the NFC Central from 1970 through 2001, the team won three division championships. But since the 2002 change-up settling the Lions in the NFC North, they're still working on their first division title.
The Lions gained a new head coach in 2018 when Matt Patricia signed on as the 27th in the franchise's history.
Detroit Lions – Key Info
Established

1930

Division

NFC North

Current Team Location

Detroit, Michigan

Stadium

Ford Field

Head Coach

Dan Campbell

Owner

Shelia Ford Hamp

Website

Team Value (Forbes 2018)

$1.7 billion (31st)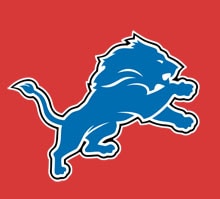 Detroit Lions Team History
While the Detroit Lions have stayed consistent in their name and location since 1934, they initially entered the NFL as the Portsmouth Spartans in 1930.
The Spartans were located in Ohio, and the residents were so anxious to have a team that they funded Universal Stadium. It was a short-term stint, though. In 1933, the Spartans were struggling financially. A Detroit radio executive ended up purchasing the team for $7,952 and moved the franchise to Detroit, Michigan.
The Spartans name was immediately replaced with Lions, as Lions are the king of the jungle. It was a bit of a one-up on the Detroit Tigers baseball team.
Upon arrival in Detroit, the Lions used the University of Detroit Stadium but then shared quarters with the same MLB Tigers mentioned above. Both teams resided at Tiger Stadium until the Lions received their stadium, the Pontiac Silverdome, followed by Ford Field.
Super Bowl Appearances and Playoff History
Through the franchise's history, which is now nearing the century mark, the Lions won four NFL Championships, one in 1935 and three in the '50s. They've made 18 playoff appearances from 1932 through 2016 but haven't had a single trip to the Super Bowl to date.
The Lions catch heat for never even reaching the big game, but their early success was substantial, and they did come close to the Super Bowl, reaching the 1991 NFC title game.
Detroit's Super Bowl history is non-existent, but the franchise has still secured four titles and has advanced to the playoffs 18 times throughout team history.
Super Bowl Appearances (NFC Championships): 0
Super Bowl Championships: 0
NFL Championships: 1957, 1953, 1952, 1935
NFL Conference Championships: 1957, 1954, 1953, 1952
NFC North Division Championships (post-2002):
NFC Central Division Championships: 1993, 1991, 1983
NFL West Division Championship: 1935
Playoff Appearances: 2016, 2014, 2011, 1999, 1997, 1995, 1994, 1993, 1991, 1983, 1982, 1970, 1957, 1954, 1953, 1952, 1935, 1932
Home Stadium – Ford Field
Inaugurated: 2002
Capacity: 65,000
Grass or Turf: Turf
Before they ever were the Lions, Detroit had a brand-new stadium in Ohio in 1930 where they were introduced as the Portsmouth Spartans. Universal Stadium was a publicly funded project to secure an NFL team in the area. But the team wasn't a financial success and moved to Detroit, Michigan, and into the University of Detroit Stadium for seven seasons (1934-1840).
A shared arrangement with Major League Baseball's Detroit Tigers followed through 1974. The Pontiac Silverdome was open for business in 1975, and the Lions finally had their home turf, residing at the Silverdome through 2001.
Ford Field is the current Lions Stadium and is located in downtown Detroit. Like the Silverdome, Ford Field is a domed stadium, but it was designed to let natural light in through skylights and glass windows in the corners.
Unlike most corporately named stadiums, the Ford Motor Company didn't just purchase naming rights. Ford has retained a controlling interest in the Detroit Lions since 1963.
Ford Field is operated by the Lions, but it's a multi-purpose facility and has been used for concerts, basketball, hockey, soccer, and other one-off events.
Stadium Address: Ford Field, 2000 Brush Street, Detroit, MI 48226
Mailing Address: Detroit Lions, 222 Republic Drive, Allen Park, MI 48101
Phone: 313-262-2000
Detroit Lions Head Coaches
The Detroit Lions have hired 27 head coaches, including its first few years as the Portsmouth Spartans when Hal Griffin was the coach for the inaugural 1930 team. While no Lions head coach has ever reached the Super Bowl, some did have some worthwhile success, and their early leaders nabbed some titles.
Here's a look back at some of the best Lions head coaches in team history.
Dutch Clark
Griffin was followed by Dutch Clark, who held the position from 1931 through '33 in Portsmouth and for the next three seasons in Detroit. He led the team to their first NFL Championship in 1935 and has the highest winning record of any Lions coach with 48-20-6, a .689 winning percentage for that tenure.
Buddy Parker
The only other two coaches with Lions championships are Buddy Parker (1951-56) with back-to-back NFL titles in 1952-53 and George Wilson. Both deserve a mention, but Parker was easily more successful.
After a solid 7-4-1 run in his debut season in 1952, Parker led the Lions to two straight NFL titles and three consecutive appearances. Parker endured one losing season, otherwise winning 9+ games in five of six years on the job.
Wayne Fontes
Wayne Fontes (1988-1996) coached the most postseason games with five and was recognized as 1991's Coach of the Year by three organizations. The Fontes era feels underrated, as he operated in a time when the NFC was dominated by Cowboys and 49ers teams.
Regardless, Fontes actually helped Detroit completely dismantle Dallas in a 1991 first-round win, one that remains the Lions' most recent playoff victory. Detroit hasn't escaped the first round since but did appear in three other NFL playoffs under Fontes and also secured two division crowns under his watch.
Matt Patricia
First-time head coach Matt Patricia is the Lions' 27th. He signed on for the 2018 season.
Patricia's previous NFL experience was with the New England Patriots from 2004-2017, holding various coaching jobs. He started out as the offensive assistant and spent his last six seasons as the defensive coordinator.
Patricia coached under Bill Belichick, earning three Super Bowl rings along the way as the Patriots captured XXXIX, XLIL, and LI.
| | | | | | | | |
| --- | --- | --- | --- | --- | --- | --- | --- |
| # | Years | Coach | W-L | % | Playoffs | % | Titles |
| 27 | 2018-2020 | Matt Patricia | 13-29 | .314 | – | – | – |
| 26 | 2014-17 | Jim Caldwell | 36-28 | .563 | 0-2 | .000 | – |
| 25 | 2009-13 | Jim Schwartz | 29-51 | .363 | 0-1 | .000 | – |
| 24 | 2006-08 | Rod Marinelli | 10-38 | .208 | – | – | – |
| 23 | 2003-05 | Steve Mariucci | 15-28 | .349 | – | – | – |
Detroit Lions' Last Five Seasons
| | | | | | |
| --- | --- | --- | --- | --- | --- |
| Season | Coach | Finish | W-L | % | Playoffs |
| 2020 | Matt Patricia/Darrell Bevell | 4th | 5-11 | .375 | – |
| 2019 | Matt Patricia | 4th | 3-12-1 | .219 | – |
| 2018 | Matt Patricia | 4th | 6-10 | .375 | – |
| 2017 | Jim Caldwell | 2nd | 9-7 | .563 | – |
| 2016 | Jim Caldwell | 2nd | 9-7 | .563 | 0-1 |
Detroit Lions' All-Time Career Leaders
| | | | |
| --- | --- | --- | --- |
| Category | Player | Stats | Years |
| Passing Yards | Matthew Stafford | 38,526 | 2009- |
| Passing Touchdowns | Matthew Stafford | 237 | 2009- |
| Rushing Yards | Barry Sanders | 15,269 | 1989-98 |
| Rushing Touchdowns | Barry Sanders | 99 | 1989-98 |
| Receptions | Calvin Johnson | 731 | 2007-15 |
| Receiving Yards | Calvin Johnson | 11,619 | 2007-15 |
| Receiving Touchdowns | Calvin Johnson | 83 | 2007-15 |
| Tackles | Chris Spielman | 1,020 | 1988-95 |
| Sacks | Robert Porcher | 95.5 | 1992-03 |
| Interceptions | Dick LeBeau | 62 | 1959-72 |
Despite never getting to the big game, the Lions have had some iconic figures in NFL history. Barry Sanders is in the conversation for best running back ever, while Calvin Johnson may be the most physically gifted wide receiver to ever play pro football.
Both of these superstar talents struggled to win with mediocre rosters surrounding them, and they also both retired early. The fact that they lead the way when it comes to Lions stats (and also compare well to the rest of the league) is very impressive.
Here's a closer look at them and a few other notable Lions players.
Matthew Stafford
The current quarterback for the Detroit Lions was the team's first overall pick in the 2009 NFL Draft. Matthew Stafford played for the Georgia Bulldogs at the University of Georgia, breaking school records, including 25 TD passes in 2008. He was First-Team All-American in 2008 and second-team ALL-SEC that same season.
In 2009, Stafford was MVP of the Capital One Bowl. He was the NFL's 2011 Comeback Player of the Year and named to the 2014 Pro Bowl. Stafford is the Lions' current all-time passing leader.
Barry Sanders
Barry Sanders was a career Lion spending his entire 11-year NFL career in Detroit. The running back was the Lions' first-round pick in 1989 out of Oklahoma State and was named the NFL's Offensive Rookie of the Year. Sanders is one of the most acclaimed players in Detroit's history.
He was a ten-time Pro Bowler and six-time First-Team All-Pro. He was the NFL's rushing yards leader four times and rushing touchdowns leader in 1991. In both 1994 and '97, he was given the NFL Offensive Player of the Year award and was also named the NFL's Most Valuable Player in 1997.
Sanders is the franchise's all-time rushing leader, and his number 20 jersey was retired. Barry Sanders is a Hall of Famer for both college football and pro football.
Calvin Johnson
From an acclaimed college football career to becoming the Lions' all-time receiving leader, Calvin Johnson has a long list of awards and accomplishments.
Johnson was the second overall pick for the Lions in the 2007 NFL Draft out of Georgia Tech, where he was a two-time All-American. The wide receiver played for Detroit his entire nine-year pro career, leading the NFL in receiving touchdowns in 2008 and receptions in 2012. He was the back-to-back NFL receiving yards leader in 2011-12.
In 2012, Johnson broke the NFL's receiving record previously held by Jerry Rice (1,848) by finishing the season with 1,964. Calvin was named to six Pro Bowls and was First-Team All-Pro for three consecutive years. He retired after the 2015 season with 731 receptions, 11,619 receiving yards, and 83 receiving touchdowns.
Bobby Layne
Bobby Layne's years with the Lions precede the NFL merger era. The Pittsburgh Steelers selected him as the third overall pick in 1948 out of the University of Texas where he set numerous records in both football and baseball. He didn't want to play for the Steelers, and his rights were traded to the Bears where he spent his first NFL season. He was later traded to the Lions and led them to their first NFL Championship in 17 years in 1952.
The quarterback added two more NFL Championships in '53 and '57. He was a six-time Pro Bowler and three-time First-Team All-Pro. He led the league as the NFL passing touchdowns leader in 1951 and passing yards in both 1950 and '51. Layne remained with the Lions for nine seasons but retired with the Pittsburgh Steelers (1958-1962). The Detroit Lions retired his number 22, and he was inducted into the Pro Football Hall of Fame in 1967.
Doak Walker
Doak Walker and Bobby Layne were teammates at Highland Park High School in Dallas, TX, before Walker went on to play for the University of Texas at Austin. He won the Heisman Trophy in 1948 and was a three-time consensus All-American at UT from 1947-49.
In the NFL, Doak was a career Lion, drafted in the first round of 1949. He earned the NFL's Rookie of the Year honor in 1950 and went on to five Pro Bowls and was a five-time First-Team All-Pro. The halfback was on the Lions' 1952 and 1953 championship teams.
When he stepped down after the 1955 season, the organization retired his number 37 jersey; he was the first player to receive the honor. Doak was inducted into the Pro Football Hall of Fame in 1986, and in 1990, the Doak Walker Award was created for the best running back in college football each season.
Dick LeBeau
Easily one of the best Lions defensive players ever and one of the best playmakers in NFL history, LeBeau stands in with the 10th-most interceptions of all-time.
LeBeau was an elite ball hawk for the Lions and helped the team win a title in 1957. LeBeau was so good defensively that he later became a defensive coordinator. Not just any DC, either, as LeBeau played a key role in two Super Bowl victories and is known for his menacing zone blitz packages.
Detroit Lions Trivia
The Detroit Lions are one of the 12 teams to never win a Super Bowl. They're one of just four teams to never reach one, either.
Detroit has struggled to replace the iconic Barry Sanders. Reggie Bush was their last running back to top 1,000+ rushing yards (2013), and Kerryon Johnson snapped an ugly 70-game drought for contests without a 100+ yard rusher in 2018.
Bobby Layne allegedly put a "curse" on the Lions franchise. Upon being traded from the team in 1958, Layne declared the team would not win "for 50 years." The Lions missed the playoffs in 23 of the next 24 years following the trade.
Detroit Lions superstar receiver Calvin Johnson was dubbed "Megatron" for his elite package of size, athleticism, and skill-set. The moniker refers to the iconic Transformers character.
Famous singer Marvin Gaye once tried out for the Lions. Gaye put on 30 pounds to train for the team back in 1970 but ultimately failed to make the team.
More NFL Team Guides
Other NFC North Team Guides
Other NFC Team Guides
All AFC Team Guides