Denver Broncos Team Guide
The Denver Broncos have experienced a fall from grace but remain one of the most storied teams in NFL history. From John Elway to Peyton Manning, Denver has routinely been among the best teams in the league and has reached numerous Super Bowls.
Betting on the Broncos may not offer the same upside today as it has in the past, but Denver is still a team worth keeping tabs on. This page is designed to highlight the best of the Broncos history while also keeping you updated on the latest Broncos information.
Denver Broncos Overview and Key Information
Since 1960, the Denver Broncos name has stayed the same. But unlike in the '60s when the team couldn't finish with a winning record, the Broncos have gone on to be one of the most successful franchises in the NFL.
The team has made eight Super Bowl appearances, winning three championships in 1997 (XXXII), 1998 (XXXIII), and 2015 (50). From the '70s to the present day, the Broncos have made at least three playoff appearances each decade.
Quarterback John Elway is one of the biggest names associated with Denver football, leading the team to the first two, and back-to-back, championships in franchise history. While Peyton Manning's name may be more associated with the Colts, he spent his last four seasons in a Broncos uniform, ending his playing career with a second Super Bowl championship (50).
Denver Broncos – Key Info
Established

1960

Division

AFC West

Current Team Location

Denver, Colorado

Stadium

Broncos Stadium at Mile High

Head Coach

Vic Fangio

Owner

Pat Bowlen Trust

Website

Team Value (Forbes 2018)

$2.65 billion (11th)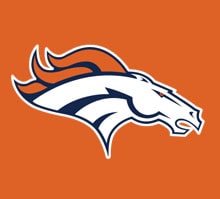 Denver Broncos Team History
The Denver Broncos are tied with the Cowboys and Steelers for second-most Super Bowl appearances at eight.
That impressive tally is a far cry from the Broncos' first decade as a member of the AFL (American Football League). The Broncos were one of the charter members and started play in 1960. Eight out of ten seasons, the team finished fourth without one winning season in the '60s.
After the AFL-NFL merger in 1970, the Broncos continued their less than stellar performances through 1976. In 1977, the team finally made postseason play with their first trip to the Big Game, losing to the Cowboys 10-27 in Super Bowl XII.
Denver's rise was largely tied to the big-armed John Elway, who joined the team in 1983 via trade with the Baltimore Colts. The Broncos made the playoffs in his first season at the helm and proceeded to advance to the playoffs nine more times until his retirement in 1998.
Super Bowl Appearances and Playoff History
Elway teamed up with head coach Dan Reeves to reach three Super Bowls in the 1980s. The Broncos were dominant in the AFC but were unable to parlay this high-level success into championships.
Denver reached the big game in back-to-back seasons in 1986 and 1987, falling to the Giants (39-20) and Redskins (42-10). They would get back again in 1989 but endured a third blowout defeat at the hands of the 49ers (55-10).
It took years for Elway to return to such glory, but he finally got the Broncos that elusive title in 1997. Fueled by Elway's drive to get a ring, the rise of stud running back Terrell Davis, and a defense loaded with proud veterans, Denver topped the Green Bay Packers for their first NFL championship in Super Bowl XXII (31-24).
Elway returned the next year to shoot for the repeat, and the Broncos were able to pull it off. The second go-around was much easier, with Denver becoming a rare repeat Super Bowl winner with a 34-19 win over the Falcons in Super Bowl XXXIII.
While that marked the end of the John Elway era as a player, he returned to Denver as GM years later. His devotion to the franchise led him to lure an aging Peyton Manning to town.
Manning enjoyed the best statistical passing season in NFL history (55 touchdowns) en route to the Broncos' appearance in Super Bowl XLVIII. Unfortunately, Manning and Denver's high-flying offense were completely shut down in an ugly 43-8 loss to the Seattle Seahawks.
Even with Manning knee-deep in regression, Denver made one last run in 2015, largely thanks to a staggering defense. Super Bowl MVP Von Miller was the driving force behind Denver's third ever title, as the Broncos topped the Carolina Panthers 24-10.
The Broncos have more than overcome their first decade of losses. Since 1975, they've only had seven losing seasons. But despite eight Big Game attempts, their five defeats is also a record that's shared with the New England Patriots.
The Broncos have made their home in Denver since 1960 and have only been known by one name. After 41 seasons at Mile High Stadium, the team received a new venue in 2001 when Broncos Stadium at Mile High was unveiled.
Super Bowl Appearances (AFC Championships): 2015, 2013, 1998, 1997, 1986, 1984, 1978, 1977
Super Bowl Championships: 2015 (50), 1998 (XXXIII), 1997 (XXXII)
AFC West Division Championships: 2015, 2014, 2013, 2012, 2011, 2005, 1998, 1996, 1991, 1989, 1987, 1986, 1984, 1978, 1977
AFL West Division Championships: none
Playoff Appearances: 2015, 2014, 2013, 2012, 2011, 2005, 2004, 2003, 2000, 1998, 1997, 1996, 1993, 1991, 1989, 1987, 1986, 1984, 1983, 1979, 1978, 1977
Home Stadium – Broncos Stadium at Mile High
Inaugurated: 2001
Capacity: 76,125
Grass or Turf: Grass
The names may be similar, but Mile High Stadium, the home of the Broncos from 1960 through 2000, was replaced in 2001 with Broncos Stadium at Mile High.
The park was formerly called Invesco Field, and then it was known as Sports Authority Field. But the "Mile High" designation remains consistent due to Denver's 5,280-foot (one mile) altitude. The stadium includes the Colorado Sports Hall of Fame Museum near Gate #1.
The "Ring of Fame" that was established initially at Mile High Stadium was moved to the new Mile High location as well. Broncos Stadium is also used for soccer, lacrosse, drum corps, concerts, and other special events.
Stadium Address: Broncos Stadium at Mile High, 1701 Bryant Street, Denver, CO 80204
Mailing Address: Denver Broncos, 13655 Broncos Parkway, Englewood, CO 80112
Phone: 303-649-9000
Denver Broncos Head Coaches
As successful as the Denver Broncos have been since their first playoff run in 1977, they've burned through quite a few head coaches over the years. In all, 17 head coaches (including new head coach Vic Fangio) have roamed the Denver sidelines.
Red Miller was one of the most honored coaches in Broncos history with NFL Coach of the Year awards from the AP, Sporting News, Pro Football Weekly, and the UPI after the Broncos AFC Championship in 1977. But Dan Reeves and Mike Shanahan have different lists of achievements.
Dan Reeves has the longest run with the Broncos from 1981 through 1992 and led Denver to three AFC Championships and Coach of the Year nods in 1984, 1989, and 1991.
Mike Shanahan is tied with Reeves for 13 playoff games coached and has two back-to-back Super Bowl championships (1997-1998) on his resume.
Vance Joseph took the head coaching spot in 2017. Joseph was a former quarterback and running back at the University of Colorado (1990-1994) and played defensive back for both the Jets and Colts for one season each.
Vic Fangio has taken the reigns as head coach starting with the 2019 season.
| | | | | | | | |
| --- | --- | --- | --- | --- | --- | --- | --- |
| # | Years | Coach | W-L | % | Playoffs | % | Titles |
| 17 | 2019- | Vic Fangio | 12-20 | .375 | – | – | – |
| 16 | 2017-18 | Vance Joseph | 11-21 | .344 | – | – | – |
| 15 | 2015-16 | Gary Kubiak | 21-11 | .656 | 3-0 | 1.000 | 1 |
| 14 | 2011-14 | John Fox | 46-18 | .719 | 3-4 | .428 | – |
| 13 | 2009-10 | Josh McDaniels | 11-17 | .393 | – | – | – |
| 12 | 1996-08 | Mike Shanahan | 138-86 | .616 | 8-5 | .615 | 2 |
Denver Broncos' Last Five Seasons
| | | | | | |
| --- | --- | --- | --- | --- | --- |
| Season | Coach | Finish | W-L | % | Playoffs |
| 2020 | Vic Fangio | 4th | 5-11 | .313 | – |
| 2019 | Vic Fangio | 2nd | 1-9 | .438 | – |
| 2018 | Vance Joseph | 3rd | 6-10 | .375 | – |
| 2017 | Vance Joseph | 4th | 5-11 | .313 | 3-0 |
| 2016 | Gary Kubiak | 3rd | 9-7 | .563 | – |
Denver Broncos' All-Time Career Leaders
| | | | |
| --- | --- | --- | --- |
| Category | Player | Stats | Years |
| Passing Yards | John Elway | 51,475 | 1983-98 |
| Passing Touchdowns | John Elway | 300 | 1983-98 |
| Rushing Yards | Terrell Davis | 7,607 | 1995-01 |
| Rushing Touchdowns | Terrell Davis | | 1995-01 |
| Receptions | Rod Smith | 849 | 1995-06 |
| Receiving Yards | Rod Smith | 11,389 | 1995-06 |
| Receiving Touchdowns | Rod Smith | 68 | 1995-06 |
| Tackles | Dennis Smith | 1,152 | 1981-94 |
| Sacks | Von Miller | 98 | 2011-18 |
| Interceptions | Steve Foley | 44 | 1976-86 |
John Elway
John Elway may be one of the most well-known Broncos players, spending 16 years in uniform after being selected first in the 1983 NFL Draft. The quarterback was formerly a unanimous All-American at Stanford and PAC-10 Player of the Year, both in 1982. He led the 1997 and 1998 Broncos to two consecutive Super Bowl championships and was named MVP for XXXIII.
Elway was highly recognized within the NFL as the 1987 MVP, 1992 Man of the Year, 1993's passing yards leader, and 1990s All-Decades Team. He was twice named AFC Offensive Player of the Year in 1987 and 1993. John Elway is the Broncos' all-time passing leader with 51,475 yards, 7,250 attempts, and 4,123 completions. The Broncos retired his number 7 jersey, and he's been inducted into both the College Football and Pro Football Halls of Fame.
Elway is still a part of the Broncos organization as general manager and executive VP of football operations.
Terrell Davis
The Denver Broncos' all-time leading rusher, Terrell Davis, was the organization's sixth-round selection in 1995 out of the University of Georgia. The running back spent the 1995 through 2001 seasons in a Broncos uniform, leading the NFL in rushing yards in 1998 and rushing touchdowns in both 1996 and 1998. He was the AFC Player of the Year in 1996 and NFL's MVP in '98.
In addition to two Super Bowl championships, Davis was named Super Bowl MVP for XXXII, his last postseason game. Terrell rushed for 2,008 yards in 1998, becoming a member of the 2000 rushing yards club, and then recorded the third-highest rushing total in history with 7,607. He's part of the Denver Broncos Ring of Fame and the NFL 1990s All-Decade Team as well as a Pro Football Hall of Famer.
Floyd Little
Floyd Little was the first-ever first-round draft pick to sign with the Broncos and the sixth selection in the inaugural AFL-NFL common draft in '67. He played college football for the Syracuse University Orangemen and is the only three-time All-American running back to ever play for SU. Little was named to the Pro Bowl (his first of five) while the Broncos were part of the AFL.
But his biggest achievements were in the NFL. He was the 1971 NFL's rushing yards leader and '73's rushing touchdowns leader. Five years after his playing retirement, the halfback was inducted into the Pro Football Hall of Fame (2010). He was also honored by having his #44 retired by both the Syracuse Orangemen and the Denver Broncos.
Rod Smith
Rod Smith has longevity with the Broncos, spending his entire 13-year NFL career in Denver. The wide receiver set the Missouri Southern State University receptions record at 153. He also set conference records in career receiving yards and TDs at 3,043 and 34. He was signed by the Broncos as a free agent and made his NFL debut in '95.
Smith is the 2001 NFL receptions leader and was named to three Pro Bowls in 2000, 2001, and 2005. He recorded more receiving yards (11,389) and TD receptions (68) than any other undrafted NFL player. He was the first undrafted player to reach 10,000 receiving yards and is currently the Broncos' all-time receiving leader. Smith retired after the 2007 season and was added to the Denver Broncos Ring of Fame.
Shannon Sharpe
Rod Smith is the leading receiver in Broncos history, but it might be more impressive to note than Shannon Sharpe — a tight end — ranks third in most of the team's main receiving categories.
A true underdog story, Sharpe carved out a Hall of Fame career as a 7th-round draft pick out of Savannah State in the 1990 NFL Draft. One of the most dominant and athletic tight ends in NFL history, Sharpe was part of Denver's first two Super Bowl wins and went on to secure a third as a member of the Baltimore Ravens.
Karl Mecklenburg
The face of Denver's "Orange Crush" defense in the 1980s, Mecklenburg was everywhere as a defender, finishing second all-time in solo tackles for the Broncos and also accruing 79 quarterback sacks.
Mecklenburg was a huge part of Denver's rise and playoff success, and he was also a mark of consistency, finding a way to start all 16 games in 9 of 12 NFL seasons. Mecklenburg's presence was felt in seven playoffs run and three Super Bowl appearances.
A career Bronco, Mecklenburg retired for good in 1994 at the age of 34.
Peyton Manning
There are other star Broncos players worth noting, but the list is rather long. We'll cap things off with Manning, who didn't spend long in Colorado but left quite the mark.
Easily one of the greatest passers in NFL history, Manning enjoyed his best statistical season of his career while with the Broncos in 2013 when he threw for 5,477 passing yards and 55 touchdowns — both NFL single-season records.
The former #1 overall pick by the Colts in the 1998 NFL Draft will surely be remembered best as an Indianapolis player, but in just four seasons, he cemented himself as one of the best Broncos players of all time.
Despite his brief stay in Denver, Manning got the Broncos to two title games (winning one), and he ended his time ranking first or second in nearly every major passing category.
Denver Broncos Trivia
Denver's eight Super Bowl appearances tie for the second-most of all time. Their five losses in the big game tie for the most in NFL history as well.
John Elway wasn't drafted by the Denver Broncos. He was selected by the Baltimore Colts, who later traded his rights to the Broncos. Elway also was an MLB prospect, spending time with the New York Yankees in the minors.
Denver rostered the league's first African American kicker. Gene Mingo played for the team from 1960-1964.
The altitude at Denver's stadium (a mile above sea level) has increased the length for kickoffs and field goals. Partially due to this, former Broncos kicker Matt Prater still holds the record for longest made field goal (64 yards).
Peyton Manning almost didn't wear his usual #18 when coming to Denver. Former Broncos great Frank Tripucka, who had that very number retired, agree to let Manning keep his number.
In 1979, Robin Williams showed up to a game to cheer on the Broncos. Footage from the stint would later appear in a Mork & Mindy episode.
More NFL Team Guides
Other AFC West Team Guides
Other AFC Team Guides
All NFC Team Guides