Guide to the Dallas Cowboys
The Dallas Cowboys, also known as "America's Team," are one of the most iconic teams in all of sports. They've also been highly successful in the NFL, both from a production and financial perspective.
The ability to sustain a competitive team for the majority of the franchise's career has held fan interest and propelled sports bettors to back the Cowboys regularly.
This page exists to assist anyone looking for information on the Cowboys, offering updated Dallas Cowboys team history, records, and stats.
Dallas Cowboys Overview and Key Information
The Dallas Cowboys joined the NFL in 1960 and evolved into "America's Team" in the '70s. The Cowboys dominated the television airwaves with championship appearances and two Super Bowl wins. In the '90s, the Cowboys exceeded their 1970s tally, earning three more Super Bowl titles in 1992, 1993, and 1995.
Over the years, names like head coach Tom Landry and quarterbacks Roger Staubach, Troy Aikman, and Tony Romo have all been a big part of Cowboys football. There have only been eight head coaches and 15 starting quarterbacks for the franchise, and the team is tied for the number two spot (with the Steelers and Broncos) for having eight Super Bowl appearances.
Even though the Cowboys haven't made it to another big game since their last championship in '95, the team has consistently put up solid records with a current 546-408 win-loss record for the franchise. Since 1966, they've made 33 playoff appearances.
The Dallas Cowboys are also currently the most valuable in the NFL with a Forbes 2019 estimation of $5 billion.
Dallas Cowboys – Key Info
Established

1960

Division

NFC East

Current Team Location

Dallas, Texas

Stadium

AT&T Stadium

Head Coach

Mike McCarthy

Owner

Jerry Jones

Website

Team Value (Forbes 2018)

$5 billion (1st)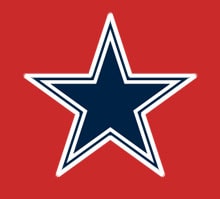 Dallas Cowboys Team History
The Dallas Cowboys made their first appearance in the NFL in 1960 as an expansion team. For a few years, the Cowboys and the AFL's Dallas Texans vied for the Dallas fan base. But the Cowboys eventually won out, and the Texans headed to Kansas City to become the Chiefs in 1963.
Under the direction of their first head coach, Tom Landry, who would stay on board for 29 seasons, the Cowboys had an uneventful first six years. But in 1966, the team shifted course and embarked on eight straight seasons of playoffs.
The '70s were the decade of the Cowboys. They became "America's Team," primarily because they were the most well-known, at least by TV audiences. The Cowboys dominated the NFL postseason, making five Super Bowl appearances from 1970 through '78 and winning their first two of five Super Bowl championships.
Super Bowl Appearances and Playoff History
Roger Staubach was the Cowboys quarterback in the '70s, leading the team to their first Big Game championship in 1971, defeating the Dolphins 24-3. Super Bowl win number two followed in 1977 with a 27-10 defeat of the Broncos at Super Bowl XII.
While the Cowboys had a few postseason appearances in the '80s, they once again became a dominant force in the NFL in the '90s.
Cowboys Dynasty
The Cowboys won three Super Bowls in four seasons with XXVII in a 52-17 defeat of the Bills. The next year, the Bills were back, but the Cowboys won their second straight championship at XXVIII with a 30-13 final score. In 1995, the Cowboys were up against the Steelers and were, once again, victorious in a 27-17 finish at Super Bowl XXX.
Just as QB Roger Staubach is associated with the 1970s, Troy Aikman was the starting quarterback that everyone was talking about in the '90s. Aikman was on all three Super Bowl rosters and named MVP in 1992.
Since 1995, the Cowboys have made nine playoff appearances, but no conference championships have followed to date.
Super Bowl Appearances (NFC Championships): 1995, 1993, 1992, 1978, 1977, 1975, 1971, 1970
Super Bowl Championships: 1995 (XXX), 1993 (XXVIII), 1992 (XXVII), 1977 (XII), 1971 (VI)
NFL Championships: 0
NFL Eastern Conference Championships: 1967, 1966
NFC East Division Championships: 2018, 2016, 2014, 2009, 2007, 1998, 1996, 1995, 1994, 1993, 1992, 1985, 1981, 1979, 1978, 1977, 1976, 1973, 1971, 1970
NFL Capitol Championships: 1969, 1968, 1967
Playoff Appearances: 2018, 2016, 2014, 2009, 2007, 2006, 2003, 1999, 1998, 1996, 1995, 1994, 1993, 1992, 1991, 1985, 1983, 1982, 1981, 1980, 1979, 1978, 1977, 1976, 1975, 1973, 1972, 1971, 1970, 1969, 1968, 1967, 1966
Home Stadium – AT&T Stadium
Inaugurated: 2009
Capacity: 80,000
Grass or Turf: Turf
Just as there have been very few head coaches in Cowboys history, the team has only had three home stadiums during their more than 60 years in Texas.
The Cotton Bowl was first from 1960-71. Then, Texas Stadium came along in time for the first Super Bowl championship in '71. The Cowboys made Texas Stadium their home through the 2008 season. The venue was known for the "hole in the roof," as it was supposed to have a retractable roof, but plans changed during construction.
In 2009, AT&T Stadium, formerly known as Cowboys Stadium, was built with the retractable roof that was notably absent from Texas Stadium.
The 80,000-seat stadium, also known as "Jerry's World" in honor of owner Jerry Jones, is expandable to 105,000 with standing room. The Cowboys took advantage of that in 2009 with a 105,121 recorded attendance for the Cowboys vs. Giants game.
The venue is primarily dedicated to Cowboys football but has also hosted concerts, wrestling, boxing, basketball, and other special events throughout the years.
Stadium Address: AT&T Stadium, One AT&T Way, Arlington, TX 76011
Mailing Address: Dallas Cowboys World Headquarters, One Cowboys Way, Frisco, TX 75034
Phone: 817-892-5000
Dallas Cowboys Head Coaches
The Cowboys have enjoyed a lot of high-level success in the NFL, which has made it easy to limit the turnover at head coach. Tom Landry started things off with the franchise, and despite struggling early on, he coached the team for 29 years.
Just eight other men called the shots on the sidelines for Dallas over the course of their history. Here's a quick highlight of the very best to do so.
Tom Landry
Tom Landry is best known for his longevity, record, and honors over the years. Landry invented the 4-3 and flex defense system and has the NFL's number one spot for 29 consecutive years with one team and for 20 consecutive winning seasons.
Landry also holds the record for the fourth in all-time wins as well as second for 20 career playoff wins. Coach Landry led the Cowboys to five Super Bowl appearances and two championships in the '70s. The Cowboys TV airtime is behind the nickname "America's Team."
Jimmy Johnson
Jimmy Johnson had some big shoes to fill as Landry's successor. Johnson didn't put 29 years in, but his five seasons ended in a .875 postseason winning percentage and added two more Super Bowl wins to the franchise's record.
Johnson had a tough assignment on his hands, taking over a completely different Dallas team in an era of losing. The team went just 1-15 in his first year on the job, but Johnson molded the young core of Troy Aikman, Emmitt Smith, and Michael Irvin into one of the best trios in NFL history.
Dallas was back in the NFL playoffs in just Johnson's third season at the helm, while the team won its first title since 1978 in year four. Johnson helped the Cowboys win again the following year, giving Dallas back-to-back championships for the first time ever.
Barry Switzer
Barry Switzer, the third coach, followed with the fifth championship title in 1995. A star in college football coaching, Switzer took the leap to the pros and found immediate success with the giant Jimmy Johnson left him.
Switzer made the playoffs in his first year on the job and nearly reached the NFC title game. The Cowboys would do that and more in his second try, however, as Dallas won yet another Super Bowl in 1995.
The Cowboys remained a tough out the next year when they made the postseason for the third straight season under Switzer's guidance.
Jason Garrett
Jason Garrett, the AP's Coach of the Year in 2016, signed on in 2010 as the eighth and current head coach for the Dallas team.
In '93, Garrett was the third-string quarterback behind Troy Aikman. Garrett wore the Cowboys jersey between 1992 through 1999 and also went on to play for the Giants, Buccaneers, and Dolphins.
His first coaching position was in Miami as the quarterbacks coach before heading to the Cowboys in 2007 as offensive coordinator. In 2010, he was named interim head coach and given the permanent spot in 2011.
| | | | | | | | |
| --- | --- | --- | --- | --- | --- | --- | --- |
| # | Years | Coach | W-L | % | Playoffs | % | Titles |
| 9 | 2011-2019 | Jason Garrett | 85-67 | .559 | 2-3 | .400 | – |
| 8 | 2007-10 | Wade Phillips | 34-22 | .607 | 1-2 | .333 | – |
| 7 | 2003-06 | Bill Parcells | 34-30 | .531 | 0-2 | .000 | – |
| 6 | 2000-02 | Dave Campo | 15-33 | .313 | – | – | – |
| 5 | 1998-99 | Chan Gailey | 18-14 | .563 | 0-2 | .000 | – |
Dallas Cowboys' Last Five Seasons
| | | | | | |
| --- | --- | --- | --- | --- | --- |
| Season | Coach | Finish | W-L | % | Playoffs |
| 2020 | Mike McCarthy | 3rd | 6-10 | .375 | – |
| 2019 | Jason Garrett | 2nd | 8-8 | .500 | 1-1 |
| 2018 | Jason Garrett | 1st | 10-6 | .625 | 1-1 |
| 2017 | Jason Garrett | 2nd | 9-7 | .563 | – |
| 2016 | Jason Garrett | 1st | 13-3 | .813 | 0-1 |
Dallas Cowboys' All-Time Career Leaders
| | | | |
| --- | --- | --- | --- |
| Category | Player | Stats | Years |
| Passing Yards | Tony Romo | 34,183 | 2004-16 |
| Passing Touchdowns | Tony Romo | 248 | 2004-16 |
| Rushing Yards | Emmitt Smith | 17,162 | 1990-02 |
| Rushing Touchdowns | Emmitt Smith | 153 | 1990-02 |
| Receptions | Jason Witten | 1,152 | 2003- |
| Receiving Yards | Jason Witten | 12,448 | 2003- |
| Receiving Touchdowns | Dez Bryant | 73 | 2010-17 |
| Tackles Darren | Woodson | 813 | 1992-03 |
| Sacks | DeMarcus Ware | 117 | 2005-13 |
| Interceptions | Mel Renfro | 52 | 1964-77 |
It should shock nobody that a team with so much success in the playoffs has had some impressive statistical leaders over the years. Emmitt Smith is the one that jumps off the page, as he not only leads the Cowboys in major rushing stats but also has numbers so crazy that nobody in the entire NFL may ever catch him.
Dallas is loaded with various eras of superstars worth reading up on. Here are the biggest names that everyone needs to know.
Troy Aikman
The number-one overall selection in the 1989 NFL Draft, Troy Aikman, was a career Cowboy. After he played for both the Oklahoma Sooners and UCLA Bruins, earning a Davey O'Brien Award and named Consensus All-American in 1988, he wore a Cowboys jersey from 1989-2000. Aikman has three Super Bowl championships to his name and was also voted MVP at Super Bowl XXVII.
Aikman was First-Team All-Pro in 1993 and selected for the Pro Bowl six consecutive seasons from 1991-1996. The honors continued for Aikman during his playing career and beyond. In 1997, he was named the Walter Payton NFL Man of the Year. He was inducted into the Dallas Cowboys Ring of Honor as well as both the College and Pro Football Halls of Fame. Aikman currently works for Fox as a TV sportscaster.
Emmitt Smith
Emmitt Smith still holds career franchise records for the Cowboys that include scoring leader, rushing leader, and all-time AV leader. Smith was the Cowboys' 1990 round-one selection out of the University of Florida in Gainesville where he was a Unanimous All-American and three-time First-Team All-SEC for the Gators.
The running back was on the Cowboys roster from 1990-2002, earning a long list of awards and honors, starting with the NFL Offensive Rookie of the Year his first season. Smith was on the Cowboys' three Super Bowl championship teams in the '90s and was named Super Bowl MVP for XXVIII in 1993. He was also the AP's NFL Most Valuable Player that same season.
From 1991-93 and again in '95, Emmitt was both the NFL's rushing yards leader and rushing touchdowns leader. He currently holds NFL records for 18,355 career rushing yards (breaking Walter Payton's record), 164 rushing TDs, and 4,409 rushing attempts. He retired in 2004 after two seasons with the Arizona Cardinals and was inducted into the Pro Football Hall of Fame.
Roger Staubach
Just as Troy Aikman is associated with the Cowboys and Super Bowl appearances in the '90s, Roger Staubach led the charge for the team in the '70s. He quarterbacked the Cowboys to their first championship in 1971 and again in 1977. Staubach was both an AFL and an NFL pick in the 1964 drafts and chose to sign with the Cowboys following his Heisman Trophy-winning year at the U.S. Naval Academy.
Staubach was a career Cowboy with 11 NFL seasons from 1969-79 following his four years of military commitment. The Pro Football Hall of Famer was the NFL's passer rating leader four times, NFL passing touchdowns leader in 1973, and the league's "Man of the Year" in '78. He was selected for six Pro Bowls and was named MVP for Super Bowl VI. Staubach retired with a 153-109 TD-INT ratio and 83.4 passer rating and is a Dallas Cowboys Ring of Honor member.
Tony Romo
Tony Romo may be a current name in television as a color analyst for CBS Sports, but his first notoriety came from his playing days both at Eastern Illinois and with the Dallas Cowboys. Romo was a two-time OVC (Ohio Valley Conference) Champion with the Illinois Panthers. He was also First-Team All-OVC and named OVC Player of the Year three times from 2000-2002.
Romo signed with the Cowboys as an undrafted rookie free agent and was backup to QB Drew Bledsoe in 2006 before starting his first game in October, winning 35-14. In 2014, Romo was the NFL's passer rating leader, and he currently holds NFL records for six games in a season with a passer rating of at least 135 and most passing attempts through 100 starts.
Romo is the Cowboys' career leader in passing TDs and passing yards and broke Aikman's previous record of 165 with 245 TD passes. Romo was named to four Pro Bowls and retired after his 2016 season in Dallas.
Michael Irvin
Michael Irvin is another career Cowboy, having spent the 1988 through 1999 seasons in Dallas. Irvin was the Cowboys' round-one pick in the 1988 NFL Draft out of the University of Miami. He was a first- and second-team All-American for two of his seasons with the Hurricanes. The wide receiver was a member of all three of the Cowboys' last Super Bowl championships. In XXVII, Irving scored the fastest pair of touchdowns by one player in Super Bowl history when he made two TD catches within 18 seconds in the second quarter.
The wide receiver was a five-time Pro Bowl selection and First-Team All-Pro in 1991. In 1999, his career was cut short with a tackle that resulted in a cervical spinal cord injury and a subsequent diagnosis of cervical spinal stenosis (narrow spinal column). He was named to the NFL's 1990s All-Decade Team and the Dallas Cowboys Ring of Honor, and in 2007, Michael Irvin was inducted into the Pro Football Hall of Fame.
Dallas Cowboys Trivia
The Cowboys are one of just five NFL franchises to win back-to-back Super Bowl championships. They are one of two franchises to secure three Lombardi Trophies within a four-year period.
Dak Prescott holds the NFL record for most passes to start a career without throwing an interception.
Tony Dorsett busted off a 99-yard touchdown run in 1983. He was the first to accomplish this feat and until 2018 was the only player to ever pull it off.
NFL blockbuster trades are rare, but the Cowboys took part in one in 1989. Dallas unloaded running back Herschel Walker in a trade with the Minnesota Vikings for five players and eight draft picks. Dallas finished 1-15 that year, but just two seasons later, they won a title thanks to the bold move.
More NFL Team Guides
Other NFC East Team Guides
Other NFC Team Guides
All AFC Team Guides