Chicago Bears Team Guide
Established in 1920, the Chicago Bears are one of the proudest, oldest, and most successful franchises in NFL history.
Recent history hasn't always reflected that, but Chicago's climb back to relevance began in 2018, and it looks like good things are eventually coming for the Bears.
Whether you're just here to brush up on Bears history or need updated Chicago Bears information, this page has you covered.
Chicago Bears Overview and Key Information
For as long as the NFL has been around, the Chicago Bears have been a part of it. The Bears were formerly known as the Decatur Staleys, established in 1920.
The Bears are approaching the century mark and are known for having more retired jerseys, more Hall of Famers, and more wins than other NFL franchises. The Bears have won nine NFL Championships, four Conference Championships, and 18 Divisional Championships. Through 2018, their lifetime record stands at 773 wins, 592 losses, and 42 ties.
Despite a considerable number in the win column, the Bears have only made two Super Bowl appearances in 1985 and 2006, winning one championship to date. They defeated the Patriots by a score of 46-10 at Super Bowl XX in 1985 (Super Bowl Shuffle, anyone?).
The Bears went on a postseason dry spell after the 2010 season. Since then, three coaches have been replaced, and Matt Nagy signed on as new head coach of the Chicago Bears in 2018.
Chicago Bears – Key Info
Established

1920

Division

NFC North

Current Team Location

Chicago, Illinois

Stadium

Soldier Field

Head Coach

Matt Nagy

Owner

Virginia Halas McCaskey

Website

Team Value (Forbes 2018)

$2.9 billion (7th)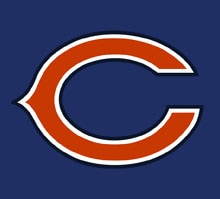 Chicago Bears Team History
Two NFL founding members are still in the NFL today. One is the Arizona Cardinals, formerly the Chicago Cardinals. The second is the Decatur Staleys who became the Chicago Staleys in 1921 and then the Chicago Bears in 1922.
The "Bears" designation was perhaps a jab at the team's Chicago MLB counterpart, the Chicago Cubs. Regardless, the name has remained for nearly a century now.
Unlike some franchises that have changed hands several times, ownership of the Bears has been in the Halas family since 1921. George Halas was also the first head coach of the Bears and recorded more championship wins than any of his Bears counterparts.
In the '40s, the Bears were a force to be reckoned with in the NFL. From 1940 through 1946, the team made five playoff appearances in seven years and won it all four times (1940, 1941, 1943, 1946).
The Bears didn't have comparable postseason momentum again until the '80s under coach Mike Ditka.
Super Bowl Appearances and Playoff History
It's a shame, but most NFL fans don't hold past non-Super Bowl championships in very high regard. That seems to diminish what Chicago has accomplished, but nobody should ever ignore their amazing Super Bowl run in the 1985 season.
Mike Ditka's Bears produced one of the best defenses in NFL history that season, culminating in a 46-10 thrashing of the New England Patriots.
From 1984 through 1991, Chicago made the playoffs every year except 1989. While that 1985 title stands as their lone Super Bowl win in franchise history, Chicago was about as good as it gets during Ditka's reign.
The Bears didn't stop there, however. After years of suffering, they resurfaced in the big game in 2006 under the guidance of Lovie Smith. The era of Brian Urlacher and Devin Hester was an exciting one, but it ended in a tough 29-17 loss to Peyton Manning's Colts.
In all, the Bears still appeared in two Super Bowls and claimed nine total titles in their NFL history.
Super Bowl Appearances (NFC Conference Championships): 2006, 1985
Super Bowl Championship: 1985
NFL Championships: 1963, 1946, 1943, 1941, 1940, 1933, 1932, 1921
NFC Conference Championships: 2006, 1985
NFL West Conference Championships: 1963, 1956
NFC North Division Championships (after 2002): 2018, 2010, 2006, 2005
NFC Central Division Championships (1970-2001): 2001, 1990, 1988, 1987, 1986, 1985, 1984
NFL West Division Championships: 1946, 1943, 1942, 1941, 1940, 1937, 1934, 1933
Playoff Appearances: 2018, 2010, 2006, 2005, 2001, 1994, 1991, 1990, 1988, 1987, 1986, 1985, 1984, 1979, 1977, 1963, 1956, 1950, 1946, 1943, 1942, 1941, 1940, 1937, 1934, 1933, 1932
Home Stadium – Soldier Field
Inaugurated: 1924
Capacity: 61,500
Grass or Turf: Grass
In 1920, the Decatur Staleys played at Staley Field. But after relocating from Decatur to Chicago, they needed a new home venue, and Wrigley Field fit the bill. The Bears shared Wrigley with MLB's Chicago Cubs from 1921 through 1970 until Soldier Field.
Unlike most NFL venues, the stadium wasn't built specifically for the Bears. Soldier Field was opened in 1924. But after the AFL-NFL merger, the Bears needed to find a new suitable home as NFL requirements mandated a stadium with a minimum 50,000-seat capacity.
Soldier Field was criticized for many years for being too outdated. So, in 2002, the Bears temporarily relocated to Memorial Stadium, and Soldier Field went through an $841 million renovation project that rebuilt the majority of the stadium's interior.
The stadium is located in the Near South Side of Chicago and is also used for concerts, soccer, and other special events.
Stadium Address: Soldier Field, 1410 Museum Campus Drive, Chicago, IL 60605
Mailing Address: Chicago Bears, Halas Hall at Conway Park, 1920 Football Dr., Lake Forest, IL 60045-4829
Phone: 847-295-6600
Chicago Bears Head Coaches
There have been 16 head coaches throughout the life of the Chicago Bears franchise, not including their 1919 season as an independent team. This is beyond impressive considering how long the team has existed and the rough stretches the organization suffered through.
Mike Ditka
In the post-AFL-NFL merger era after 1970, there's one name that's stood out amongst all others with the Chicago Bears, and that's Mike Ditka. Ditka coached 11 seasons with the Bears and is behind the only Super Bowl Championship (XX) the team has won.
Coach Ditka compiled a 106-62 record for a .631 winning percentage and went .500 in the playoffs with a 5-5 win-loss. He earned multiple Coach of the Year awards in both 1985 and 1988.
George Halas
While Mike Ditka can claim Super Bowl superiority, George Halas is the winningest coach for the franchise. Halas was the first head coach since the Bears (then Staleys) were part of the NFL. His first stint was from 1920-1929, leading the team to their first NFL Championship in 1921.
Halas was back again for 1933-42, 1946-55, and 1958-67, adding five more NFL Championships to his record. George Halas retained ownership of the team until his death in 1983. He was one of the first 17 inductees into the Pro Football Hall of Fame.
Lovie Smith
It wouldn't be right to have a list of Bears coaches and not include Smith, who helped the team return to prominence during his tenure.
Not only did Smith get Chicago back to the big game in 2006 (just their second Super Bowl ever), but he also got the Bears to a consistently competitive level of play.
Chicago finished 7-9 or better in all but one of Smith's seasons on the job and won 10+ games four different times. Smith also led the Bears to the playoffs on three different occasions, reaching the NFC title game twice.
Matt Nagy
After some brief appearances by Marc Trestman and John Fox, Matt Nagy was hired on as the Chicago Bears' 16th coach in franchise history.
Nagy is a former quarterback in the Arena Football League but began his NFL coaching career in 2008 as an intern with the Philadelphia Eagles. He was promoted to the offensive quality control coach through 2012 before heading to Kansas City to take the quarterbacks coach position followed by the offensive coordinator job with the Chiefs.
The Chicago Bears' position is his first as a head coach.
| | | | | | | | |
| --- | --- | --- | --- | --- | --- | --- | --- |
| # | Years | Coach | W-L | % | Playoffs | % | Titles |
| 16 | 2018- | Matt Nagy | 28-20 | .583 | 0-2 | .000 | – |
| 15 | 2015-17 | John Fox | 14-34 | .292 | – | – | – |
| 14 | 2013-14 | Marc Trestman | 13-19 | .406 | – | – | – |
| 13 | 2004-12 | Lovie Smith | 81-63 | .563 | 3-3 | .500 | – |
| 12 | 1999-03 | Dick Jauron | 35-45 | .438 | 0-1 | .000 | – |
Chicago Bears' Last Five Seasons
| | | | | | |
| --- | --- | --- | --- | --- | --- |
| Season | Coach | Finish | W-L | % | Playoffs |
| 2020 | Matt Nagy | 2nd | 8-8 | .500 | – |
| 2019 | Matt Nagy | 3rd | 8-8 | .500 | – |
| 2018 | Matt Nagy | 1st | 12-4 | .750 | 0-1 |
| 2017 | John Fox | 4th | 5-11 | .313 | – |
| 2016 | John Fox | 4th | 3-13 | .188 | – |
Chicago Bears' All-Time Career Leaders
| | | | |
| --- | --- | --- | --- |
| Category | Player | Stats | Years |
| Passing Yards | Jay Cutler | 23,443 | 2009-16 |
| Passing Touchdowns | Jay Cutler | 154 | 2009-16 |
| Rushing Yards | Walter Payton | 16,726 | 1975-87 |
| Rushing Touchdowns | Walter Payton | 110 | 1975-87 |
| Receptions | Walter Payton | 492 | 1975-87 |
| Receiving Yards | Johnny Morris | 5,059 | 1958-67 |
| Receiving Touchdowns | Ken Kavanaugh | 50 | 1940-50 |
| Tackles | Brian Urlacher | 1,040 | 2000-12 |
| Sacks | Richard Dent | 124.5 | 1983-95 |
| Interceptions | Gary Fencik | 38 | 1976-87 |
Statistics aren't everything. That's easy to see when you look at Chicago's all-time leaders and Jay Cutler sitting atop the passing leaders.
Cutler wasn't terrible, but he wouldn't be considered an all-time great Bears player. He gets a nod for longevity with the team and putting up some nice numbers, but NFL and Bears fans alike easily hold the following players in higher regard.
Walter Payton
Well, some stats mean something.
The legendary Walter Payton spent his entire NFL career in a Bears uniform from 1975 to 1987. He was a first-round pick in 1975 out of Jackson State.
In 1977, Walter Payton's name was all over the NFL. He was the rushing yards leader, rushing touchdowns leader, the AP NFL Most Valuable Player, the NFL Offensive Player of the Year, and Man of the Year. The running back was also the NFL's rushing attempts leader for four seasons and the NFC Offensive Player of the Year in '77 and '85.
He was named to nine Pro Bowls and was a seven-time First-Team All-Pro. Payton was on the Bears Super Bowl championship roster in 1985 and also won the Bert Bell Award that same year. He was inducted into the College and Pro Football Halls of Fame. The Bears also retired his number 34.
While most will agree that Walter Payton was one of the football greats, Coach Mike Ditka described him as "an even better human being."
Brian Urlacher
Like Payton, Brian Urlacher was also a dedicated Bears player. He played for the Lobos football team at the University of New Mexico and was a 1999 consensus All-American. The Bears picked him in the first round of the 2000 NFL draft, and he spent 13 seasons in Chicago.
The linebacker went from being the NFL Defensive Rookie of the Year in 2000 to the NFL Defensive Player of the Year five seasons later. He set a Bears franchise record for 153 tackles in the 2002 season as well as 1,353 career tackles.
Urlacher was an icon due to his shaved head and menacing demeanor on the field. He won eight Pro Bowl teams and was First-Team All-Pro for four seasons. He was named to the NFL 2000s All-Decade Team and inducted into the Pro Football Hall of Fame in 2018.
Urlacher was part of Chicago's revival era that saw them get back to the Super Bowl for just the second time in franchise history in 2006.
Dick Butkus
The Chicago Bears weren't the only team to select Dick Butkus. He was the Bears' round-one selection in the 1965 NFL Draft. But he was also the Denver Broncos' round-two pick in the AFL draft. Butkus was previously a two-time consensus All-American for the Illinois Fighting Illini at the University of Illinois. He signed with the Bears and spent all nine years of his professional career in Chicago.
The linebacker was named to the Pro Bowl for eight consecutive seasons from 1965-72. He was also First-Team All-Pro for six. In 1969 and 1970, the NFL named Butkus the Defensive Player of the Year. Dick Butkus was forced into early retirement due to injury. He was later inducted into both the College and Pro Football Halls of Fame. The Chicago Bears retired his number 51 jersey.
Jim McMahon
Jim McMahon was a two-time All-American at Brigham Young in 1980 and 1981 before the Bears picked him in round one of the NFL Draft in 1982. While McMahon played for seven teams during his NFL career, he spent seven seasons with the Bears from 1982-1988. McMahon was named the UPI NFC Rookie of the Year in 1982 and also received the Brian Piccolo Award.
The quarterback led the charge for the Bears' one and only Super Bowl championship win in 1985. He was named to the 1986 Pro Bowl and was the PFW NFL Comeback Player of the Year in 1991. McMahon currently holds Bears franchise records for 70 completions in the playoffs and 967 passing yards in playoffs. He's also number one for passing yards/game for a rookie with 187.6 in 1982.
Gale Sayers
Gale Sayers was selected in both the 1965 AFL and NFL drafts. But the Chicago Bears won out to the Kansas City Chiefs and the AFL when they made him their first-round NFL draft pick. Sayers is a College Pro Football Hall of Famer from his University of Kansas days where he was two-time consensus All-American and three-time All-Big Eight. In his professional career, the halfback was named NFL Rookie of the Year in 1965 and was the league's rushing yards leader in 1966 and 1969.
Despite injuries throughout his seven seasons in Chicago, he was still named to the Pro Bowl four times and was a consecutive five-time First-Team All-Pro from 1965-69. In '69, the NFL named Sayers the Comeback Player of the Year. He retired after the 1971 season and was inducted into the Pro Football Hall of Fame in 1977.
Sayers' friendship with his teammate Brian Piccolo inspired him to write his autobiography entitled I Am Third, which later became the memorable TV movie Brian's Song.
The list goes on for the Bears, as Richard Dent, William Perry, Mike Singletary, Sid Luckman, and so many others stand out for a team that has been around for a century.
Chicago Bears Trivia
Chicago has had two games end with a 2-0 finish. Both came against the rival Green Bay Packers, with both teams taking one win each.
Chicago's Beattie Feathers is the first running back in NFL history to crack the 1,000-yard rushing mark in a single season. He managed to accrue 1,004 yards across just 11 games in 1934.
The Bears own the most lopsided game in NFL history, a 73-0 demolition of the Washington Redskins. This game also hosts the most points scored by a single NFL team ever.
Chicago's first-ever game was a 20-0 shutout win in 1920. It was one of a mind-boggling 34 shutouts across their first six seasons of existence.
Eight quarterbacks have dazzled with a league-record seven passing touchdowns in a single game. Sid Luckman, however, was the first to do it in 1943.
More NFL Team Guides
Other NFC North Team Guides
Other NFC Team Guides
All AFC Team Guides