Carolina Panthers Team Guide
This page is dedicated to all things Carolina Panthers, with a detailed breakdown of Carolina's standing in the NFC South and NFL in general. Around since 1995, the Panthers have impressively left quite a mark on pro football in a very short amount of time.
For updated Carolina Panthers stats, career records, team history, and all kinds of information, Panthers fans can refer to this page throughout the year.
This comprehensive Carolina Panthers team guide is regularly updated with the latest information and stats, ensuring Panthers fans have a one-stop spot for anything related to the team.
Carolina Panthers Overview and Key Information
The Carolina Panthers have been surprisingly competitive in 24 seasons of NFL action. In under three decades of existence, they've appeared in two Super Bowls, won their division six different times, and at least made the NFL playoffs eight times.
There were bouts with ineffectiveness when the franchise didn't have a proper signal-caller under center, but things turned around when Cam Newton was selected with the top pick in the 2011 NFL Draft.
Since then, Carolina has enjoyed a good portion of success, reaching the playoffs four times under his guidance.
Carolina has been a franchise of loyalty and consistency. The Panthers have gone through just four head coaches and have largely been led on offense by two quarterbacks — Newton and Jake Delhomme.
Carolina Panthers – Key Info
Established

1995

Division

NFC South

Current Team Location

Charlotte, North Carolina

Stadium

Bank of America Stadium

Head Coach

Matt Rhule

Owner

David A. Tepper

Website

Team Value (Forbes 2018)

$2.3 Billion (21st)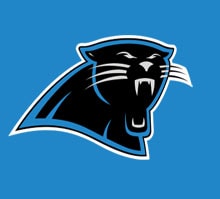 Carolina Panthers Team History
The Panthers were founded by former owner Jerry Richardson in 1995. The former Baltimore Colts wide receiver and Hardee's co-founder had direct ties to the league and used money from his business ventures to bring a team to North Carolina.
Richardson funded the team as well as Panthers Stadium, LLC, allowing Carolina to be among a select few NFL teams to own its own stadium.
Carolina entered the league as one of two expansion franchises, joining the Jacksonville Jaguars. The Panthers enjoyed some instant success, with one of the best expansion seasons ever with a 7-9 record in their first season in the NFL. That success continued in 1996, which saw the Panthers go 12-4 and reach the NFC title game in just their second season ever.
The Panthers began their NFL stay in the NFC West but were moved to the NFC South following the league's realignment. Since that shift, the Panthers have been at their most successful.
Super Bowl Appearances and Playoff History
Few can forget the 2003 season for the Panthers, as they won the NFC South with an 11-5 record and marched to Super Bowl XXXVIII. It wasn't exactly easy getting there, however, as Carolina had to survive two overtimes in a Divisional Round showdown with the Rams.
The Panthers did manage to get out of that game alive, though, and proceeded to combine with the New England Patriots for arguably one of the most entertaining Super Bowls ever played.
Carolina and New England battled back and forth, with the two teams only scoring in the second and fourth quarters. The Pats held a 14-10 advantage at the break, while the two sides blew up for 37 total points in the final quarter.
The Panthers tied the game up at 29-29 with just over a minute to go, only to see it evaporate with time running out thanks to a last-second field goal by Adam Vinatieri.
Carolina would reach Super Bowl 50 twelve years later, but under a new regime and in an entirely different situation. The Panthers kept it close with the Denver Broncos until late but was never the aggressor in a deflating 24-10 loss.
While the Panthers have never won the big game, they've done well considering their short time in the league. Here's a look at how they've fared in the Super Bowl, the playoffs, and their division.
Super Bowl Appearances (NFC Conference Championships): 2015, 2003
Super Bowl Championships: 0
NFC Conference Championships: 2015, 2003
NFC South Division Championships (2002-present): 2015, 2014, 2013, 2008, 2003
NFC West Division Championship (through 2001): 1996
Playoff Appearances: 2017, 2015, 2014, 2013, 2008, 2005, 2003, 1996
Home Stadium – Bank of America Stadium
Inaugurated: 1996
Capacity: 75,523
Grass or Turf: Grass
There's no doubt that you're entering Panthers territory when you walk into Bank of America Stadium. The entrances are each flanked by colossal bronze statues of panthers.
For their inaugural 1995 season, the team played at Memorial Stadium, the regular home of the Clemson Tigers, while their new home turf was being completed. The Panthers own their venue and are one of just a few NFL franchises that have that complete autonomy.
Bank of America Stadium was known as both Carolinas and Panthers Stadium during the planning stages but opened as Ericsson Stadium in 1996.
It's a 75,000+ seat open-air stadium with six blue light domes positioned a hundred feet in the air. The venue has been used for soccer, concerts, and other special events throughout the years and was renovated in 2017.
Stadium Address: Bank of America Stadium, 800 South Mint Street, Charlotte, NC 28202
Mailing Address: Carolina Panthers, 800 South Mint Street, Charlotte, NC 28202
Phone: 704-358-7158
Carolina Panthers Head Coaches
There have only been four head coaches in the Panthers' franchise history, which is quite impressive even for a team with a relatively short NFL history.
Dom Capers
The first was Dom Capers, who was the first in the NFL to be an inaugural head coach for two expansion teams. He served four seasons with the Panthers and then launched the first Houston Texans season in 2002.
Capers took a fourth-place-finishing team in 1995 and turned them into the NFL West Division champs in 1996. The Panthers recorded a win against the Cowboys in the divisional playoffs but fell in the NFC Championship against the Packers. For his efforts, Capers was named NFL Coach of the Year in 1996.
The Panthers started falling off after their trip to the NFC title game in 1996, with a 7-9 finish the following season. After going 4-12 in 1998, Capers was let go by the Panthers.
George Seifert
A legend with the San Francisco 49ers, Seifert's bright offensive mind was brought in to right the ship for Carolina. The Panthers did get better under Seifert's watch, as they won four more games and finished 8-8 the year he took the job.
Seifert was never able to gain much momentum while with the Panthers, as he went just 7-9 in his second season and cratered in an ugly 1-15 season the following year. For all of his prior accolades, Seifert still stands as the lone Panthers coach to fail to get his team to the playoffs.
John Fox
John Fox took the helm from George Seifert in 2002 and registers as the longest-tenured coach in Panthers history. Fox helped Carolina rebound from that horrifying 1-15 display to go 7-9 in his first year on the job, and he delivered a 7-9 record or better in all but one season the rest of the way.
Unlike Seifert, Fox made an instant impact. He parlayed physical specimen Julius Peppers into a Super Bowl trip in just his second season with the team. Over his time with the Panthers, he led three playoff runs and won two division titles and left Carolina as the franchise's all-time winningest coach.
Ron Rivera
The Panthers' fourth hire, Ron Rivera, was awarded the job in 2011 with 14 years of NFL coaching appearances but none as a head coach.
Since Rivera took over, the Panthers have made four playoffs and a second ride to the Big Game. They also recorded their second loss, though, this time to the Denver Broncos in 2015 at Super Bowl 50.
Rivera has been recognized as Coach of the Year by the AP in 2013 and was twice named (2013, 2015) by the PFWA. After a 5–7 start to the 2019 season, Rivera was fired on December 3, 2019 after nine seasons as head coach.
| | | | | | | | |
| --- | --- | --- | --- | --- | --- | --- | --- |
| # | Years | Coach | W-L | % | Playoffs | % | Titles |
| 5 | 2020 | Matt Rhule | 5-11 | .313 | – | – | – |
| 4 | 2011-2019 | Ron Rivera | 83-72-1 | .535 | 3-5 | .375 | – |
| 3 | 2002-10 | John Fox | 73-71 | .507 | 5-3 | .625 | – |
| 2 | 1999-01 | George Seifert | 16-32 | .333 | X-X | – | – |
| 1 | 1995-98 | Dom Capers | 30-34 | .468 | 1-1 | .500 | – |
Carolina Panthers' Last Five Seasons
| | | | | | |
| --- | --- | --- | --- | --- | --- |
| Season | Coach | Finish | W-L | % | Playoffs |
| 2020 | Matt Rhule | 3rd | 5-11 | .313 | – |
| 2019 | Ron Rivera | 4th | 5-7 | .417 | – |
| 2018 | Ron Rivera | 3rd | 7-9 | .438 | – |
| 2017 | Ron Rivera | 2nd | 11-5 | .688 | 0-1 |
| 2016 | Ron Rivera | 4th | 6-10 | .375 | – |
| 2015 | Ron Rivera | 1st | 15-1 | .938 | 2-1 |
| 2014 | Ron Rivera | 1st | 7-8-1 | .469 | 1-1 |
Carolina Panthers' All-Time Career Leaders
| | | | |
| --- | --- | --- | --- |
| Category | Player | Stats | Years |
| Passing Yards | Cam Newton | 28,469 | 2011- |
| Passing Touchdowns | Cam Newton | 182 | 2011- |
| Rushing Yards | Jonathan Stewart | 7,318 | 2008-2017 |
| Rushing Touchdowns | Cam Newton | 58 | 2011- |
| Receptions | Steve Smith | 836 | 2001-2013 |
| Receiving Yards | Steve Smith | 12,197 | 2001-2013 |
| Receiving Touchdowns | Steve Smith | 67 | 2001-2013 |
| Tackles | Thomas Davis | 796 | 2005-2018 |
| Sacks | Julius Peppers | 97 | 2002-2018 |
| Interceptions | Chris Gamble | 27 | 2004-2012 |
It takes one quick look at the all-time Carolina Panthers stats leaders to know who some of their very best players were. To get a closer look at some of them, here's a quick breakdown of arguably the most iconic Panthers players in team history.
Cam Newton
Newton has been a revelation since taking the league by storm as the #1 overall pick out of the 2011 NFL Draft. Newton entered the league with accuracy questions but has otherwise morphed into one of the greatest dual-threat quarterbacks the league has ever seen.
While not always the most prolific passer compared to the rest of the NFL, Newton has held his own and has turned in several seasons of daunting rushing numbers for a passer. His best season came during one of Carolina's two Super Bowl runs, where he put up 35 passing touchdowns as the leader of the best offense in the league.
Steve Smith
Muhsin Muhammad and Wesley Walls are two other iconic Panthers pass-catchers, but the receiver every Panthers fan will remember for a long time is the feisty Steve Smith.
Smith went on to add to his gaudy career numbers in Baltimore with the Ravens, but he put in his time with the Panthers and left the game as the leader in the receiving categories that matter.
A diminutive but extremely crafty and explosive receiver, Smith was pound-for-pound one of the best receivers to ever play and without a doubt the top Panthers receiver in team history.
Julius Peppers
The list of impressive Carolina players goes on and on, but one more high-impact player nobody can ignore is Peppers. A true physical marvel, Peppers could fly at the defensive end spot and was so athletic that he could even be used on the edge as a linebacker.
Peppers stepped away from the Panthers to work for the Bears and Packers for a few years but returned to Carolina to cap his career with the team that drafted him. Using his elite athleticism and a plethora of moves on the line, Peppers finished his playing career with over 156 total sacks.
Carolina fans only really care about his time in Charlotte, of course, where he nearly cracked 100 sacks in 10 years on the job. Peppers also contributed to one of Carolina's two title runs and will go down as one of the greatest Panthers ever.
Carolina Panthers Trivia
Most Panthers fans know the team's slogan is "keep pounding," but not everyone knows why. It references the battle with cancer of former Carolina linebacker Sam Mills. In memoriam, Panthers players have the motto stitched into their jerseys to pay respect to the former player and coach who died in 2005.
Panthers was not the first name former Carolina owner Jerry Richardson considered. The businessman also considered "Cobras," "Rhinos," and "Cougars" before settling on the Panthers.
The Panthers beat the defending champion San Francisco 49ers in 1995, becoming the first expansion team to ever top the reigning title winner.
Carolina teamed up with the Patriots in their first Super Bowl (Super Bowl XXXVIII) to score the most fourth-quarter points (37) the big game has ever seen.
After every Panthers home win, the team plays Neil Diamond's "Sweet Caroline."
Ron Rivera became the first Hispanic head coach to lead his team to the Super Bowl during the 2015 season.
More NFL Team Guides
Other NFC South Team Guides
Other NFC Team Guides
All AFC Team Guides