Team Guide For The Baltimore Ravens
The Baltimore Ravens are one of the grittiest franchises in the NFL, and they're cheered on by a loyal, die-hard fan base. Ray Lewis serves as a living icon for this proud franchise, which prides itself on running the football and playing elite defense.
That's consistently made the Ravens a viable bet in some capacity, but bettors still routinely wonder just how much Baltimore can be trusted. This page serves as an endless supply of information for Ravens stats and records, as well as a home for Baltimore history and trivia.
Baltimore Ravens Overview and Key Information
The Baltimore Ravens were entered into the NFL as an expansion team in 1996 and have been located in Baltimore and known as the Ravens ever since.
Over the team's 20+-year history, they've made ten playoff appearances and won two Super Bowl championships. The first was in 2000, Super Bowl XXXV against the Giants. The second, and last to date, was in 2012 at XLVII against the 49ers under current head coach John Harbaugh.
The Ravens have established themselves as a team with longevity. There have only been three head coaches in Ravens history, and John Harbaugh has held the position since 2008.
M&T Bank Stadium is the Baltimore Ravens home field and has been since 1998.
Baltimore Ravens – Key Info
Established

1996

Division

AFC North

Current Team Location

Baltimore, Maryland

Stadium

M&T Bank Stadium

Head Coach

John Harbaugh

Owner

Steve L. Bisciotti

Website

Team Value (Forbes 2018)

$2.59 billion (14th)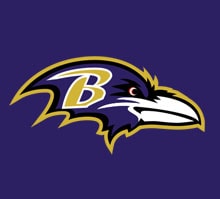 Baltimore Ravens Team History
The Baltimore Ravens were initially intended to be a new name and locale for the Cleveland Browns. The former owner, Art Modell, made the decision to relocate the Browns, but the city of Cleveland fought the move and ended up keeping the name and the team's history.
However, Modell was permitted to take the staff and players to Maryland. But instead of a new phase in the Browns' franchise, the Baltimore Ravens were launched as an NFL expansion team in 1996.
The Ravens moved into Memorial Stadium for the '96 and '97 seasons under head coach Ted Marchibroda. But the team did little to impress their new fans in Baltimore. They ended up fifth in the AFC Central for the first two years, with losing records for the first three seasons.
Super Bowl Appearances and Playoff History
In 1998, the franchise moved into the new M&T Bank Stadium, and the next season, head coach Ted Marchibroda was replaced by Brian Billick. Coach Billick pulled the Ravens up to the .500 mark for 1999. The following year, the players were wearing brand-new Super Bowl rings after a 34-7 victory against the Giants in Super Bowl XXXV.
John Harbaugh signed on as the new head coach in 2008, and the team began a series of five successive playoff appearances culminating in Super Bowl win number two in 2012 against the 49ers.
Overall, the Baltimore Ravens have had eleven playoff appearances, five division wins, and two Super Bowl appearances with a 2-0 record in the big game.
Super Bowl Appearances (NFC Conference Championships): 2000, 2012
Super Bowl Championships: 2000, 2012
NFL Championships: 2000, 2012
AFC Conference Championships: 2000, 2012
AFC North Division Championship: 2003, 2006, 2011, 2012, 2018
Playoff Appearances: 2000, 2001, 2003, 2006, 2008, 2009, 2010, 2011, 2012, 2014, 2018
Home Stadium – M&T Bank Stadium
Inaugurated: 1998
Capacity: 71,008
Grass or Turf: Grass
Except for the first two years, the Baltimore Ravens have made M&T Bank Stadium their home. The stadium, formerly known as Ravens Stadium at Camden Yards, is located right next to Oriole Park at Camden Yards, the home of MLB's Baltimore Orioles.
M&T Bank Stadium has five levels and is one of the most highly reviewed stadiums in the NFL for its fan amenities. The field started out as grass but was converted to turf in 2003. It has since gone back to natural grass starting in 2016, though.
The venue is primarily used for Ravens football, but it has hosted soccer, lacrosse, concerts, and other special events.
Stadium Address: M&T Bank Stadium, 1101 Russell Street, Baltimore, MD 21230
Mailing Address: Baltimore Ravens, c/o Ravens Under Armour Performance Center, 1 Winning Drive, Owings Mills, MD 21117
Phone: 410-701-4000
Baltimore Ravens Head Coaches
The Ravens technically stemmed from the original Cleveland Browns, but considering they don't retain any of that franchise's history, their coaching tree dates back only to 1996.
Because of this, the list of Baltimore Ravens head coaches is a rather short one. There have only been three coaches in the franchise's history. Both Brian Billick and John Harbaugh, who currently holds the position, have put up winning records during their tenure.
Former quarterback and head coach of the Indianapolis Colts, Ted Marchibroda, didn't fare quite as well. Marchibroda held the spot for the first three years from 1996 through 1998, but his contract wasn't renewed after posting a 16-31 win-loss record.
Brian Billick led the Ravens to four playoff seasons and their first Super Bowl championship, and win, in 2000 at Super Bowl XXXV against the Giants.
John Harbaugh was hired in 2008. The Ravens is Harbaugh's first head coaching position, but he spent the 1998 through 2007 seasons as the Philadelphia Eagles' special teams coordinator and defensive backs.
Harbaugh has manned the ship ever since, getting Baltimore to the playoffs in seven of 11 seasons, including the franchise's second world title in 2012. He stands as Baltimore's longest-tenured head coach.
| | | | | | | | |
| --- | --- | --- | --- | --- | --- | --- | --- |
| # | Years | Coach | W-L | % | Playoffs | % | Titles |
| 3 | 2008- | John Harbaugh | 129-79 | .620 | 11-8 | .579 | 1 |
| 2 | 1999-07 | Brian Billick | 80-64 | .556 | 5-3 | .625 | 1 |
| 1 | 1996-98 | Ted Marchibroda | 16-31 | .344 | – | – | – |
Baltimore Ravens Last Five Seasons
| | | | | | |
| --- | --- | --- | --- | --- | --- |
| Season | Coach | Finish | W-L | % | Playoffs |
| 2020 | John Harbaugh | 2nd | 11-5 | .688 | 1-1 |
| 2019 | John Harbaugh | 1st | 14-2 | .875 | 0-1 |
| 2018 | John Harbaugh | 1st | 10-6 | .625 | 0-1 |
| 2017 | John Harbaugh | 2nd | 9-7 | .563 | – |
| 2016 | John Harbaugh | 2nd | 8-8 | .500 | – |
Baltimore Ravens' All-Time Career Leaders
| | | | |
| --- | --- | --- | --- |
| Category | Player | Stats | Years |
| Passing Yards | Joe Flacco | 38,245 | 2008-18 |
| Passing Touchdowns | Joe Flacco | 212 | 2008-18 |
| Rushing Yards | Jamal Lewis | 7,801 | 2000-06 |
| Rushing Touchdowns | Jamal Lewis | 45 | 2000-06 |
| Receptions | Derrick Mason | 471 | 2005-10 |
| Receiving Yards | Derrick Mason | 5,777 | 2005-10 |
| Receiving Touchdowns | Todd Heap | 41 | 2001-10 |
| Tackles | Ray Lewis | 1,562 | 1996-12 |
| Sacks | Terrell Suggs | 132.5 | 2003-18 |
| Interceptions | Ed Reed | 61 | 2002-12 |
While it truthfully doesn't take a lot to lead a franchise statistically that's only been around since 1996, the Ravens have some true legends in their short NFL history.
Some grace their stats leaderboard, but not everything is about numbers. Take a second to get to know some of the most iconic Ravens to ever hit the gridiron.
Ray Lewis
Ray Lewis and the Ravens are as synonymous as apple pie and ice cream. Ray spent all 17 years of his pro career with the Ravens, putting up countless numbers and incredible statistics, including being one of only five players to win AP Defensive Player of the Year twice (Joe Greene, Lawrence Taylor, Reggie White, and Bruce Smith).
Lewis finished with a staggering 41.5 sacks and 2,055 combined tackles, 1,562 of which were solo tackles. Lewis is a member of the Ravens Ring of Honor, and a statue of him has found a permanent home outside of M&T Bank Stadium next to the statue of legendary Baltimore Colts QB Johnny Unitas.
Joe Flacco
Joe Flacco served as QB for the Ravens from 2008-2018. He was chosen by the Ravens in the first round of the NFL Draft that same year. The former Fightin' Blue Hen for Delaware set 20 school records during his tenure. Flacco was the Pepsi NFL Rookie of the Year in 2008 and led the Ravens to their second Super Bowl championship in 2012, also earning Super Bowl XLVII MVP honors.
Flacco is the Ravens' all-time passing leader and has the franchise's highest quarterback rating of 84.6 and single-season rating of 93.6 in 2010.
Jamal Lewis
Jamal Lewis is the Ravens' all-time rushing leader. The running back was the SEC Freshman of the Year at the University of Tennessee in 1997. He was the Ravens' fifth overall in the 2000 NFL Draft and was a rookie on the Ravens' Super Bowl XXXV championship team.
In 2003, Lewis stacked up the awards. He was the NFL's rushing yards leader, Offensive Player of the Year, and PFWA NFL Most Valuable Player. He was named to the 2003 Pro Bowl and First-Team All-Pro. Lewis was on the Ravens roster through the 2006 season but finished out his professional career with the Cleveland Browns from 2007 through 2009.
He retired with 10,607 rushing yards and 58 rushing touchdowns and was named to the NFL 2000s All-Decade Team as well as the Baltimore Ravens Ring of Honor.
Terrell Suggs
Terrell "T-Sizzle" Suggs was drafted by the Ravens as the tenth overall pick in 2003. He was a unanimous All-American while at Arizona State and received multiple honors in 2002 including the Lombardi Award, Ted Hendricks Award, and Bronko Nagurski Trophy, as well as being named First-Team All-Pac-10 that same year.
The achievements have continued in the NFL. Suggs was the NFL's 2003 Defensive Rookie of the Year and 2011 Defensive Player of the Year. The outside linebacker has a Super Bowl ring from XLVII as well as seven Pro Bowls and a 2011 First-Team All-Pro designation.
Ed Reed
Safety Ed Reed was a two-time All-American at the University of Miami. He was a first-round draft pick for the Ravens in the 2002 NFL Draft and played 11 seasons in Baltimore before wrapping up his playing career in 2013 with the Texans and Jets. Reed was the NFL's Defensive Player of the Year in 2004 and the league's interceptions leader for three seasons. He was a nine-time Pro Bowler and five-time First-Team All-Pro.
Reed has set NFL records for 1,590 career interception return yards and a 108-yard interception return. Ed was named to the NFL's 2000's All-Decade Team as well as the Baltimore Ravens Ring of Honor. He returned to the NFL in 2016 as the assistant defensive backs coach for the Buffalo Bills for a season.
Jonathan Ogden
You could list more defenders for such a nasty Ravens defense, but one of the best offensive linemen in league history deserves a nod. The fourth overall pick in the 1996 draft out of UCLA, Ogden operated at left tackle for the Ravens until his retirement in 2007.
Ogden accomplished the rare feat of playing for one NFL franchise for his entire career, while he also played at an elite level from start to finish. Voted to 11 Pro Bowls and widely lauded for his size, physicality, and pass protection ability, Ogden also played a huge hand in helping Baltimore claim their first-ever Lombardi Trophy in 2000.
Baltimore Ravens Trivia
Jonathan Ogden was the first Hall of Fame inductee (2013) to spend his entire career playing for the Baltimore Ravens. He was also Baltimore's very first draft pick in franchise history.
Former Ravens running back Jamal Lewis rushed for 2,066 yards during the 2013 NFL season, becoming one of just seven rushers to ever do so.
Trent Dilfer quarterbacked Baltimore's offense during their first Super Bowl win, throwing for 153 yards and a touchdown in the 34-7 win.
Baltimore's second Super Bowl was nicknamed the Blackout Bowl due to a random power outage that stopped play for 34 minutes.
Former Baltimore safety Ed Reed recorded a whopping 61 interceptions during his amazing career. One of them went for a 108-yard touchdown return, which still rests as the longest ever.
Ray Lewis set the record for tackles during a postseason run with 51 solo tackles in 2012.
More NFL Team Guides
Other AFC North Team Guides
Other AFC Team Guides
All NFC Team Guides