Introducing MAX – The GamblingSites.com AI
Our world today is enveloped in data. No matter where you go, you can't escape the numbers.
That's why when it comes to betting on sports, you need more than human-based projections as your only source of information. They simply aren't sufficient most of the time — not with all the tools that are available as we inch toward the end of 2022.
Here at GamblingSites.com, generating the most accurate predictions and probability assessments is at the core of what we do. Fortunately, we now have "MAX" to help us out.
What Does MAX Stand For?
MAX stands for "Machine Assisted Expert" and is our proprietary advanced computer model that combines statistics pulled from all over the internet and can then use them for a multitude of purposes, both in sports betting and beyond.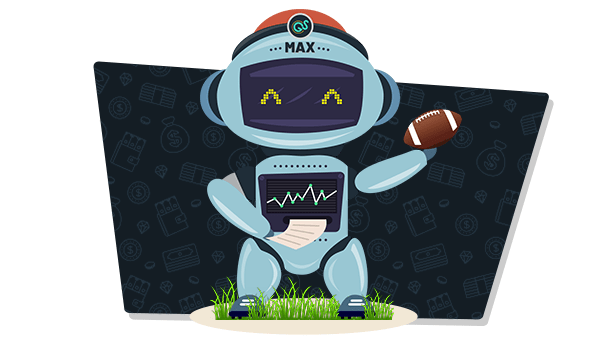 Essentially, we created MAX to project more precise outcomes in a variety of situations that we'll touch on later. This meant we needed to compile as much useful statistical information as we could and learn how to apply it effectively.
Rather than manually comb through the data, we use high-level programming languages like Python to achieve our goals faster and with greater accuracy. We built web crawlers to help us accumulate the statistics to provide you with accurate assessments of probability and sound predictions.
In a nutshell, we let the abilities of computers be our friend. MAX allows us to garner and then consolidate massive amounts of data. We then churn out genuine calculations related to several markets across the sports betting industry, and there's always potential for more.
For example, we have diligently been preparing for the 2022 NFL season.
Now you get to reap the reward of our computer-assisted predictions.
What Can MAX Help Me With?
Do you like betting on football games? Are you interested in NFL futures markets? If you nodded your head, you can certainly benefit from our computer-enhanced modeling.
MAX is flexible and always evolving, and we designed it to deliver valuable statistical information to help you turn a sports betting profit across multiple markets.
Continuing our theme with the 2022 NFL season, we'll tell you how we'll be integrating MAX's capabilities first and how it can directly influence the way you approach placing your sports bets now.
NFL Game Picks
Determining whether a wager has value is a complex topic, but there are ways to simplify the discussion. Using our game simulator, you'll be able to plainly see if something seems off about the odds or line for a specific game. Our matchup predictor simulates each game 10,000 times to account for all the potential outliers.
Here is an example.
Let's say the Cowboys are +2.5 in a game against the Packers, but our game simulator states that Dallas is expected to win the game 51.6% of the time. That tells you that the Cowboys at +2.5 is probably a good bet.
Another thing MAX contributes is the predicted margin of victory for every game on the slate. You can simply look for discrepancies and then proceed accordingly.
Imagine that the Saints are -4 against the Buccaneers at all the top NFL sportsbooks, yet MAX tells you that across 10,000 instances, New Orleans wins the game by an average of 8.4 points. Would that encourage you to pull the trigger on the Saints?
Visit the following page each week to see what MAX has to say about each matchup, along with the picks and predictions provided by our human NFL betting experts.
We are currently working on incorporating our system into totals as well. That way, you can see edges and know whether the over or the under is the more sensible wager.
We're excited to release that element of MAX, but it's important that we fine-tune the process behind the scenes first to bring you the most accurate system possible when it comes to all of its functions.
Team Power Rankings
All of the data we are collecting and simulators we are running aren't utilized solely for picking games. MAX has the aptitude to translate all of that information and develop custom NFL team power rankings based on its findings.
Visit the above page and you'll see three lists of power rankings that we update every Tuesday (after each NFL week has officially ended). Two are from distinguished NFL writers. The other rankings list is from MAX.
Once each week's slate of games has ended, MAX adds all the data to produce its version of that week's power rankings. If you bookmark that page and visit it regularly, you'll notice that each of the three unique lists will be fluctuating from week to week.
Probabilities for Futures Markets
Some NFL sharp bettors will tell you that attacking the futures markets is their bread and butter. Betting on things like which team will win the AFC South Division or who will emerge in the NFC Conference is at the tip of your fingers, but you can get analytical assistance before you fire away.
Just like MAX will run 10,000 simulations of a game to generate how often a team wins and by how many points, MAX goes a step further when evaluating the futures markets. It runs simulations of the entire season — 10,000 times. That's a total of 2,560,000 reproductions.
How can this help you when betting?
If the Ravens are +2200 to win the Super Bowl, the bookmakers are basically telling you that they believe Baltimore will win the Super Bowl 4.34% of the time. For the purposes of this explanation, we'll ignore the fact that bookies incorporate margin (or vig) into their odds.
If MAX tells you that the Ravens have a 3.1% chance of winning the Super Bowl, don't place the bet at +2200. There's no expected value to be had. If MAX tells you that the Ravens have a 6.7% chance of winning the Super Bowl, however, you should go ahead and take the value on offer.
If MAX computed that Baltimore would be the last team standing 10% of the time, then that's what we would call a "green-light special."
In other words, MAX has identified a betting opportunity that has EXCELLENT value.
What's Next for MAX?
We've talked about specific applications in the NFL, but the NFL is just a slice of the pie when it comes to what MAX can help us all accomplish.
Remember, our "Machine Assisted Expert" isn't just tied to sports betting, let alone merely the National Football League.
Browse through our Betting Headquarters to have a peek at some of the other sports and leagues we cover, as the ultimate goal is to implement MAX into everything. The more data we have at our disposal, the better betting advice we can give you.
That's one of our primary goals here, so we recommended keeping our website bookmarked and visiting regularly.